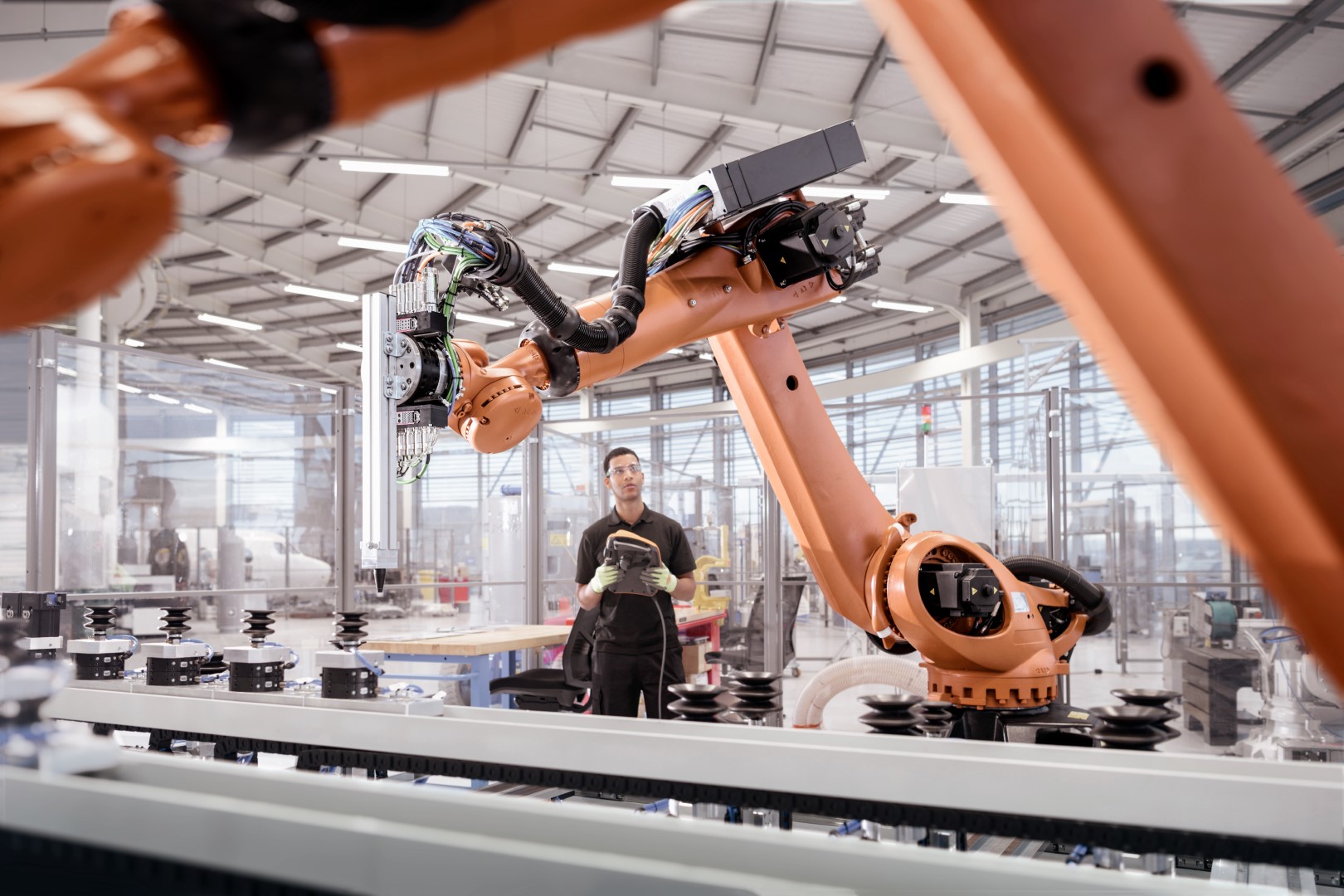 Production line quality, throughput, and utilization are familiar pressures to those who manage shop floors. They're not new challenges – they've been around for decades.
However, new market requirements and new technologies call for a different perspective on these allegedly familiar topics.
As a result of our efforts to optimize our own factories, we've gained experience in adapting production to latest market requirements by using new manufacturing technology in the right context. In particular, we learned that:
Bringing traditional optimization topics like quality, throughput, and utilization in perspective to business goals helps to justify necessary investments in advanced technologies
A stronger customer focus calls for more individualized production (smaller lot sizes) at the same cost as mass production
Mass production cost levels can only be reached by integrating advanced technologies like AI
Harnessing new technologies requires a co-creation approach
Exploiting the market by adapting to flexible manufacturing: A case study
Consider that an electronics company producing system boards for the traditional computer industry wants to extend its market reach to industrial customers. These industrial customers will want the same technology but may need different form factors and better temperature and humidity resistance to operate in their environment.
If the electronics company can meet these requirements they gain access to a larger market and revenue increase.
As customer requirements become more diverse, the company will need to adopt a more flexible approach to production before they achieve success. Doing this whilst maintaining the original cost level requires new methods to optimize the shop floor.
However, linking these optimization goals with new business opportunities paves the way for potentially higher investments that shop floor managers who optimize their production against traditional goals will usually not get.
Key learnings:
Aligning shop floor optimisation goals with business goals is a major enabler for a successful digital transformation.
Flexible production that enables more diverse lot sizes is key for exploiting new markets and revenue streams.
The challenges of flexibilization
We now face the next challenge - how to become more flexible in production without impacting quality, throughput, and utilization and how to achieve all this ideally at no additional costs?
This is where new manufacturing technologies can help.
During the flexibilization of the production, analytics can pinpoint the root cause of any delays. While managers can usually see hold-ups, technology can detect causes that may have happened earlier in the production process and have simply had a knock-on effect, such as an initial shortage of materials, which can then directly be addressed.
Artificial intelligence (AI) can also detect degradation of equipment early, so overall throughput is unaffected. For instance, if a company is quality testing, the technology can differentiate between an issue with a product and a problem with the quality testing equipment itself. This reduces testing time.
Key learnings:
The usage of advanced analytics methods like AI allows for previously unknown insights.
This requires a complete digitalization of the shop floor.
How to best cope with new technologies like advanced analytics: The co-creation approach
The use of advanced analytics, in particular, is unchartered territory for many manufacturing companies.
But they need to be ready to rely on the expertise of others as well as their established understanding of processes and the market. This combination is the approach for success and is addressed by the co-creation approach:
Production experts should sit with data scientists and engineers to work out the concepts that address technical aspects as well as a wider concept for a better future for all involved parties.
It's important that this team works towards guiding principles rather than strict goals. This should also be applied to an agile methodology that allows for quick changes in order to adapt to new insights and moving targets. This is the only way to navigate a rapidly changing market environment that throws up difficult-to-define precise goals, projects, and timelines.
At Fujitsu, we do exactly this. As a team, we implemented a lean production that takes a more holistic end-to-end view on the shop floor, maintains optimum quality and throughput and avoids unnecessary resource consumption. This has become a key paradigm for our work, particularly as the industry has to address increasingly individual customer needs.
Consequently, we're using advanced IT technologies to gain the necessary insights and enable the necessary optimizations in production. This includes the application of AI in quality control as well as end-to-end production optimization, job shop scheduling, and quality control by using quantum-inspired technologies.
Using an agile and risk-averse methodology is an important factor. Another major factor is meeting security requirements as we architect solutions that connect shop floor machinery with IT (OT/IT integration). This year we've bundled these ingredients into a newly founded Connected Services organization which covers all essential functions in an agile team like a start-up.
In a nutshell,
Aligning production with business goals is essential to justify necessary investments for shop floor flexibilization.
This enables the production of smaller lot sizes at the same cost as mass production.
Using advanced IT technology will help manufacturers adopt customer-driven production
Shop floor digitization is a mandatory pre-requisite to gain the necessary insights
Co-creation is often the right method to bring all the required competencies in processes and technology around one table to solve the issue
Does this appeal to you or do you have questions? Contact us to find out more.
by Walter Graf
Fujitsu
March 16, 2020