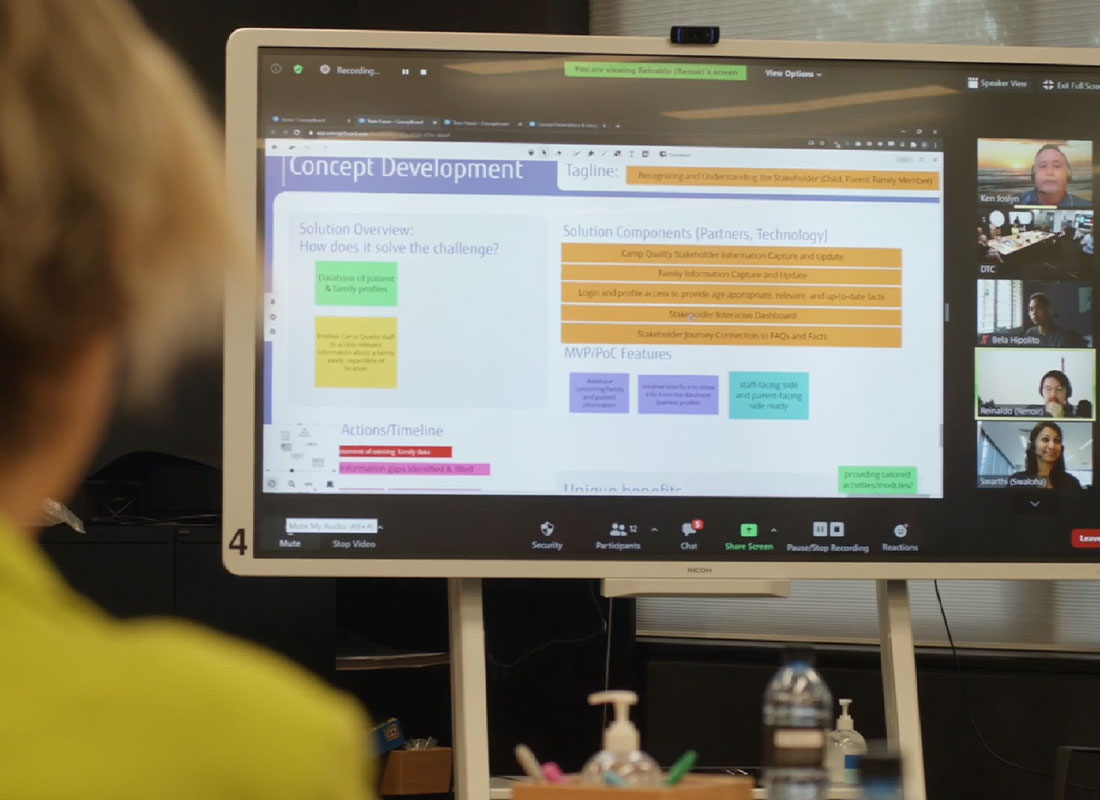 Earlier this year, Fujitsu's Co-creation team facilitated a HXD Workshop with Camp Quality, Australia's most reputable children's cancer charity for kids aged 0-13. For the last 5 years Fujitsu has been a proud supporter of Camp Quality, hosting various events and raising over $500,000 to help children and their families through their journey with cancer.
Camp Quality's delivery model relies on having face-to-face interactions with children and their families. However, with the restrictions of COVID-19, the charity's move to adopt digital offerings is more critical now than ever, as Camp Quality needs to ensure that they are still able to continue providing quality support programs despite the change in conditions.
As a result, the charity reached out to Fujitsu to come up with a way to resolve this issue.
Using technology to solve social problems
FUJITSU's Human Centric Experience Design (HXD) methodology is a unique form of Design thinking which focuses customer's minds on understanding their business challenge within the context of their strategy, by collaborating with the right people and expertise to rapidly develop concepts.
Traditionally, the HXD workshop would be held in our Digital Transformation Centre (DTC) located in Macquarie University. However with the restrictions of COVID-19, the team has designed a hybrid workshop experience to accommodate towards this change in climate.
The workshop is the first of its kind, connecting our physical DTC to our virtual workshop platform, creating a unique hybrid workshop experience. This session was designed to enable participants to attend from several locations as we adapt to this new hybrid future of work, whilst leveraging the advantages of face-to-face interaction where possible.
"Working collaboratively with the Fujitsu team at the Digital Transformation Centre has been an inspiring and insightful experience. It has provided Camp Quality with the opportunity to consider new ways to improve our digital experience for kids impacted by cancer. I am excited to see how we can develop these innovative ideas into a digital solution which offers kids facing cancer an engaging way to interact with our education and recreation programs online – whilst in hospital, at home and at school."

– Deborah Thomas, CEO Camp Quality
Watch the below video to see how Fujitsu and Camp Quality leveraged digital transformation to scope and plan a uniform, on-demand service which complements the charity's existing face-to-face delivery model.
Understanding the challenge, and stepping in the shoes of our stakeholders
Participants were split into three teams for our workshop – one team located on-site in our DTC, and two teams joined as virtual participants via Zoom. Everyone was introduced to Camp Quality's situation and challenge:
"How can we leverage digital services to support kids throughout their journey with cancer?"
Then, the overall challenge was re-visited from the perspectives of the people most impacted by the situation, the key stakeholders.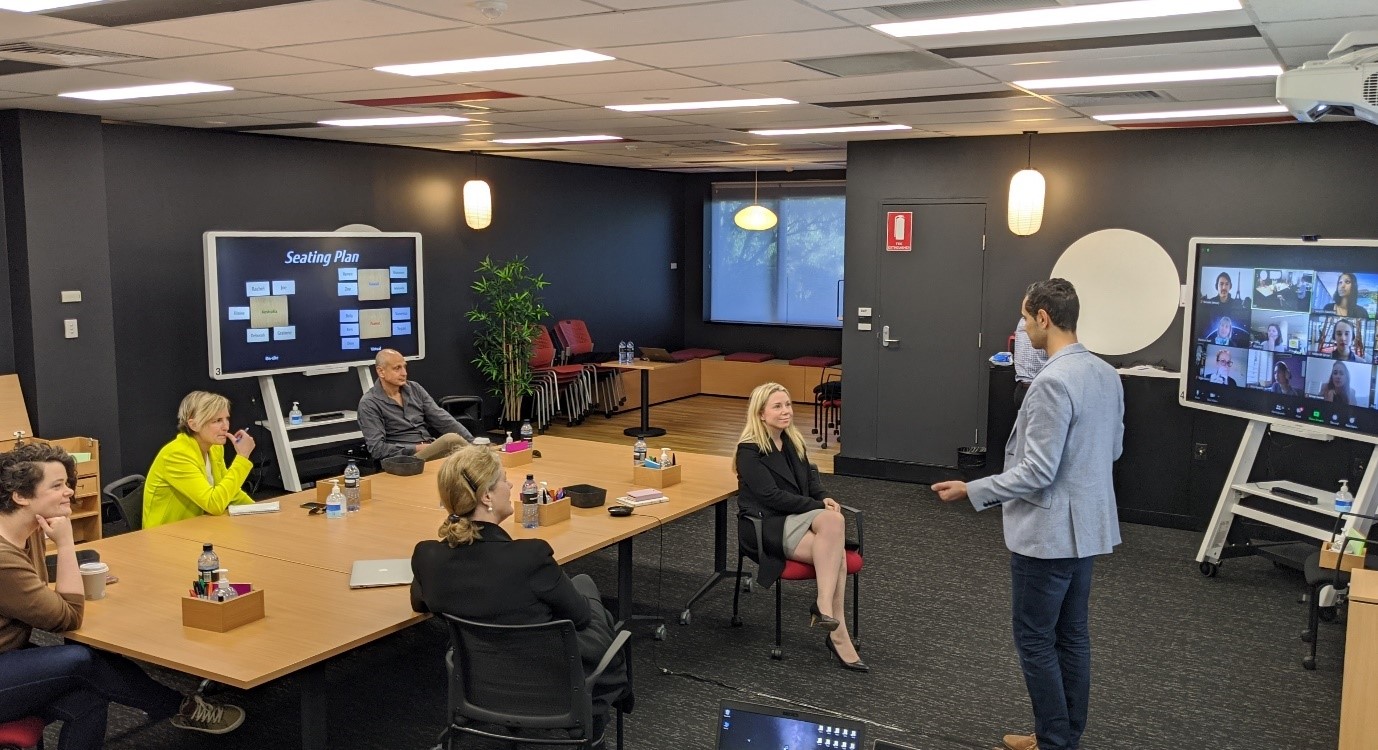 Alignment with the business strategy and success criteria, while inspiring new thoughts
A key differentiator with Fujitsu's HXD methodology is that we focus on understanding business challenges and opportunities within the context of a company's strategy. Deborah Thomas, CEO of Camp Quality, presented the business problem from a customer perspective to ensure that the participants' thinking were aligned with the overall strategy of Camp Quality.
After reflecting on these insights, we expanded our minds with a video by Mobiquity and the Princess Maxima Pediatric Center to provide inspiration on what success may look like.
Let the ideas flow, and the prototypes come to life
Fujitsu understands that new and exciting ideas can sometimes be hard to come by, which is why we use Inspiration Cards in our workshops. Participants were asked to choose an inspiration card which they believe may form the solution to the challenge.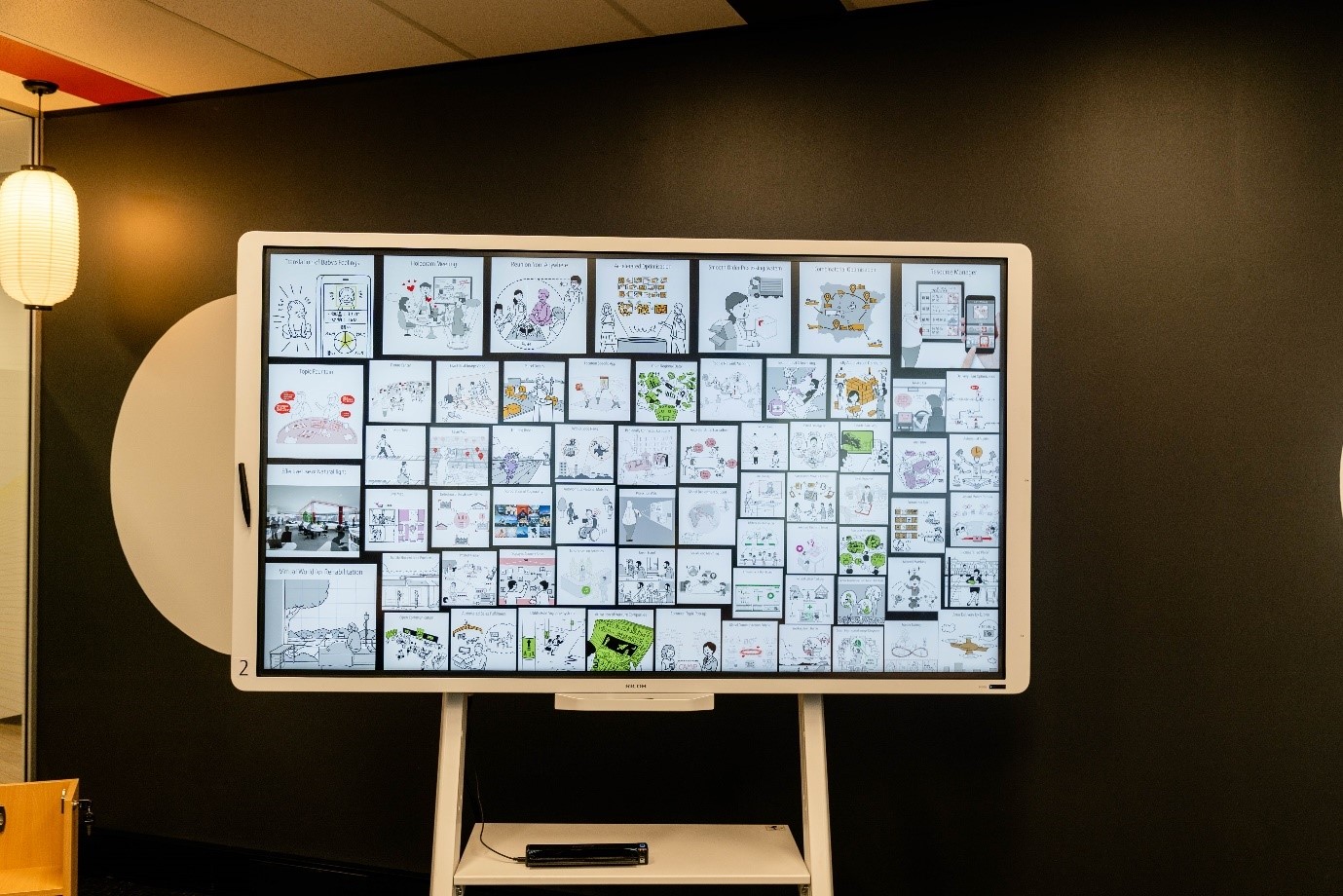 After an inspiration card is chosen, participants were then given time to individually ideate, share and develop ideas into possible solutions by creating visual representations. By the end of this, each team had their own concept design and visual, which were presented across all workshop participants.
Voting and discussing next steps
After presentations, all participants voted for any solution features that stood out to them, and engaged in discussion around immediate next steps that should be taken, ensuring that the momentum generated by this workshop is carried into an eventual project.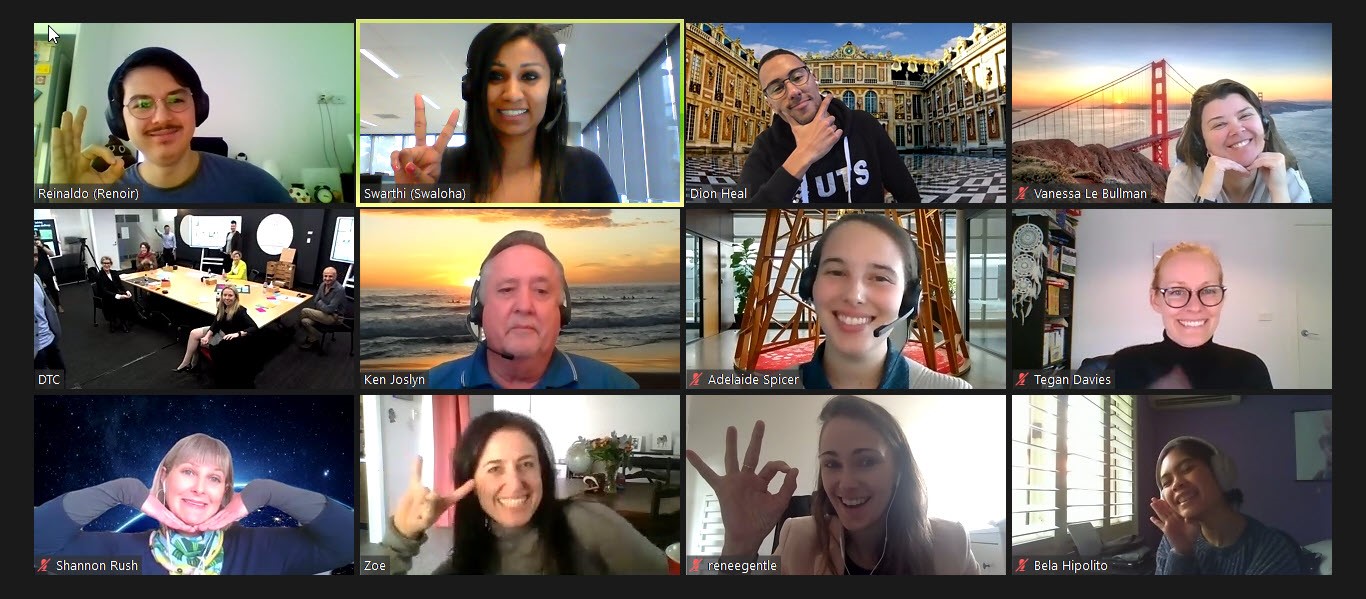 The range of ideas from this workshop has led to a combined solution that Fujitsu's Co-creation team and Camp Quality will continue to bring to life as a proof of concept.
"What I have loved most about the workshop today has been working with multi-disciplinary teams. We've brought together a mix of people from Camp Quality and Fujitsu, with some who are really familiar with our services and programs, and some who are not. I think that is what has enabled us to approach the problem in a different way. This has prompted us to think outside of the immediate day-to-day work that we do at Camp Quality and try to have that broader perspective."

- Grainne Tierney, Head of Corporate Partnerships at Camp Quality
If you are interested to learn more or would like to engage in HXD Workshops at our Digital Transformation Centre, get in touch with our team at Digital.CoCreation@au.fujitsu.com.
by Fujitsu DX Services Team
Fujitsu AUS
November 12, 2020