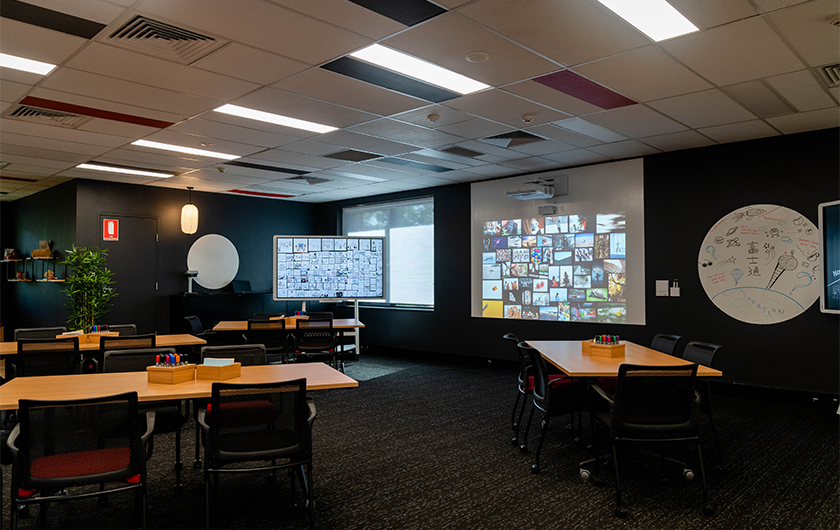 Fujitsu launched its first Digital Transformation Centre (DTC) in Australia in October 2019. Located at the Macquarie University campus in Sydney, the facility is the latest in a string of centres Fujitsu has opened globally for customers to develop innovative solutions for the digital economy of the 21st Century.
Fujitsu has been active for some time in its use of co-creation techniques to help define and develop digital solutions, facilitating concept development with its Fujitsu Human Centric Experience Design (FUJITSU HXD), a unique form of 'design thinking'.
The DTC, a joint initiative with Macquarie University, draws on diverse skills from technology, business, and academia to provide new perspectives for Fujitsu customers while actively encouraging collaborative engagement.
The 'co-creation' workshop space empowers organisations to find innovative solutions to business problems utilising design-thinking methodologies and contains highly interactive digital tools that can be used in conjunction with traditional analogue-style workshops.
The goal of the DTC is to organise customer ideas of the future and develop measures to bring those ideas to fruition. Businesses that can leverage emerging digital technologies can transform their business models and are much better positioned to compete in the digital economy.
Speaking at the launch, Fujitsu Australia CEO, Mike Foster said Fujitsu was actively repositioning itself to help solve the world's social issues and customers wanted more engagement when it came to developing and testing their ideas, regardless of whether they succeed or fail.
"Our partners want diversity in thinking and in participation and this centre will provide that," he said. "We have a strong focus on encouraging innovation, and the DTC is where imagination can meet possibility. Working closely with Macquarie University paves the way for future collaborative ventures between Fujitsu and the University, where corporate and academia can work together on innovative projects that will benefit from a diversity of talent."
"Organisations can work with Fujitsu at the DTC on business challenges and redefine business problems with a view to jointly creating a joint solution. Our customers will benefit from Fujitsu's extensive experience in helping organisations accelerate innovation by working together."
The DTC will host regular workshops with themes around real-world problems to generate ideas that can then be used to develop proofs-of-concept. From there they can be tested, modified, and turned into proofs-of-business focused on delivering tangible outcomes.
Fujitsu's unique approach to co-creation is helping to drive digital transformations, Foster said. "Co-creation means bringing together unconnected areas of expertise from your business and ours. It relies on a deep understanding of technology, speed, urgency and responsiveness in delivery, and an ability to scale. Fujitsu has already worked with a broad ecosystem of start-ups, research bodies, and partner companies to evolve their business."
The DTC is largely technology-agnostic, meaning a solution may incorporate a range of state-of-the-art digital technologies such as big data, algorithms, AI, the Internet of Things, Blockchain and more.
Also speaking at the launch, Macquarie University Vice Chancellor, Bruce Dowton said the partnership between Fujitsu and the university would bring unique skillsets to the table and add considerable value to joint initiatives.
"The potential in this collaboration is vast given we are committed to breaking down barriers between our students and the outside world and this is a perfect test-bed for ideas. This centre will co-create vast amounts of new knowledge with practical applications for the real world."
The DTC is available to all customers for 'Co-creation' sessions designed to help solve specific business problems. All workshop materials and content is translated to digital content on interactive whiteboards and screens, with scanners at each desk.
The Australian DTC adds to already established Fujitsu Digital Transformation Centres in Tokyo, Osaka, Munich, London and New York.
by Fujitsu DX Services Team
Fujitsu
December 20, 2019