Editor's Picks
Human-centric solutions take center stage at the G7 Digital and Tech Ministers' Meeting
Fujitsu / May 18, 2023
The Group of Seven (G7) Digital and Tech Ministers' Meeting in late April provided Japan with an opportunity to showcase how its technological expertise is being focused on generating solutions that benefit society. Fujitsu is no stranger to this concept—we've long focused on ensuring our technology delivers value that leads to a brighter future. This commitment was captured in the message we set for the Fujitsu booth: "Digital innovations creating a sustainable future where people live happier lives." Learn how visitors to the Fujitsu booth got a first-hand look at the innovations centered around human-centric concepts and our aim to make society a better place for all.
The promise of a better tomorrow
When delegates gather in Hiroshima, Japan later in May for the 49th G7 Summit, they will do so against a backdrop of unprecedented and overlapping global challenges so profound that they've come to be collectively known as a polycrisis. And as the host country, Japan acknowledges that technology will become increasingly important in bringing about solutions to these challenges.
On April 28-30, around 100 of Japan's leading technology companies assembled in the city of Takasaki to highlight their ideas for a better world at the Digital and Tech Exhibition, held in conjunction with the G7 Digital and Tech Ministers' Meeting. As visitors entered the event site, one of the first things they saw was the Fujitsu booth, encircled in green paneling bearing the words of our corporate purpose, "Make the world more sustainable by building trust in society through innovation." The message was clear: Fujitsu is dedicated to building a more sustainable society and we have the expertise to make it happen.
Attendance was open to the public, giving local citizens a unique opportunity to see the latest developments from Japanese innovators up close and personal. Of course, since the event was part of the G7 Summit program, government officials from all G7 nations were also on hand to explore how their countries could benefit from the solutions on display. This mix of attendees made for a one-of-a-kind environment that represented a broad cross-section of society—the ideal conditions for Fujitsu to demonstrate how our innovations connect and protect people in diverse scenarios.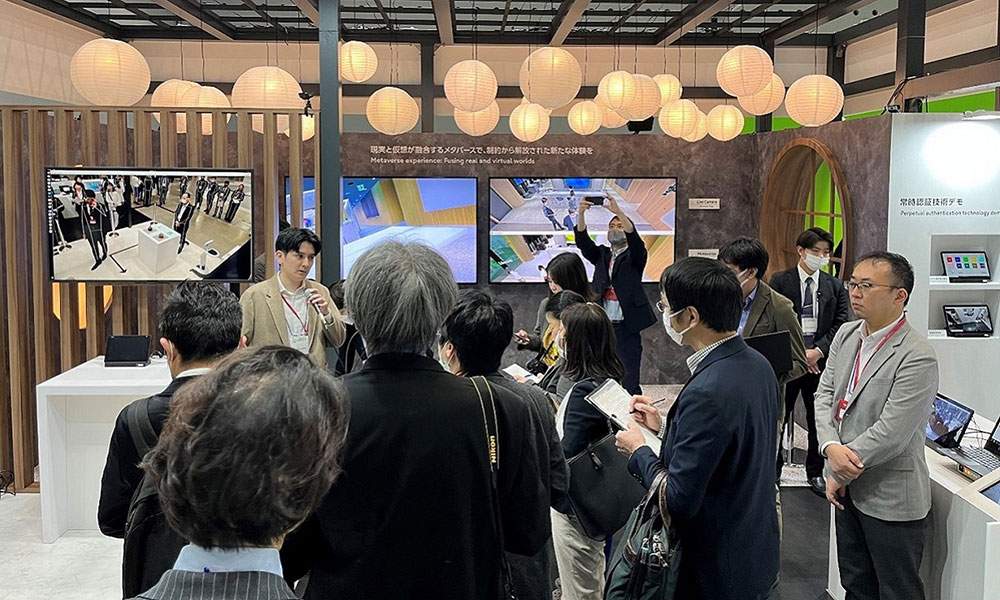 Members of the press listen an explanation about the latest innovations from Fujitsu.
The human connection
In recent years, the idea that technology is becoming a divisive force in society has been much discussed. And while the potential negative impacts can't be ignored, there are many ways that thoughtful digital tools can also bring people closer together. Some examples that Fujitsu presented at the G7 Digital and Tech Exhibition include:
Web3 acceleration platform
A developmental environment that will make it easier for startups, partner companies, and academic institutions work together to build the next generation of Web3 applications and services. Though still in its infancy, Web3 has the capacity to advance novel technologies and create new services that will enable a broad range of applications.
Ekimatopeia
Developed in collaboration with the Kawasaki Municipal School for the Deaf and other partners, this system uses AI to visually display the soundscape of environments such as train stations. This helps the deaf and those who are hard of hearing feel more connected to the world around them by allowing them to experience their surroundings in a way that was previously not possible. And for others, it provides an opportunity to learn about diversity and recognize the challenges they face.
Metaverse connection
Camera images in real space are analyzed via local 5G and reflected in real time in the metaverse space. Using a VR headset connected to the metaverse space, the headset wearer can feel immersed in a remote location, such as a classroom, retail location, or factory, as an avatar. They can interact with other people at the remote location and look around the space in real time as if they were actually there, increasing the feeling of inclusion.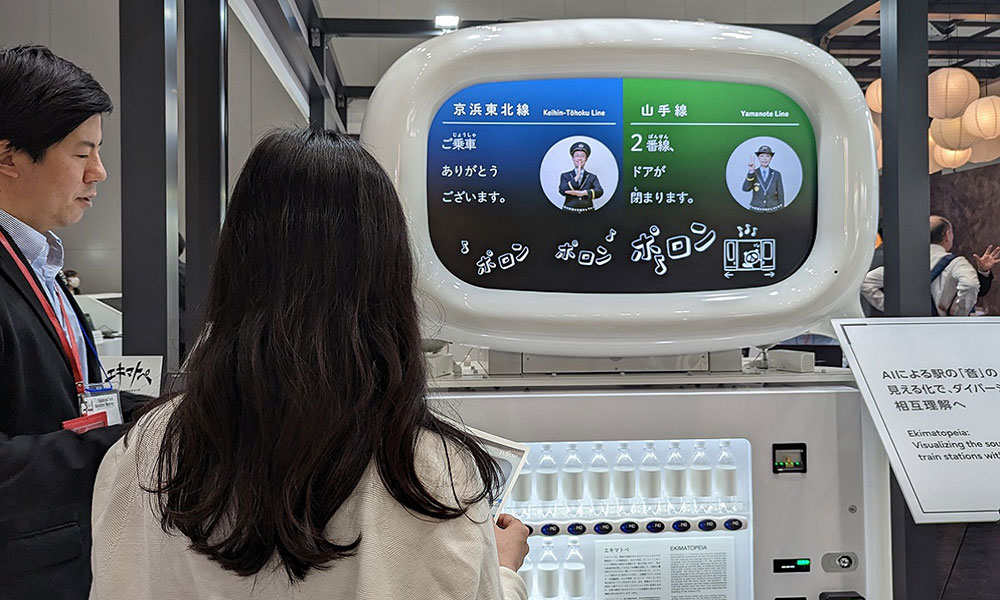 Ekimatopeia uses AI to identify sound and display them as text, sign language, or onomatopoeia, enabling the deaf and people who are hard of hearing to obtain information in real time.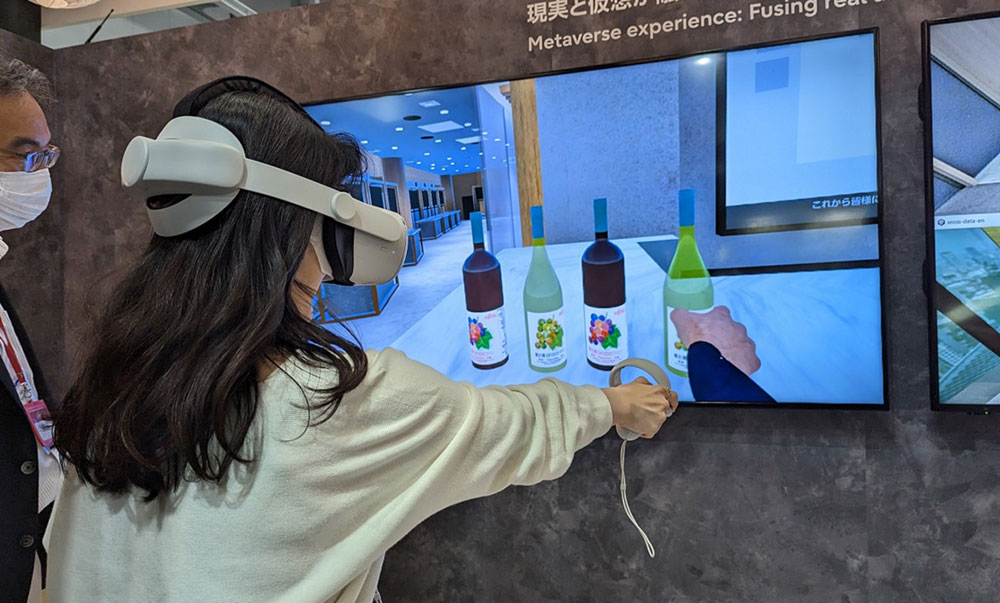 The metaverse allows people to explore remote locations and even interact with colleagues at a virtual bar.
A safer world
Just as important as forging stronger connections is ensuring safety for all members of society. There were several examples of this concept at the Fujitsu booth that illustrated how a technology-led approach to public safety can assist in is an essential part of ensuring security and peace of mind.
Ambient authentication
In settings such as airports, hospitals or other locations where identifying individuals is an important task, this technology keeps continuous track of people after a single registration with no further actions required. Not only is this beneficial for security reasons, it can also increase convenience by displaying personalized messages on digital signage when a person is nearby.
AI crime detection
An AI technology that automatically detects and responds to suspicious individuals without human intervention. Based on Fujitsu's behavior detection technology, which features the world's leading recognition system, this solution was designed to bring about safer and more secure future through constant information sharing, enabling swift incident response and improving employee efficiency.
Natural disaster mitigation measures
As climate change intensifies, river flooding is expected to become more severe. Using the world's most advanced river inundation model, this technology predicts floods with high accuracy based on precipitation, elevation and river topography data. It also safeguards people and infrastructure by linking diverse data and making quick decisions on evacuation guidance and road closures.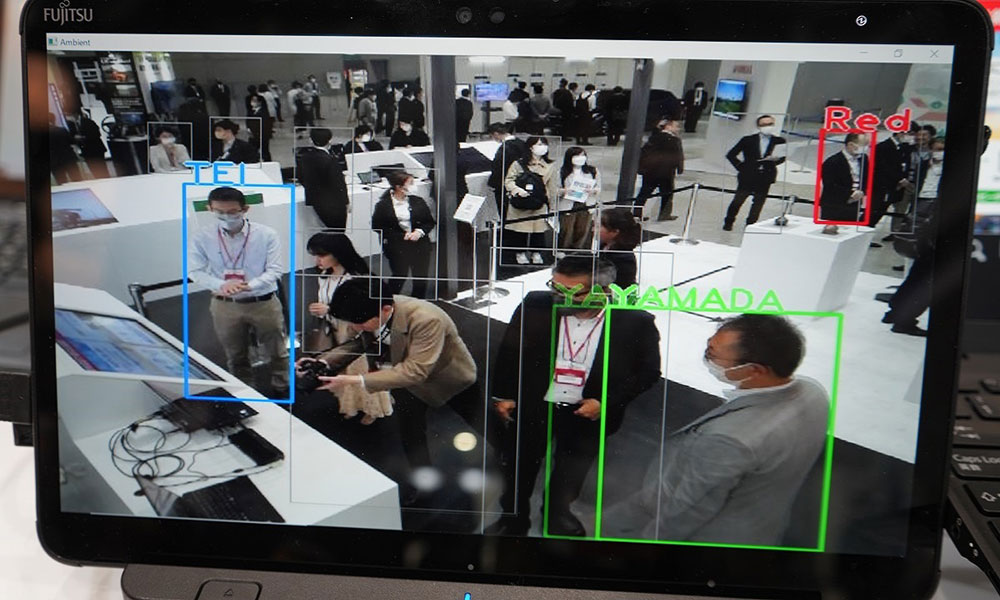 The ambient authentication system features accurate identification and authentication of individuals even in areas with limited visibility.
Sustainability at the forefront
Naturally, our vision of sustainability includes protecting the natural environment as well as improving daily life for all. Visitors were treated to the extremely rare sight of an actual quantum chip at the booth; Fujitsu is the first company in Japan to offer superconducting quantum computers, which are expected to dramatically aid in climate change research, drug discovery, resource allocation optimization and many other fields. The booth also featured a Social Digital Twin display that virtually recreates real-world scenario, such as a use case in the UK that it is being used to trial solutions for mobility services in an effort to reduce CO2 emissions, while boosting convenience and economic activity.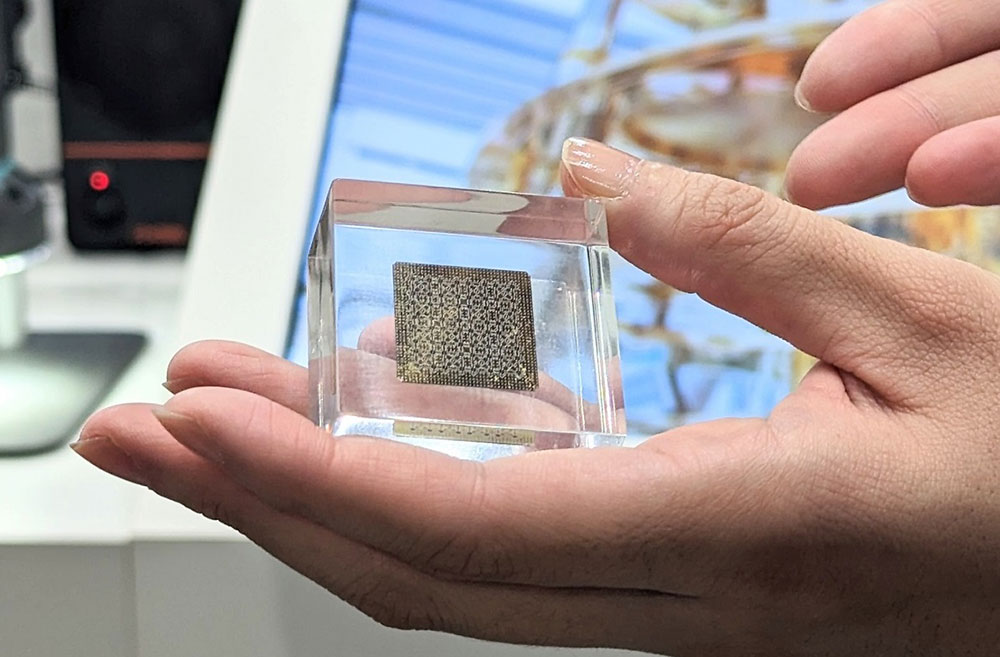 The superconducting 64-qubit chip may be smaller than a thumb but helps solve the most complicated problems.
By the end of the event, thousands of attendees had seen the latest that the Japanese technology industry has to offer. We were proud to be part of such a prestigious and important event and tell the story of how we're doing our part to move society and the environment in a new direction that balances diverse interests to create happier lives and a healthier planet.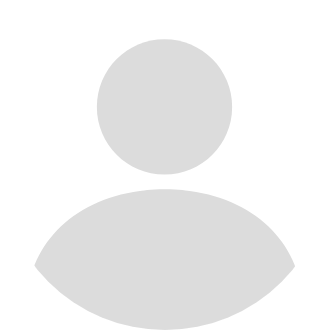 Fujitsu Blog Editorial Team