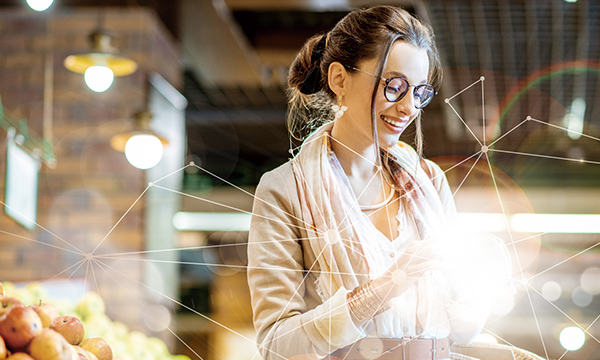 Digital Transformation (DX) is now a 'must-have' agenda item in modern retail, according to 200+ global ICT decision-makers in a recent DataDriven survey sponsored by Fujitsu.*
For my customers, however, understanding the reality of execution and outcome is what really matters in retail and this is what will drive real growth in a post COVID-19 environment and beyond.
Shoppers are more in control of the 'journey' than at any time in retailing history, demanding information, product availability, and customer services at different points in the path to purchase.
This means retailers need to track behavior, analyze requirements and have people, process and date in place to satisfy the customer – accurate inventory checks available online before visiting a store, store managers equipped with the right tracking tools to facilitate quick 'n' easy click 'n' collect and store checkouts as automated as possible to deliver a fast and 'touch-free' experience.
Technology investments must map closely to these customer journeys and to customer preferences to deliver the right outcome.
Technology investment won't work in my view unless it connects with the business, and that means people. Technology itself is far less important than the people it serves. Retailers with the most advanced and cutting-edge technology will fail to win customers if they fail to offer a human-centric retail experience.
If technology connects with human behavior and motivation, retailers will be able to deliver a human-centric experience that fulfills customer expectations around frictionless shopping, which understands the needs of multi-tasking staff on the shop floor and the needs of agents in an online chat for accurate and customer-relevant information.
For Fujitsu, it is this people dimension which we think is a critical success factor for retail today.
DX solutions delivering human-centric experiences
There tend to be two key drivers behind retailers' decision to invest in new DX technologies:
Reduce cost/loss
Enhance the customer experience.
Increasingly retailers are investing in DX point solutions built by in-house data scientists or third party start-ups to address these business needs: the ability to buy online and pickup in-store, which is being implemented by more than 73% of retailers; and the ability to deliver real-time, in-store recommendations via smart phones, which is being implemented by 77% of retailers.
One of the challenges is that you can quickly have DX proof of concept proliferation in-store and online – this means it is harder to see the overall impact on live business performance and deployment and run in a people-based environment becomes more complex.
Supported by DevOps ways of working and agile delivery methods, retailers are having to move to continuous release cycles for innovation and development to overcome these issues.
Embedding innovation in teams and processes is managed in an ongoing and not in a 'big bang' disruptive approach. The idea of 'roll-out' is becoming quickly out of date.
DX transformation in the engine room
Technology investments inevitably become more complicated when they affect the engine room of the organization – core data processing, key data flows, transaction management, and network management.
Shoppers, store colleagues, call center agents, and depot staff probably – rightly - don't prioritize these activities because they can't see them directly. However, unless investment in these aspects of technology is also strongly driven by the business strategy and the downstream impact on the shopper or online/store sales, retailers are unlikely to achieve the business outcome and the targeted ROI.
Cloud solutions and data delivery, are fundamentally a more efficient, scalable, and cost-effective way to manage data and applications for the benefit of end-users.
Cloud for example provides significant advantages for retailers that experience seasonal demand, letting them scale up and down as needed.
So any cloud investment is not just an IT decision, it has to be assessed for its people impact – there has to be a human-centric intervention: confidence for store managers that in-store equipment such as registers, tablets or mobiles and other DX solutions will remain connected and available to trade; the ability to gather and move information around real time; and the ability for customers to access product information real-time to help them close a purchase.
Retailers in our survey are clearly prioritising cloud and 38% are increasing their investment in these services.
DX Automation – key to winning in retail
Running a retail business is often likened to a military operation. You need sergeant majors, not symphony conductors.
Retail is inherently distributed with HQ, stores, distribution warehouses, complex supply chains, and many diverse employee function groups. Customers, in-store staff members, and suppliers are all key stakeholders. Managing all these moving parts requires a massive number of processes and precision.
Automation – and associated DX technologies - can dramatically reduce the time and effort involved in making sure everything runs smoothly. Automation is not about replacing people, it is about allowing people to be redirected to more value-added roles.
The survey revealed that many more retailers see artificial intelligence (AI) as an opportunity (70%) than believe it is a threat (10%).
Three quarters (74%) believe that AI will fulfil some of the tasks currently performed by humans and, at the same time, two thirds (67%) believe it will result in a better quality of life and allow for the creation of new jobs.
For example, automated solutions can help retailers streamline the onboarding of staff members during the busy Christmas period. Retailers can also automate the checkout process with IOT cameras, manage fresh produce waste with machine learning, and control energy usage in their stores.
This leaves in-store employees free to interact with customers, providing a much higher level of customer service and, potentially, resulting in more engaged and happy staff members.
Online customer-facing activities are increasingly automated, such as sending product reviews automatically to customers when they enter the store or pause at a particular display. In-store staff can then work with the customer to help them complete their purchase.
Read the full report on our website here
People need actionable intelligence, not just data
Business insight fuels smart decisions. Having a really clear and accurate understanding of the business, why conversion drops at certain times or where cost is incurred unnecessarily, can be invaluable.
However, it is important to note that analytics and business intelligence can merely pinpoint the problem; they can't necessarily offer solutions.
Retailers have invested historically in large database solutions to analyze business problems. In many cases, these solutions at best deliver dashboard analytics that present findings and not business actions.
What retailers want is actionable intelligence to prompt changes in process and behaviour at the store or online level.
This is why human-centric data analytics solutions are critical in today's retail environment. Real-time business intelligence can detect wasteful in-store energy consumption, what is needed to deliver the benefit however is a task management solution to direct store colleagues to change temperatures on fridges.
This is what human-centric DX in retail is all about – using technologies like, mobile, cloud, IoT and AI to turn data into business benefit.
Human-centric retail innovation – the power of DX technologies
While COVID-19 has without doubt disrupted retail globally in the short term, I believe the pandemic is only accelerating trends that had already emerged strongly amongst higher-performing retailers.
Online retailing will grow but so too will the links and connections between online and in-store retailing.
DX technologies – and the associated changes in process – are enabling retailers to embed these links in their online-offline operations.
Sure, we will see more self-service, scan-and-pay and automated checkout solutions, more customer-journey tracking on smartphones, more stores will become micro-fulfilment centers for home delivery and more processes and tasks like queue management and inventory levels will be delivered by machine learning and robots.
People however will be the drivers for change, execution and business benefit. DX in retail does not mean the end of human-centric shopping and process delivery, it means people in retail are more important than ever before.
Read the full report on our website here.
* In 2020, research and advisory firm DataDriven surveyed over 200 ICT decision-makers from nine countries in Europe, UK, Asia, Oceania and the US across a broad range of technology and retail business issues to produce a comprehensive report entitled: ICT & Digital Transformation Trends: Global Retail Industry.
by Richard Clarke
Fujitsu
September 17, 2020