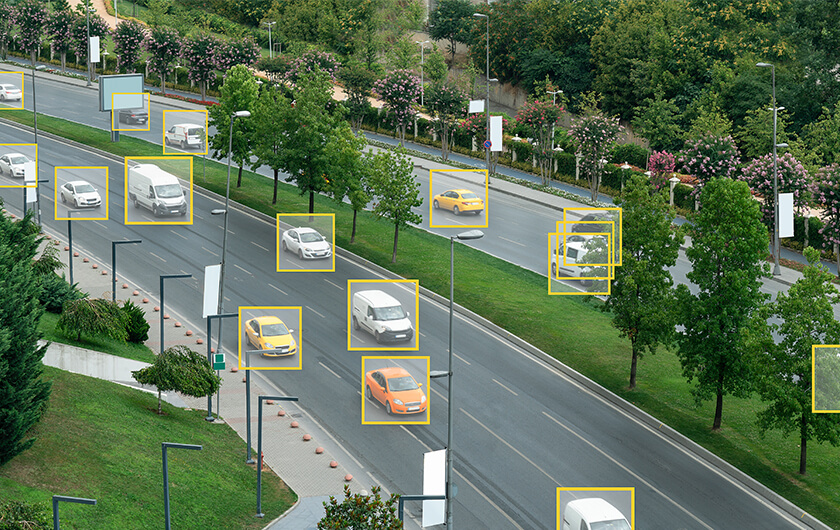 Stranded vehicles cause traffic congestion and accidents
Vehicles stranded as a result of adverse weather, congestion, or traffic accidents will invariably cause more disruption – and in some cases, a safety concern. To ensure the safety of the roads, it's important to detect stranded vehicles and get rid of them as soon as possible. According to a 2015 study conducted by Japan's Ministry of Land, Infrastructure, Transport and Tourism entitled Records of Road Closures and Stranded Vehicles on National Highways Caused by Snowfall, more than 500 vehicles get stuck in snow every year, with road closure distances reaching a total of 1,670 kilometers, and road closure time reaching 1,100 hours.
During the record-setting snowstorm that occurred in Hokuriku in February 2018, multiple large vehicles that weren't equipped with tire chains were left stranded across the region. It took a long time to move these stranded vehicles, and at one point over 300 vehicles were stuck.
What are the challenges of monitoring national highways using 13,000 CCTV cameras?
Today, in order to monitor the roads and rivers under its jurisdiction, the Ministry of Land, Infrastructure, Transport and Tourism has installed around 20,000 CCTV units around Japan. Among them, approximately 13,000 CCTV cameras are installed on national highways across the country. In each of the national highway offices throughout Japan, two or three road monitoring operators use large-sized monitors to monitor the camera footage 24 hours a day. As soon as they notice an incident has occurred, they're able to share information with relevant authorities and dispatch emergency vehicles.
However, as more and more CCTV cameras are installed on roads every year, it's becoming increasingly difficult to constantly monitor camera footage in order to detect stranded vehicles – while also carrying out emergency measures.
In March 2018, the Ministry of Land, Infrastructure, Transport and Tourism began promoting the detection of traffic incidents using AI technology as part of theTelecommunication Technology Vision 3, which lays out goals for R&D and the implementation of technologies to be met by 2022.
The plan aims to enable faster, more accurate detection of incidents by deploying AI alongside human operators.
AI detects stopped cars and traffic congestion, then notifies road monitoring operators
In July 2019, Fujitsu began offering its Fujitsu Public Sector Solution: AI Detection System as a solution to support road monitoring operators by automatically locating cars and traffic congestion using AI and notifying the operators.
The AI Detection System utilizes deep learning technology to train the AI using an extensive variety of images of vehicles as learning data, allowing it to automatically detect various different vehicles (such as passenger cars, trucks and buses) without being influenced by external environmental factors like weather or what time of day it is. Because the system works by switching between 20 standard camera units and one AI system, there's no need to set the processing range for each camera or to configure the angles of the range of scenes captured by the cameras. This makes detection possible without adjusting existing daily camera monitoring processes.
In addition, a variety of incidents such as stopped vehicles and traffic congestion are automatically detected and quickly notified to road monitoring operators, allowing them to take rapid initial measures to address traffic incidents. For example, if the position of a vehicle remains unchanged for a certain period, the AI recognizes that it's stopped. If there are more cars on the road than the preset threshold, it recognizes it as traffic congestion. By relaying this information to road monitoring operators using map displays and alert notifications, they can respond more quickly to the incident. In addition, footage of the events before and after detected incidents is stored in archives that can be used for determining causes, and formulating plans for future events.
Going forward, this technology will be capable of detecting abnormal driving, such as cars moving slower than other cars around them, cars moving against traffic, and cars ignoring traffic barriers placed on the road.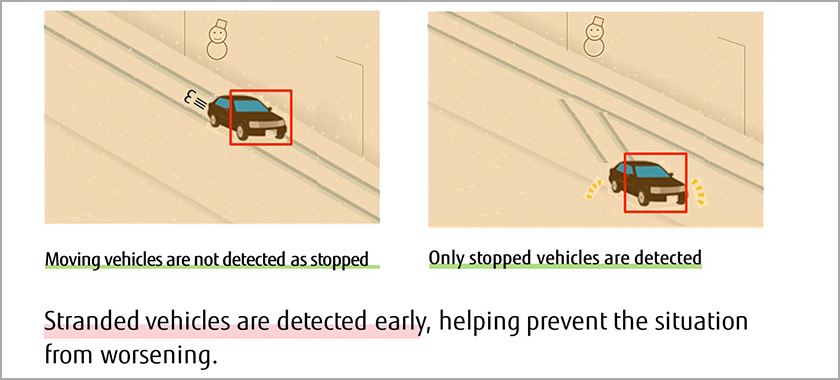 Detecting stopped vehicles
Detecting traffic congestion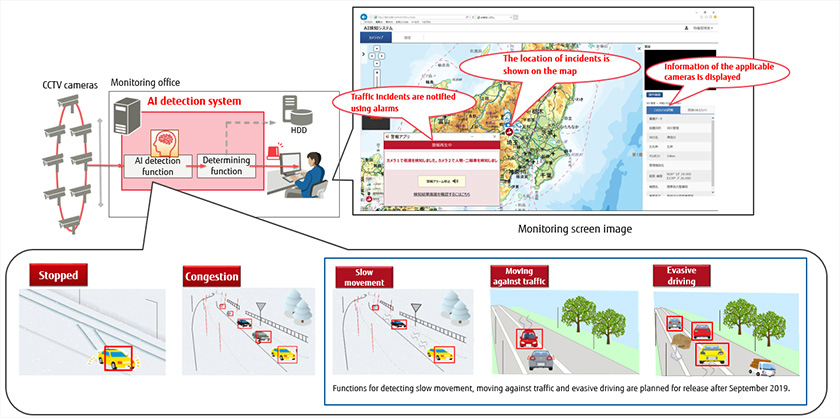 System structure image
*The AI Detection System is based on Fujitsu Human Centric AI Zinrai
High-accuracy recognition rates already achieved
The Kanto Regional Development Bureau of the Ministry of Land, Infrastructure, Transport and Tourism was tasked with testing this system to verify its effectiveness. Among its offices, the Takasaki River and National Highway Office oversees the roads that extend to Niigata Prefecture and Nagano Prefecture, a region where vehicles frequently get stranded – especially in winter, due to heavy snowfall.
Results of the test demonstrated that vehicles could be detected without the system being impaired by weather or the time of day. Even if the viewing angle was changed, the system automatically adjusted its angles to detect vehicles, achieving highly accurate recognition rates. There was less snowfall than usual last year, so no cars were stranded, but when traffic congestion occurred due to a large-size vehicle that was stopped, the system accurately detected the stopped state of the car and the congestion caused, proving the system's effectiveness.
Considering applications in predicting incidents and in river monitoring tasks
Moving forward, Fujitsu is looking to implement comprehensive support features to address problems on the road by developing hypotheses for the conditions under which vehicles get stranded. This will involve using camera footage and information weather conditions and use them to predict traffic incidents and display the results on maps.
Furthermore, we aim to improve accuracy even further by creating learning models tied to accumulated past data and weather data.
By implementing these features, we can use the footage library of traffic incidents that are compiled using the AI Detection System to predict and prevent the occurrence of future traffic incidents, or even expand services that can build initial response capabilities before accidents occur.
In addition, by expanding the scope of the AI Detection System, we also plan to use it to monitor not only roads, but also rivers. By implementing human detection features, monitoring cameras can be used to detect human presence in restricted areas, or to monitor drainage basins when dams are discharged – reducing the burden of patrolling tasks. It can also be used to monitor areas at risk of flooding.
Fujitsu plans to continue providing various systems using the latest in ICT for public agencies that are working to ensure that public infrastructure surrounding rivers and roads can be used effectively as the foundation of people's lives in the community, and to build a safe and secure society.
by Fujitsu Blog Editor
Fujitsu
November 20, 2019