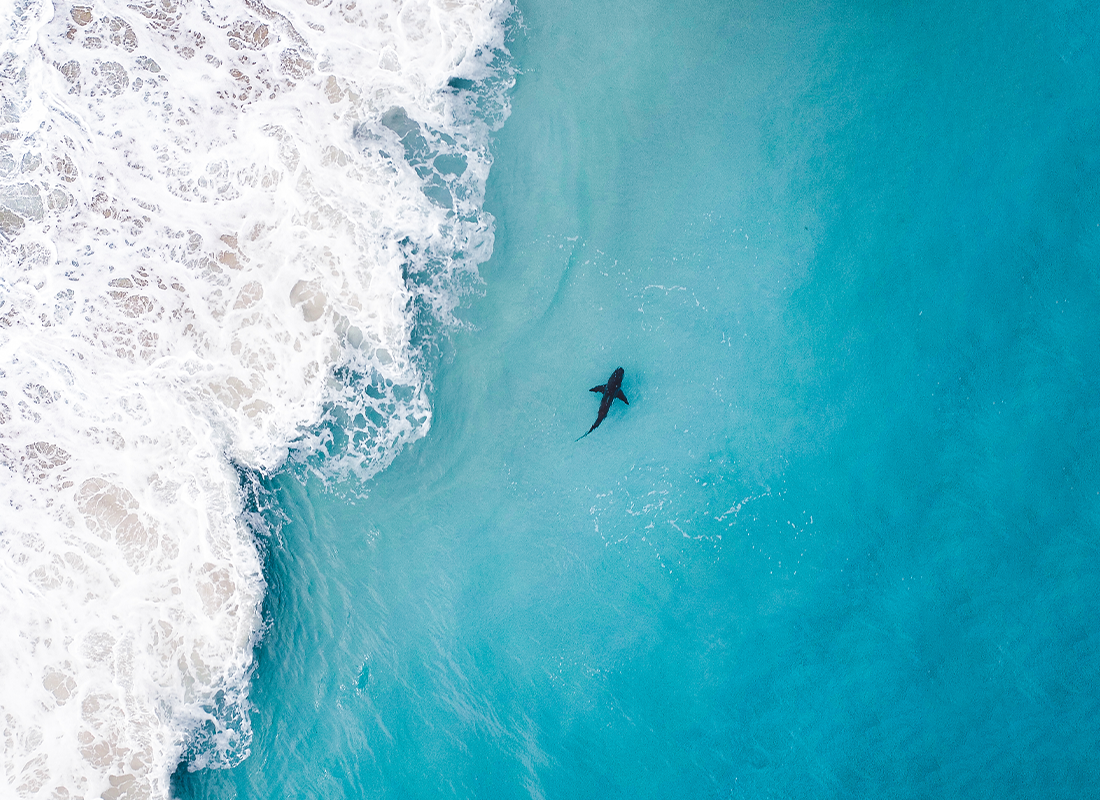 Pop culture has spent decades reinforcing the danger that sharks present to humans. Movies, novels, and documentaries alike have all established sharks as the ocean's top predators — prehistoric beasts cast into a modern setting, and conflict with humans inevitable.
But it's not an accurate or a particularly healthy view, notes Dr Cormac Purcell, a director at Sci-eye, an Australian technology company specialising in solving environmental challenges.
It's given issues like shark attacks a disproportionately large place in the public's imagination, and that has real-world consequences.

Dr Cormac Purcell, Director at Sci-eye
Dr Purcell continues, "if you look at the statistics, there are about 15 shark attack deaths per year worldwide, each is tragic, but the way we've responded to that has had some pretty drastic implications — you see solutions like beach closures, which in turn have flow-on effects for tourism and associated businesses. Shark culls also endanger the shark population needlessly and just reinforce the problem in the public eye."
Dr Purcell explains that midway solutions like shark nets also have the potential to do a lot of damage to the surrounding environment.
"Shark nets may reduce the number of dangerous sharks getting to the beach, but for every dangerous shark they catch, they also catch about ten other harmless marine creatures," he notes. "Long-term, that's going to have harmful effects on the beach's ecosystem."
But a more viable solution is emerging. Since 2016, the NSW Department of Primary Industries (NSW DPI) has been trialling the use of drones to detect sharks at NSW beaches in collaboration with Surf Life Saving NSW.
"Historically, the go-to solution for shark-spotting has been to use crewed aircraft, but this is resource-intensive and presents some safety issues," says Dr Purcell. "The NSW DPI found that consumer-grade drones in the hands of lifeguards are an effective and popular monitoring tool".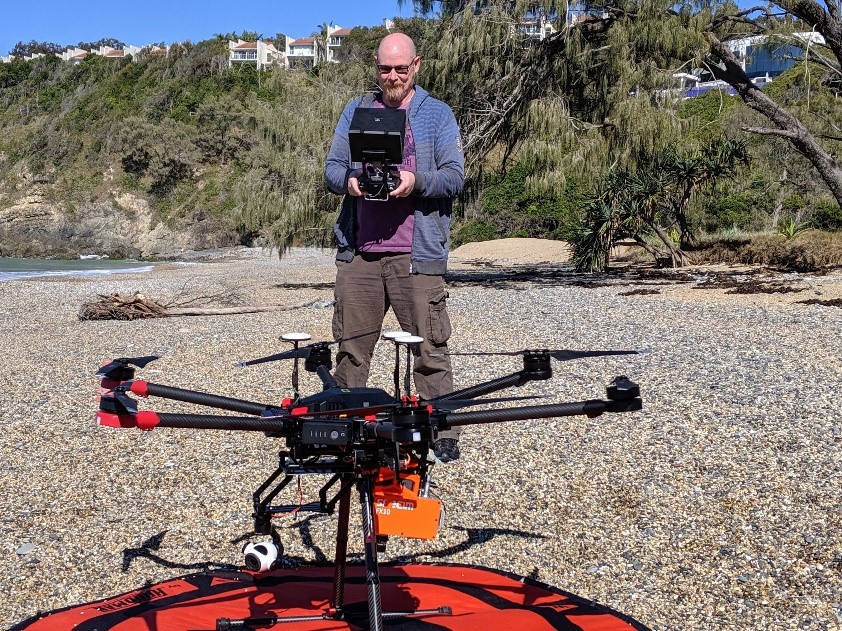 Last year, Sci-eye co-founder Dr Andrew Colefax surveyed beach users and found overwhelming support for shark-spotting drones.
"The public really appreciates that drones are much less harmful to sharks and can be very good value for money," says Dr Colefax. "Even a small surf lifesaving club can put a drone in the air, but the downside is that many pilots don't have the experience to confidently tell dangerous sharks from harmless species."
We had the idea that artificial intelligence — AI — could help the pilots. By chance, we were introduced to the Sci-eye team and built a really great collaboration.



Dr Paul Butcher, Principal Research Scientist in charge of drone trials at the NSW DPI
The task then fell to Dr Purcell and fellow astrophysicist Dr Andrew Walsh to develop an AI algorithm that could accurately identify a variety of shark species under different ocean conditions, different weather conditions and in different locations — no easy feat.
"Astrophysics is probably not the first profession you might think of to tackle a challenge like this one," notes Dr Walsh. "But our experience detecting faint objects in deep space is exactly what is required."
Dr Purcell, who is also a lecturer at Macquarie University at the start of the project, recognised the potential from the beginning.
"Macquarie University was very supportive – awarding seed funding to get the AI research off the ground," says Dr Purcell. "Once we demonstrated a successful prototype, the NSW DPI struck a research partnership with the University, and it was all hands-on deck from then on."
We needed some serious processing power, and that's where Fujitsu was kind enough to step in. They provided us with a server and graphics processing equipment, which enabled us to fine-tune the algorithms and ensure that we were building the best possible system. The work was driven by the scientific method, which means lots of repeated experiments. Fujitsu's server allowed us to really accelerate that iterative process and was critical when managing our large database of shark videos.

Dr Cormac Purcell, Director at Sci-eye
Early tests have been promising, and there are planned rollouts of the AI system across 35 beaches around the country over summer 2021/22. The team sees big things ahead for the initiative. Surf Life Saving Australia personnel will be trained in using the new software, helping them confidently spot and identify sharks while retaining the crucial human element.
"We're really excited about the potential outcomes," says Dr Purcell. "AI tools are great for automating the detection process, but we still want to have that human element in place to be able to interpret them effectively. We are building a decision support tool."
And although the system was developed with shark safety in mind, he's of the opinion that its reach will eventually expand across a much broader range of applications.
"Sharks are just the beginning," he says. "Gathering data around sharks can tell us a lot about ocean health in general, so I think we'll eventually see it configured to look at other indicators."
Whether that's different fish species, marine life, ocean plant growth — or some combination of all these factors — the Sci-eye team is confident that the information has the potential to better fuel the conversation around ocean conservation efforts.
The project is a great example of cooperation across disciplines and between academia and industry. We have already spun-out new research, and in 2019 we worked together to organise the multidisciplinary X-Sensing Conference, helping scientists connect to industry and learn AI tools. Fujitsu was the lead supporter there and was absolutely key to the success of the event.

Dr Paul Butcher, Principal Research Scientist in charge of drone trials at the NSW DPI
"It's an exciting time to be involved in AI and machine learning," says Dr Purcell. "We can do a lot of good with this technology, and it's a real pleasure to work with the NSW DPI, Surf Life Saving NSW, and Fujitsu on this project."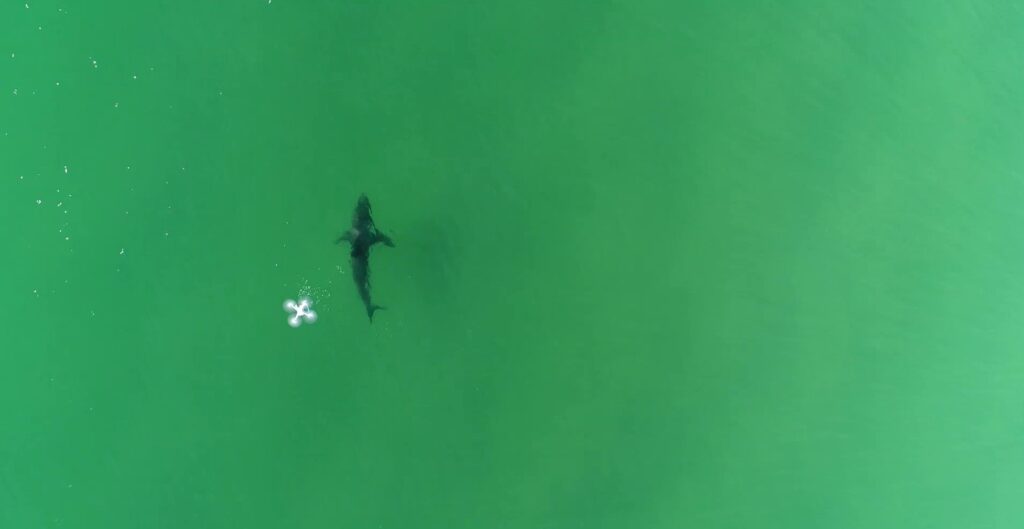 by Fujitsu Blog Team
Fujitsu
September 21, 2021