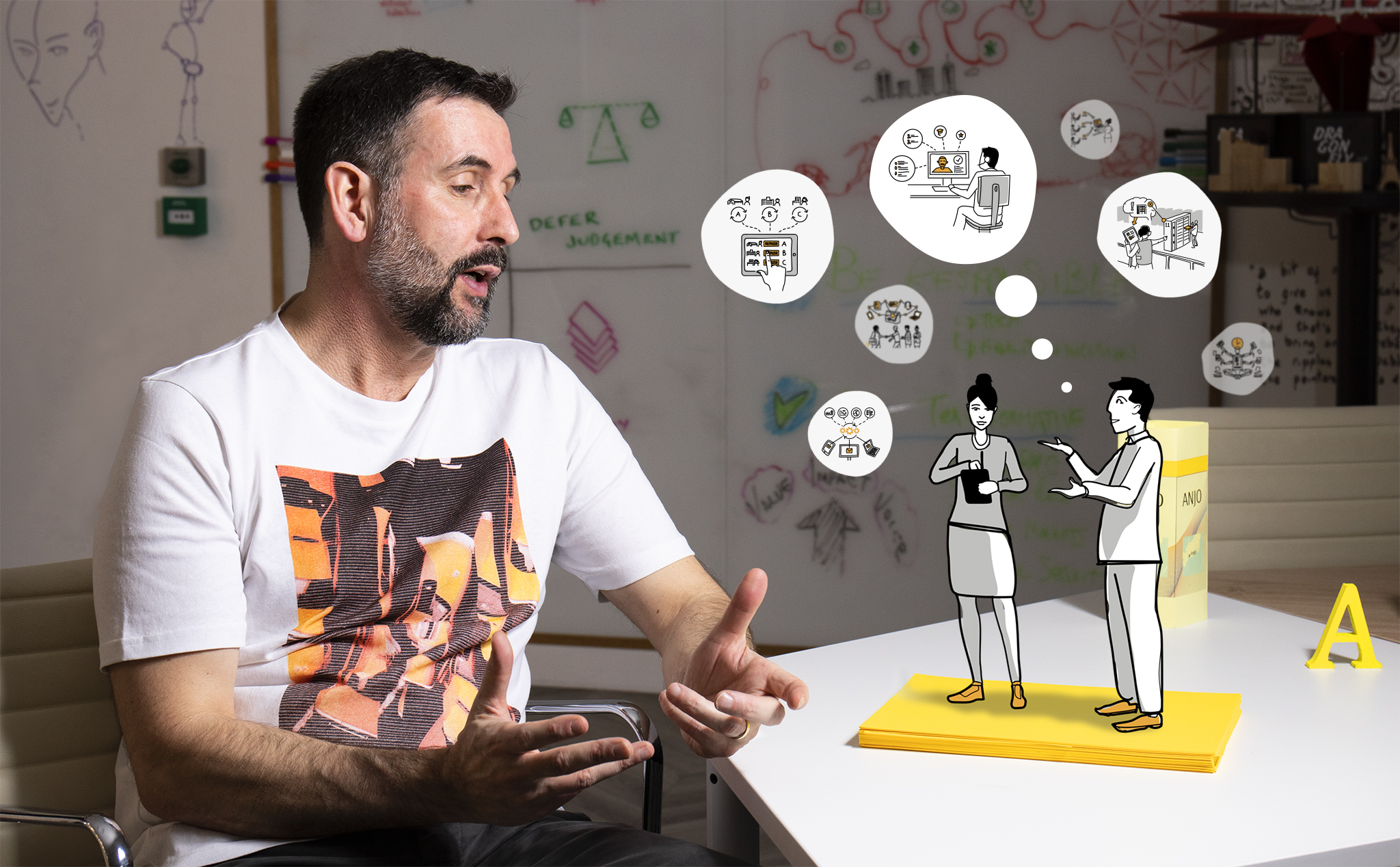 Over the last 12 months, we have created innovative virtual and real-world spaces to best support groups working together on a common mission.
This includes physical spaces in fixed locations in major global cities, as well as pop-up spaces that can be used anywhere in the world (we've done this 2000 meters up the Alps and at -20c in the Arctic Circle)!
The same care and dedication we apply to building a physical room has also been applied to designing a virtual space that we use to bring together decision makers from business, technology and academia.
For creative collaboration and concept design, it's not enough to simply schedule a video call and turn on the webcam. We've been developing a virtual co-creation facility since last year, taking care to not just think about digital tools but integration of new ways of working in an alternative virtual world.
Even before social distancing became necessary, getting all the stakeholders and experts in one location had been an issue for many of our colleagues and customers when working with a globally distributed team.
The workplace will continue to evolve, adapting to settings and styles of working that enable individuals to work in ways that suit them. Workplace for groups is evolving too and it has been our goal to provide a standout virtual facility to support borderless collaboration in a digital environment.
We know that as humans, we often have "aha" moments on our own, but these are improved significantly through collaboration and the insight and experiences of other people. Therefore, the continued ability to bring together people with a shared mission around a topic remains essential.
Evolving Human-Centric Experience Design (HXD)
When we move home, sometimes the furniture from the old house doesn't work so well in the new space. This is also the case with virtual working. We have adapted our approach to ensure we bring the best of everyone's experience and imagination.
The experience is about creating concepts informed by real insight and to develop solutions that address specific business needs. We invite a variety of different people, each with a unique perspective, to one of our dedicated spaces (physical or virtual). Here we use creative techniques to unlock the best ideas with a range of experts from business and technology.
Going virtual
Everyone is used to video platforms by now. They are great at keeping us connected. Some organizations have been using these tools for workshops. However, the use of these applications often cause us to replicate traditional meeting behaviors. For example, individuals' webcams are always on which impedes creativity in the more self-conscious, hierarchies and professional roles are often reinforced, and people generally end up talking sequentially, typically giving more airtime for senior members.
We believe that for real human centered design we need to use a proper facility that helps to take people into a different mindset, flattens the hierarchy, removes the restrictions placed on us by our job titles and allows multi-group working.
In our virtual world, we use avatars, which help democratize the process. We use well-structured design activities to help participants create new and transformational concepts that address a business need.
With our virtual co-creating experience, we want to replicate some well-chosen aspects of design tools used more readily in physical spaces. This includes the use of ideas cards for inspiration that are created with a distinctive Japanese illustration style. People can work individually, as a group, and simultaneously in small teams. Like the physical world, people write sticky notes, visualize ideas and use white boards.
We make use of special 'sound-zones' which act like digital glass-rooms where groups within groups can have private conversations but still experience the buzz and energy of a larger gathering.
Co-creation above all
The new virtual HXD Co-creating Experience allows us to bring people together like never before.
Huge geographies are no longer impediments to bringing the best people together to address a particular business or societal issue.
People arrive to sessions fresh and excited. We even have a virtual coffee lounge and encourage people to log in early so they can get in the right mindset before their session starts.
When scheduled sessions all over, people can come back into the space during the next 30 days and reexamine all the things that were discovered and created.
As the adoption of virtual working accelerates, we will continue to refine our HXD approach and the tools we use. A remote-first mindset will help us address more business issues together and make a bigger impact.
The effects of travel have always been something we've had to deal with, as stakeholders can often arrive exhausted or jet lagged following long journeys. And a real mutual benefit is the reduction in carbon footprint and energized co-designers.
We expect our virtual co-creating experience to go from strength to strength and become an integral version of how we work with customers and partners.
The downside? Well, tea or coffee is never quite as nice when you have to make it yourself!
by Joachim Box
Fujitsu
June 12, 2020