Through 'revenge travel', tourists all over the world are rearing to make up for the lost time. It is estimated that it will take the next five years for the tidal wave of 'revenge travel' to subside.
Also, over the last two years, customers have enjoyed significant uplift in their experience with brands, and the products and services they offer. Products and services have become far more accessible and personalised. Customers will begin to expect a step up in their travel experience when they start their travels again, especially in CBD areas where they have not been able to spend much time in the recent past.
As this new age of travel unfolds in the heart of major cities, public transport agencies and operators should gear up to deliver on this expectation of a transformative travel experience.
The first step in creating a frictionless transformative travel experience is reducing/eliminating the time spent by commuters in purchasing tickets. According to recent research published in Science Direct (Transport Policy Vol 93), based on a study to evaluate mobile fare payment technology deployed to bus riders in Tallahassee, Florida, an overwhelming majority (>70%) of the commuters claimed that technology that allows them to purchase tickets on the go:
Reduced their waiting time,
Reduced their transit time, and
Significantly improved their overall satisfaction in using public transport.
The word cloud of their overall experience sums it up…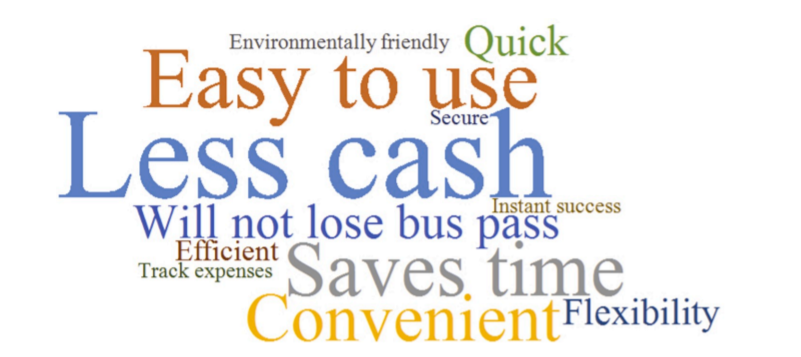 Not only does the Fare payment-as-a-service technology benefit the commuters, it also significantly benefits the operators. According to the research, 68% of bus operators stated that they spend less time collecting fares. This not only enabled operators to focus more on their primary responsibility (driving the transit vehicle), but also improved the perceived boarding times and commute times.
Frictionless experience is the new normal
As a technology company working with customer across industry segments, we see this to be a common thread across industries. Retailers are investing significantly in reducing the frustration arising from standing at checkout counters. Amazon Go and the new UNIQLO checkout technology are all classic examples of investments made by businesses across the board to deliver a frictionless transformative experience to their customers.
Fujitsu, through its continued investment in innovation and relentless focus on improving outcomes for its customers, has been collaborating with leading industry partners in the mobility space. We take an eco-system-based approach to maximising value for our customers and partners.
Recently Fujitsu collaborated with Masabi – a leading player in the fare payments-as-a-service space to deliver such transformative experience to an iconic airport transit operator and travellers coming into Melbourne. Masabi's Justride platform, was named Ticketing Technology of the Year 2019 and 2020, is used by more than 100 public transit agencies and operators of all sizes across 10 countries.
Now, passengers coming out of the terminals do not have to wait in long queues to purchase transit tickets. They can simply board the bus tap on using their standard Euro/Mastercard/Visa cards, proceed with their journey and tap off at their destination. This technology enables a friction less travel experience for the customer and also immensely enables the operator to reduce the time and cost spent in fare collection.
In future, based on intelligent analytics, there may be potential for passengers to receive personalised discounts or fares based on their patronage. Also, it will enable the operators maximise their revenue by creating optimal fares and routes based on its usage and traffic.
Fujitsu's innovation initiatives are driven by our core purpose which is to make the world more sustainable by building trust in society through innovation. We are excited to be driving the future of mobility underpinned by our core purpose.
by Sundar Viswanathan
Fujitsu
November 12, 2021