Embracing innovation, technology and science is critical to powering our economy to provide jobs and high living standards for all Australians.1
This statement, made by the Australian Government's Department of Industry, Science, Energy & Resources, has never been so true.
A truly prosperous society is one which is founded on innovation, and Australia is a glowing example of this. From the introduction of the world's first pre-paid postal system in 1838, to the invention of WiFi in 19932, to Google Maps in 20033, Australia has repeatedly been ahead of the game.
With constant disruption of business models, industries and economic models, the need to continually re-invent is perpetual. This has been brought into sharp focus over the last 12 months, as seen with the huge healthcare crisis, a leap in workplace transformation, and the decimation of industries such as travel and hospitality. Jobs, which communities and individuals have previously relied on for decades, disappeared within a matter of months and over time will be replaced with new jobs in new sectors, all fuelled by innovation.
Innovation in the private sector often triggers the need for innovation in the public sector, which could take place in the form of a policy or technology innovation. Examples of this are explored in the following table.

As a result of this continuous economic and policy change, the need for a technology fabric that can support long term adaptability, agility and continuous change becomes an essential ingredient for any government agency.
The drive for innovation also comes from within the public sector itself. Departments like the Digital Transformation Agency are tasked with improving public services to ensure that they are transformed into digital services which are simple, clear and fast to use. Furthermore, groups such as the Digital Technology Task Force and the Digital Economy and Technology Ministers, strive for establishing Australia as a world leading digital economy by 2030. Some excellent examples of public sector innovation are explored in the graphic below.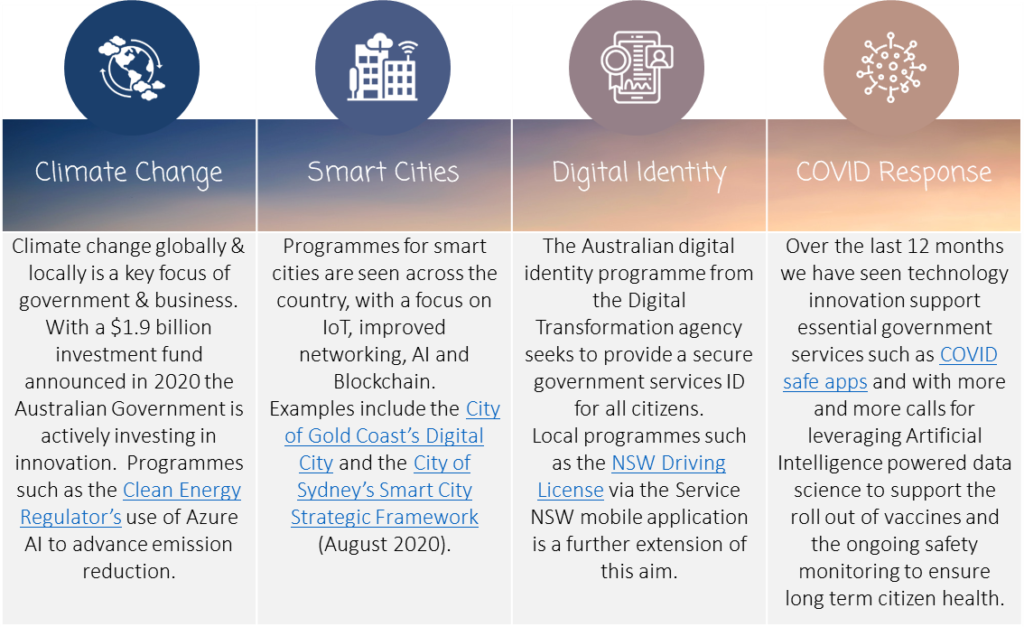 Secure Protected Foundations
With the need for speed and agility, it is not surprising that the government has enthusiastically pursued it's secure cloud strategy. Cloud provides government agencies with a platform for innovation, which can increase velocity for the establishment of new citizen services whilst also removing complexity, technical debt and risk.
Compared to other private sector organisations, who have "cloud strategies", the Digital Transformation Agency's secure cloud strategy emphasises the inherent security which is obligatory for all government agencies in their adoption of cloud. Regardless of the security classification of system information, from UNOFFICIAL, to PROTECTED, to TOP Secret, security is an essential, day-zero job.
At Fujitsu, we take security exceptionally seriously. Many of our federal government, Defence and public safety customers rely on us to ensure the confidentiality, integrity and availability of cloud services. To enable this, Fujitsu has invested heavily in our Cyber Resilience Centre in Canberra, the high security clearance of our staff and the PROTECTED cloud services which we offer.
PROTECTED Cloud
In 2020, the Australian Signals Directorate ended the Cloud Services Certification Programme, which effectively ended the certification of cloud services. This was superseded by the Cloud Security Guidance, which has been published by Australian Cyber Security Centre in collaboration with the Digital Transformation Agency and the wider industry. The result is a comprehensive set of guidelines and control objectives which are designed to assess the risk of adopting cloud for specific use cases.
One of the biggest barriers for agencies and organisations who are adopting PROTECTED cloud to overcome is the risk assessment which is necessary to confirm that a cloud service can gain authority to operate. This assessment process can be long and arduous and has the potential to delay and derail a government programme, which can have far reaching consequences to citizen services and the security of our nation.
This is the reason that Fujitsu has created a set of PROTECTED cloud services, to accelerate and protect the deployment and management of critical enterprise applications. With these services, you do not need to start from a blank page, or go through the full risk assessment yourself. Instead, you can immediately build upon existing architecture patterns and management processes which Fujitsu has already IRAP assessed for you to consume. This increases your agility and velocity, allowing you to focus on the delivery of early value to your stakeholders.
The diagram below puts context to the layered aspects of a cloud service delivery model and the associated considerations for each layer.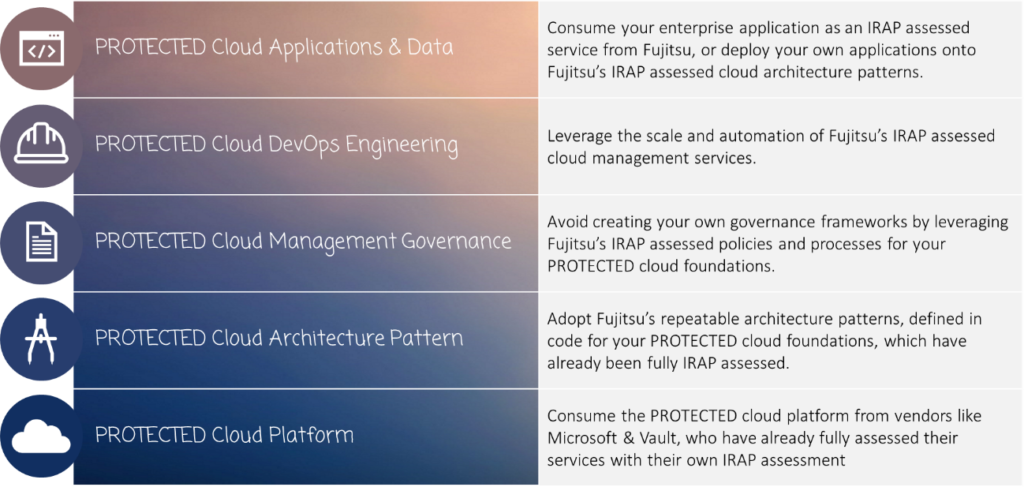 Secure Cloud Adoption
Over the last 12 months, Fujitsu has assisted several government agencies and private enterprise organisations to achieve business agility and adaptability built upon secure cloud foundations. The process is outlined as below.
These programmes often start with the establishment of your cloud strategy and the cloud economic model to provide you with visibility of the TCO and ROI of your cloud adoption.
Then, they launch into the migration and modernisation phase, allowing you to rapidly adopt PROTECTED cloud whilst transforming your most critical applications to take advantage of cloud technologies.
Finally, the ongoing optimisation and management phase supports the continual evolution of your cloud fabric and the associated application ecosystem.
All of this is done within the context of the cloud service guidance to ensure that you reach maximum agility and velocity with the highest levels of security.
Find out more about Fujitsu's Secure Government Cloud Services here.
---
https://www.industry.gov.au/policies-and-initiatives/boosting-innovation-and-science
https://www.ipaustralia.gov.au/understanding-ip/getting-started-ip/educational-materials-and-resources/history-australian-innovation
https://www.australiangeographic.com.au/topics/history-culture/2010/06/australian-inventions-that-changed-the-world/
by Nick Herbert
Fujitsu
March 26, 2021