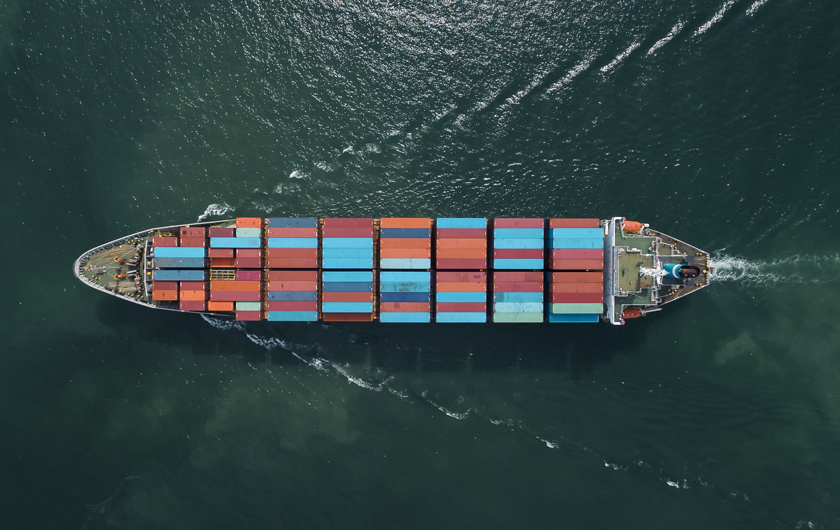 As a leader in Cloud migrations, I am well versed in process of moving complex data, applications and other business elements to the cloud. So when I embarked on my own mass migration, moving my family from the UK to Melbourne 12 months ago, I adopted the same approach. Much like a cloud migration it involved three key elements: people, process and technology. It worked – but whilst the technical side of the migration was relatively straightforward, it was the people and process side of the migration that proved more complex.
So if you are about to embark on your own cloud journey, let's look at how you can use the people, process and technology approach to sail through your migration.
The Technology – 10%
Let's start with the technology. From the outset there are four key initial considerations to make:
The application estate
Existing infrastructure
Your network (platform)
The myriad dependencies that interlink all of the above.
And of course, before any technology changes are made the organisation will require a strong business case. Create that business case by blueprinting current systems – your aim being to replicate that environment but with all the advantages of cloud technology. Key stages in the blueprinting include:
Identifying the most appropriate mix of cloud and traditional hosting environments for the organisation's needs – use this as the base line for change.
Analyze data centre based systems, looking at them from multiple points of view.
Create a transformation plan that has a clear focus on the return on investment projection, and which clearly articulates the business value to the organisation.
The business case completed and approved you can move on to the interesting bit – identifying your target cloud platform (or multi-cloud platforms) and deciding on the migration tools that will get the company from A to B. The most prominent are VMWare HCX, AWS Migration Hub, or Microsoft's Azure Migrate. If in doubt, seek external help to evaluate others.
A fundamental understanding of the mechanics of each technology is a given. Now comes the challenge of matching technology capabilities to your businesses applications, linking them to critical business processes and prioritising the transformation path for the operationally critical applications that will lead to an evolved business function. Some of your applications will be Rehosted, or Replatformed, whilst others will need to be Repurchased, Refactored, Rearchitected, Rebuilt, Retired or Retained… the list of "Rs" gets longer every day! Fujitsu has an 8R methodology illustrated in the diagram.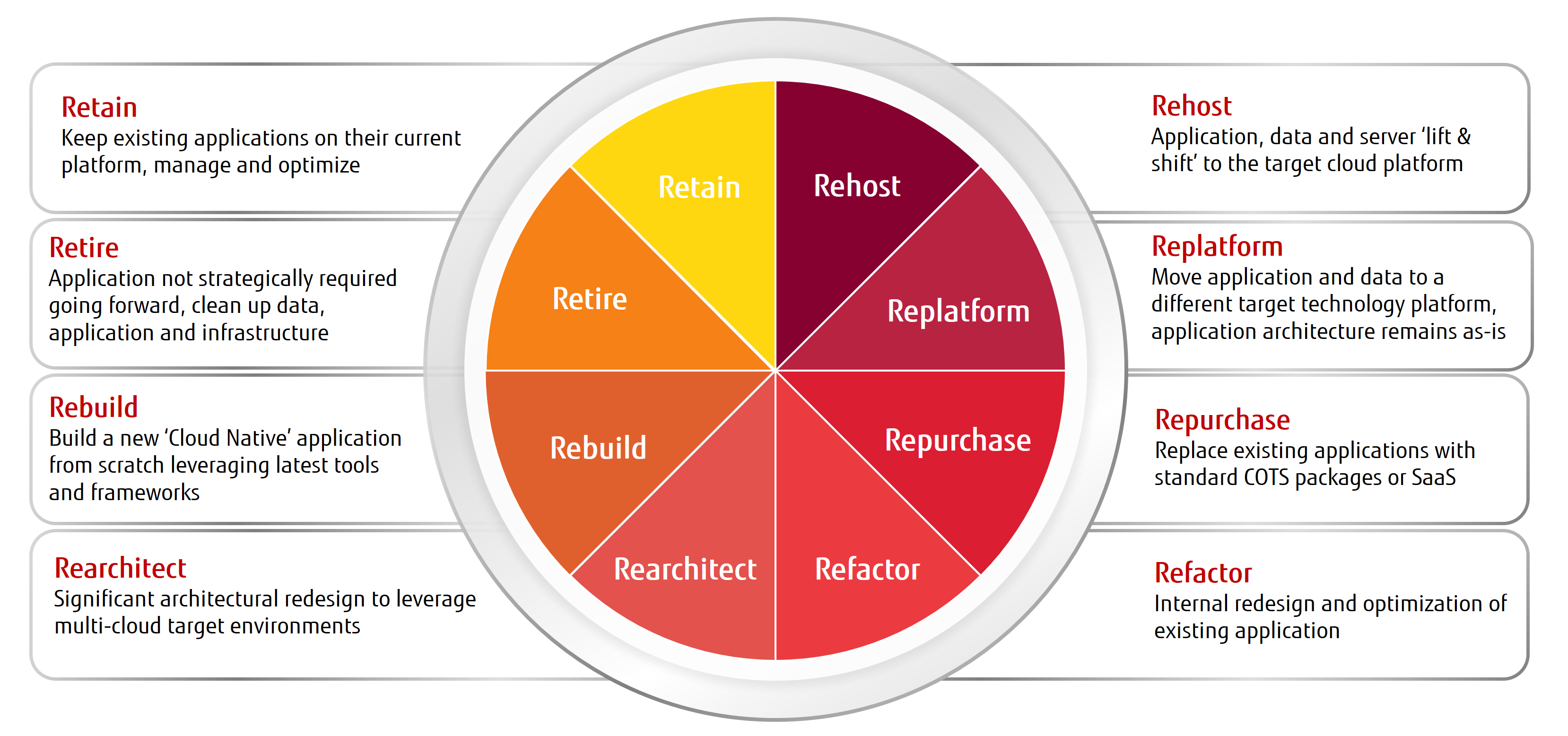 The application transformation strategy is critical: the value that you gain in transforming your applications should be incrementally beneficial to the value of those applications in the business.
For example, if you have forecast a surge in customers/revenue/value in one business line, then the applications that support that business line need to be given priority. The data, insights and improved customer experience the business derived from transforming these specific applications will deliver a disproportionate return. From a strategic perspective this is also where you will be able to show quickest, most dramatic top line growth as part the overall migration project.
The Process – 40%
A family migration is complex and involves a multi-phased approach. Those stages may include: temporary accommodation, adaptation to a new environment, redesigning day-to-day habits such as the routes to work or school. All involve new paths and processes. You have to pass through these phases before achieving a successful transformation to your new home.
For cloud transformations to be successful these multiple phases have to be planned in advance to ensure success: my preferred model is the Agile migration process. Map your environment, analyse application dependencies and allocate your migration targets to the backlog. Throughout this phase direct contact is essential - make sure you're closely tied to the application owners so that they experience the best possible migration and transformation. These people are the guardians of the data and apps - the lifeblood of your organisation: DO NOT short-change this part of the process.
From this point, you're in a position to prioritise and assign each application to a sprint with a corresponding value chain; either to do a rapid migration with Rehost & Replatform options; or a transformational value chain to re-factor, re-architect or re-build a new cloud native application. As this process advances, the agile feedback loop will enable you to gain quick value and more importantly to learn quick lessons, so that you can further refine the latter sprints.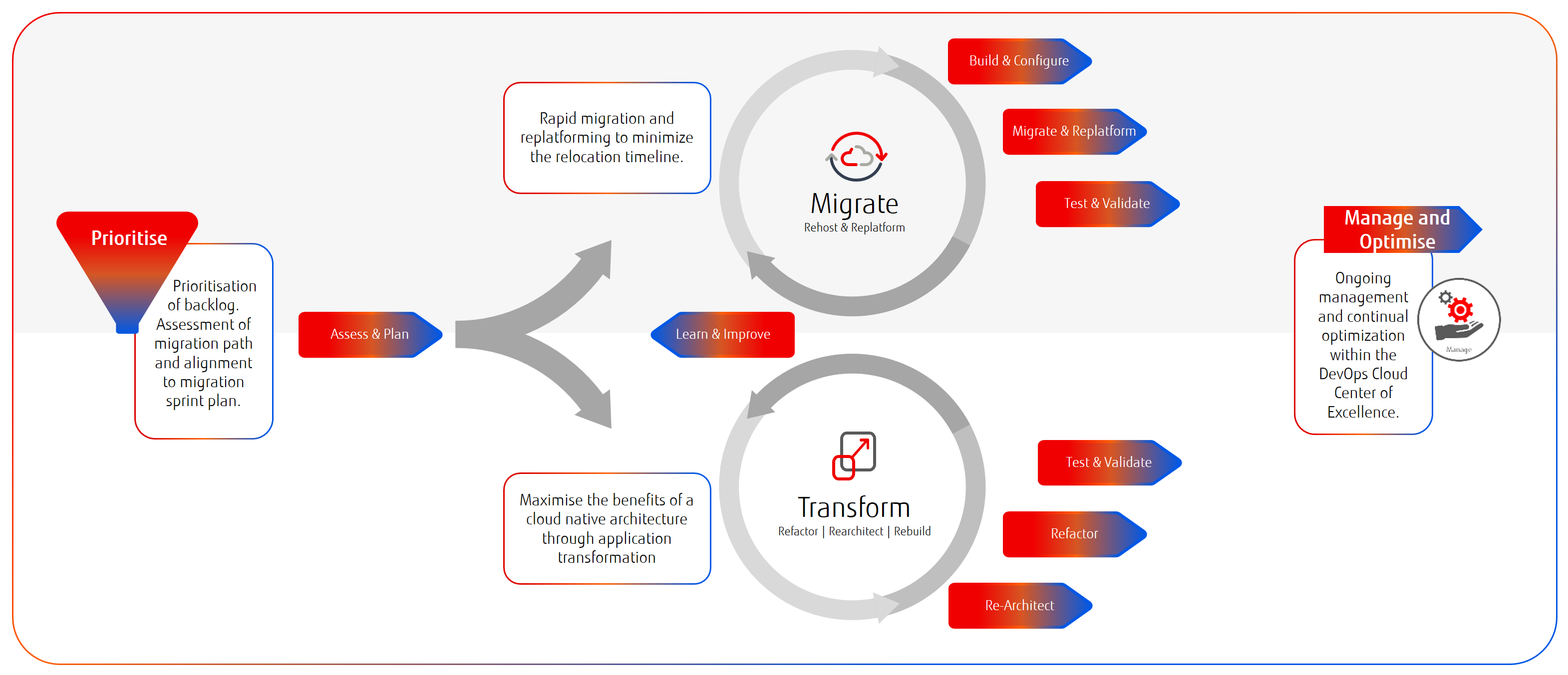 Stepping into cloud delivery using this process allows you to adopt iterative governance and build out your delivery policies, processes and structures over time, whilst still allowing you to make tangible progress.
The ongoing delivery process should be designed to avoid a runaway train. Aim to create a Cloud Centre of Excellence, which contains your multi-skilled team members. Those team members need to be fully versed in the migration itself, so that there is little or no handover required, but instead a steady stream of applications being moved through a DevOps migration and transformation factory.
People – 50%
People factors are with you throughout the transformation process - 50% of your cloud transformation success relies on taking your people on that journey. Consider the culture change and knowledge gap that you're asking people to move to – from one delivery model to another? 80% of change management projects fail due to poor people communication or lack of consideration for the crucial people element.
The knowledge and cultural change between traditional IT delivery and cloud native delivery are poles apart. Knowledge can be acquired through the plethora of cloud certification pathways, culture takes time to build and instil.
Set out your vision
As the cloud migration leader, you are the embodiment of the culture you envision. From day one set the example and expectations of behaviours and values and maintain them through to the end of the transformation project. Encourage continual learning and experimentation. Accept failure but learn to identify it quickly and continue progress forwards.
During your migration and transformation, there will be many learning points from both that worked as planned and that didn't. The team culture and ability to see the positives in these small hurdles will be the bedrock of your ongoing success.
In my experience this is the way to relentlessly drive adaptive changes and improvements across companies in pursuit of the cloud-enabled organisation.
by Nick Herbert
Fujitsu AUS
June 23, 2020