Eliminating the social consequences of damaged cardboard packaging with unaffected contents using AI [Part 1]
Fujitsu / May 18, 2022
The distribution supply chain is an indispensable social infrastructure to our daily lives. Despite this, various losses occur in the process. Returned products, due to stains or scratches on the surface of cardboard containers, are one reason. Did you know that this problem has serious negative consequences for society?

To solve this social issue, Fujitsu and Suntory are working with the distribution industry to standardize the criteria for determining whether packaging cardboard is stained or damaged.

In the first part of the article, we talk to Hiroshi Tamai, Shigeru Nakamura of Suntory Group and Shun Kanazawa of Fujitsu Limited to get an overview of the project.
The three negative social impacts of returning goods due to damaged and corrugated containers
— First of all, tell us the type of negative social impacts or 'social losses' that stained and damaged packaging cardboard containers create. The average consumer might be unaware of these.
Tamai: My job is to manage the supply chain and solve various issues while acting as a bridge between the sales and logistics departments. One of these issues is the problem that damaged packaging cardboard containers causes at each stage of product distribution, including factory shipment, warehousing, and delivery.
Although not often heard of overseas, in Japan, damaged packing boxes are often returned even if there is nothing wrong with the contents. But we believe that the purpose of a packing cardboard container's is to protect the product inside and that, even if the cardboard is slightly stained or scratched during distribution, the product should be sold if it is not affected. Unfortunately, products with a slightly soiled or scratched cardboard container are often returned to the manufacturer at the recipient's request. This happens even if the delivery company (and/or manufacturer) determines that the product is undamaged.
Many people think of leftovers as the cause of wasted food, when in fact, returns from damaged packaging also lead to 'food loss'. Even if it is confirmed that the returned product is satisfactory and repackaged and reshipped, a replacement product with a new production date will have already been delivered to the destination. This outcome may result in the destruction of the first product for inventory control in a situation known as 'lot reversal'.
Returned goods lead to 'transportation loss', where drivers are on standby for a procedural need to communicate with on-site personnel. There is 'work loss' too," when on-site workload increases due to repackaging.

— Why must items that should not have to been returned (or disposed of) be processed?
Tamai: The problem is the complexity of the distribution supply chain and the ambiguous criteria for determining stain damage on site. Although the Beverage Distribution Research Association(*1) has proposed criteria for judging stain damage to packing cardboard by visual inspection, the reality is that this has not filtered down to on-site retail personnel and outsourced logistics companies.
In addition to the differing decision-making among warehouse personnel on whether to ship, and they decide the disposal standards for collapsed or damaged cargo. Therefore, it is often the case that neither the delivery service provider nor the recipient (delivery destination) can agree, resulting in a product return.
(*1) The Beverage Distribution Study Association is a study group with representatives from the Ministry of Agriculture, Forestry and Fisheries; the Ministry of Economy, Trade and Industry; the Ministry of Land, Infrastructure, Transport and Tourism; the National Tax Agency; and the Small and Medium Enterprise Agency. The group includes people involved in beverage delivery (manufacturers, wholesalers, retailers) and legal experts to determine the scope of damage and cost burden for disposal of damaged products in beverage distribution.
Supply chain challenge to standardize the criteria for determining corrugated container stains and damages
— How do these losses affect the business?
Tamai: By calculating the maximum model for a series of losses based on the actual volume of damaged and unwanted goods and the judgment error rate for 2019, we estimated an annual loss of approximately 11 million yen. In terms of ratio, work loss is approximately 20%, product disposal loss 70%, and logistics loss 10%.
If we can standardize an acceptable level of stain and damage, we can eliminate or reduce waste. However, if only Suntory standardizes the criteria, the social impact will be limited. Society needs to understand how important it is to improve this situation for sustainability. Since this issue will lead to the realization of sustainability for society as a whole, we need agreement from as many companies as possible on standardizing the judgment criteria industry wide. By joining forces with others facing the same problems, the entire distribution industry can reduce the 'social losses' outlined above. We believe that Fujitsu is the perfect partner to work with us on this.
Kanazawa: At Fujitsu, we recognize that these problems are not Suntory's alone and need a joint solution from the entire distribution supply chain. So, we launched a joint effort with Suntory to standardize the judgment criteria for wholesalers and retailers as well as food and beverage manufacturers.

AI-based verification experiment using frontline feedback to create decision criterion that everyone agrees on
— What are you doing specifically to standardize judgment criteria?
Nakamura: I am responsible for product logistics safety and quality in the Logistics Department of the Suntory Group. We started a demonstration experiment at the Misato warehouse of Suntory Logistics Co to grasp the situation on-site. It is important to listen to people on-site as they decide on whether a shipment is acceptable.
Specifically, a prototype AI tool is used to take photos of stained and damaged cardboard and collect numerous samples. These are checked one by one with the person in charge on site, and the accuracy has been improved by feeding back the judgment results.

Tamai: A phenomenon called 'body swelling' occurs on the sides of a corrugated cardboard container during periods of high humidity. Also, the weight of plastic bottles causes surface deformation. Here, opinions from the site were useful in determining whether the AI tool stain damage judgment was satisfactory.
Our goal is to standardize the judgment criteria, but it is meaningless unless everyone agrees. We are using our know-how on site to achieve both goals.
— You are still working on improving the accuracy of the AI and calling for the industry's support. What are the results of the demonstration experiment to date?
Tamai: Since 2020, the logistics and sales departments have each conducted activities to avoid shipping substandard products in accordance with the standards of the Beverage Distribution Study Association. Nakamura's group has played a central role in the logistics division, working with logistics partners throughout Japan to implement daily countermeasures. As a result of the sales department's negotiations with our wholesaler and retailer customers to accept shipments of products that meet the standard, the number of returned and unwanted products has decreased to one-twentieth.
The shortage of human resources in the logistics industry is becoming the norm, and our warehouses are hiring more foreign nationals. The language barrier makes it difficult for people from different cultures to understand stain damage from photos and drawings of the judgment criteria alone. Another issue is the time and effort required to train new employees. Although we are still developing a solution, we expect AI technology to standardize and simplify the process.
Nakamura: Ambiguity in the packaging judgment criteria leads to returned undamaged products waste, which is significant enough to warrant a solution. The outcome should result in fewer problems and improvements in the working environment, particularly for delivery drivers, who have borne the brunt of the problems.
Kanazawa: Through this project, we accumulate data, such as images of stained or damaged corrugated containers and shipments records, making it possible to visualize specific return rates and on-site problems that were not fully understood until now.

— What are your future development plans for the industry as a whole?
Tamai: We envision the following five major phases in our expansion plan for the industry:
(1) Proof of concept (PoC) by prototyping
(2) Demonstration test within Suntory
(3) Participation of other manufacturers
(4) Participation of wholesalers and retailers across industry boundaries
(5) Request for cooperation and support from government agencies and industry associations
We are currently in the phase halfway between phase 3 and 4, in which competing manufacturers and major retailers have been added to the joint demonstration experiment. We are expanding this initiative by focusing on industry involvement activities.
Regarding (4) "Participation of wholesalers and retailers across industry boundaries, ", we introduced this initiative to distribution companies and discussed their possible future participation. As a result, we have received many supportive opinions, and we feel that this has strengthened the trend toward standardization of judgment criteria, both inside our group companies and the entire distribution industry. We can also show persuasive demonstration tests examples when explaining the significance of standardization.
Kanazawa: Also, we are pleased to say that Suntory receiving the Excellence Award in the Supply Chain Innovation Awards 2020 (*2) indicates that our efforts have gained recognition from government agencies and industry, as well as society in general.
Tamai: Thankfully, major distributors are also interested due to the 'white logistics' movement, which aims to make logistics work more productive and appealing. From now on, businesses will need to make better use of their limited labor force to run their businesses efficiently.
An aging delivery driver workforce has resulted in a serious shortage of human resources in logistics, with the ratio of effective job offers reaching 3.03 times in December 2018. There is also the '2024 problem' (*3) arising from the annual 960 limit on overtime hours in the transportation and logistics industry, which has raised concerns about declining sales and profits for companies, reduced income for employees, and higher freight rates for shippers. As a result, distribution companies are under pressure to reduce waiting time on site, eliminate waste during inspections, clarify inspection standards for foreign workers, and improve training efficiency. We believe that our initiative can alleviate these issues as well.
(*2) The Supply Chain Innovation Awards are presented by the Council of Manufacturing, Distribution, and Sales to companies that have led the industry by making outstanding efforts to optimize the entire supply chain through cooperation with manufacturing, distribution, and sales.
(*3) A generic term for problems that arise in the logistics and transportation industries as a result of the over-time work limit restrictions set by laws related to work style reform. The law will be applied to driving-related work from April 2024.

Changing industry and consumer awareness, which is a key to achieving the Sustainable Development Goals (SDGs)
— This project seems to have a strong connection to the SDGs, but what goals do you think it particularly contributes to achieving?
Tamai: First, this applies to the "responsibility to make and use" in section 12 of the SDGs. We are responsible for using corrugated packaging in distribution, but we can contribute to society by reducing the social losses it causes. Also, reducing transportation losses will curb wasteful energy consumption, which falls under "concrete measures to address climate change" in section 13.
These two items are the main ones but, if you think about it a little more expansively, reducing food loss refers to the "zero hunger" in section 2, having a pleasant work environment is the "both job satisfaction and economic growth" in section 8, and combining on-site information with AI to create new value links to section 9: "Let's create a foundation for industry and technological innovation". The implementation of unmanned and automated inspections in the future will improve employees' living environment and lead to the "Creating a town where people can continue to live" in section 11, and working with Fujitsu and other companies in the industry to solve problems is equivalent to "Let's achieve our goals through partnership" in section 17.
We still have a long way to go, but I feel that raising awareness of the SDGs and the ensuing momentum for reform through digital transformation (DX) has the potential to grow exponentially.
— Finally, please tell us more about your thoughts on this project and the ideal society you believe lies ahead.
Tamai: The Suntory Group has followed the "Yatte Minahare"—the spirit of bold ambition, since its foundation. So far, 90% of the sales staff have undertaken study sessions on the Beverage Distribution Study Group's criteria and the mechanisms by which stains and damage occur. Next year, we will ensure our sales staff learn about the effectiveness of this new AI tool and DX-based logistics. They will appreciate that this company has an environment where anyone can change society at any time. And our goal is to expand the possibilities for social reform with Fujitsu through agile initiatives.
Nakamura: We have been working hard since 2019 with the warehouse staff to achieve a solution, and our goal is to get our customers onboard and create a total solution eventually. Ideally, we would like to obliterate wasteful work so that everyone in the workplace feels valued.
Japan has a culture of decorating goods with 'Noshi'(*4) or wrapping them in beautiful 'Furoshiki' cloths. We hope our cultural background leads to a demand for beauty and perfection in the outer packaging as well. However, when it comes to corrugated containers for imported products, a certain amount of staining and damage is tolerated on site, and the standards in Japan and elsewhere are different. It is important to strike a balance between aesthetics and solving social issues, and I hope this project will increase awareness.
Tamai: As people's awareness changes, the standards will too, and I would like to work with the site and industrial companies to create a system that enables AI to keep up with these changes.
Kanazawa: With the cooperation of Suntory, our AI-based stain/damage determination system has received a certain level of recognition, and we will continue our efforts to bring it up to the industry standard eventually. We believe that the value of this initiative is as a mechanism for the industry to solve social issues and contribute to the SDGs – rather than for pursuing benefits for a single company.
We want to solve social issues through this project while keeping Suntory's desire for reform in mind.
(*4) Noshi is a decoration of folded red and white gift paper to express the respect of the sender for the recipient.

In the second part of the article, we will share the story behind the development of this unprecedented system that aims to solve social issues by involving the entire distribution industry.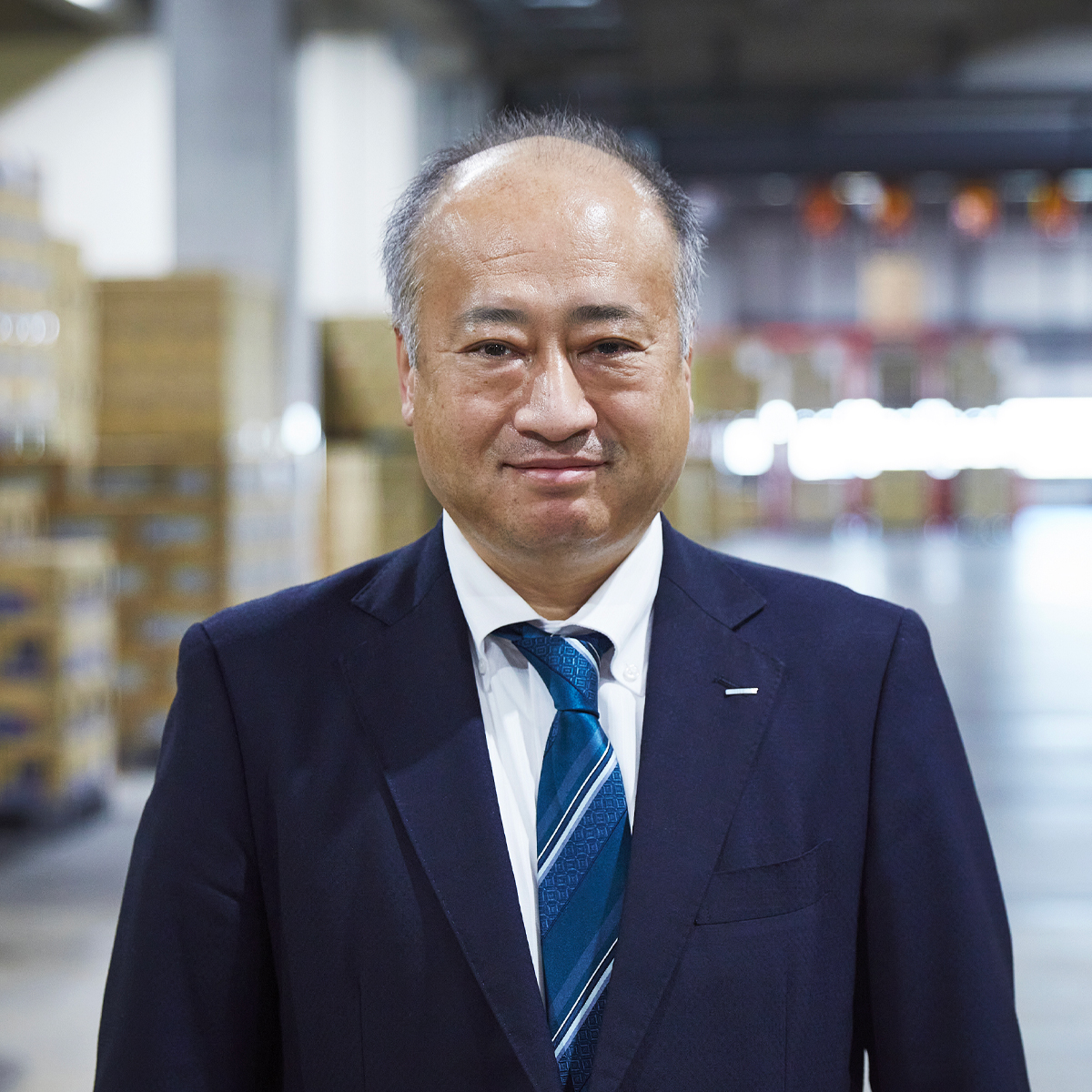 Hiroshi Tamai
Manager of SCM Department, Production & SCM Division, Suntory Foods International Limited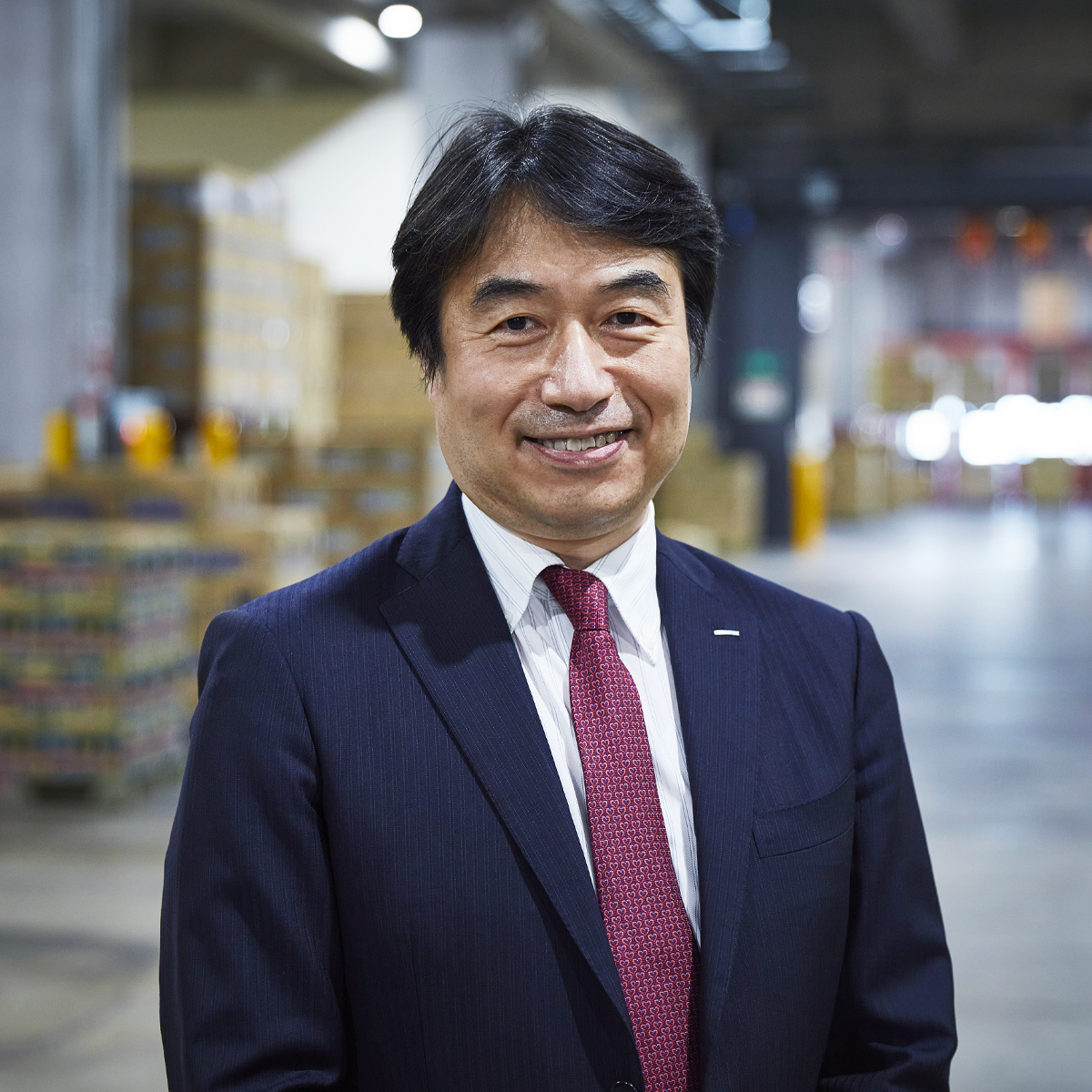 Shigeru Nakamura
Logistics Department, Supply Chain Division, Suntory Holdings Limited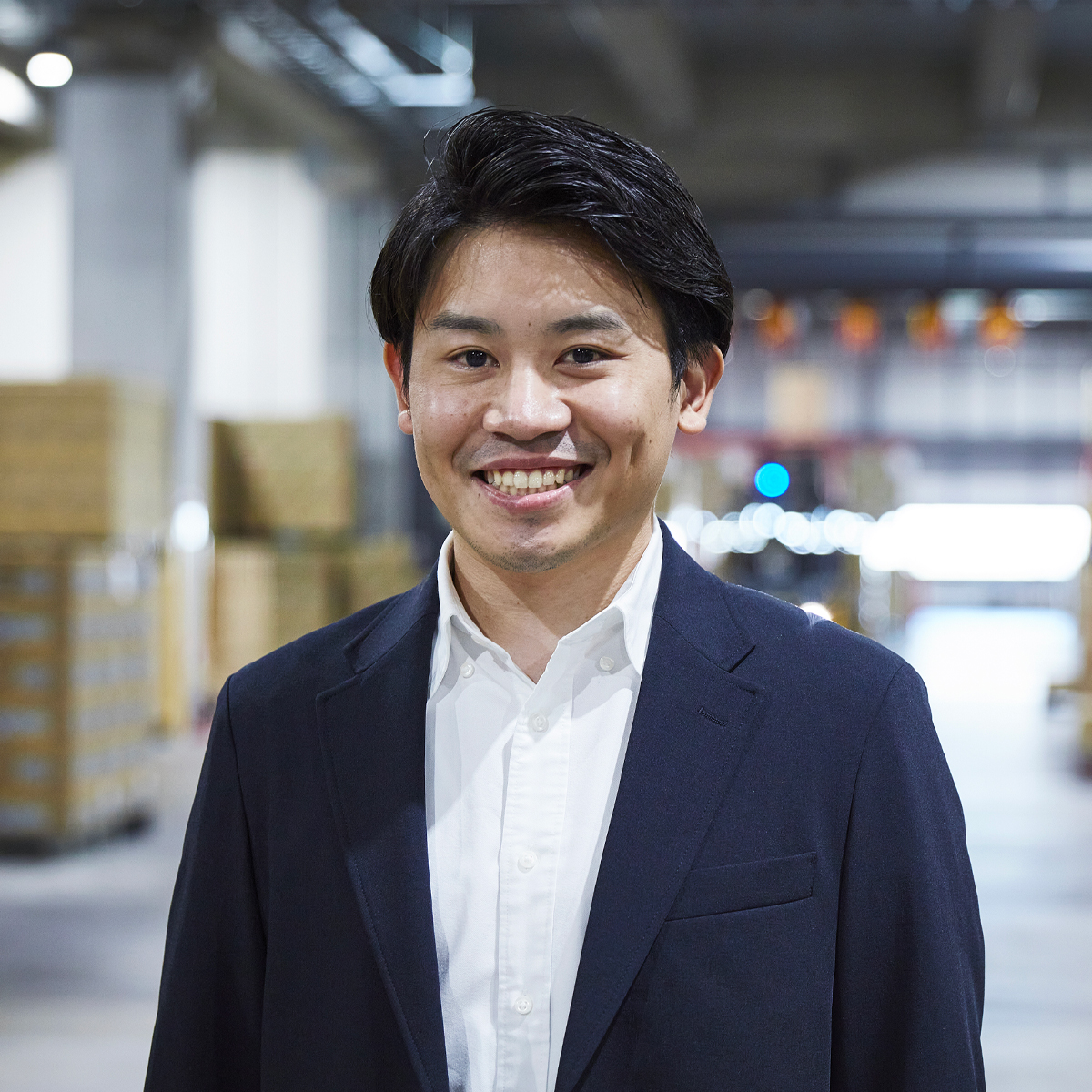 Shun Kanazawa
A business producer, CPG Division, Fujitsu Limited