How Smart Cities are Driving down Air Pollution with Smart Traffic Flow Optimization
Fujitsu / May 17, 2022
According to the World Health Organization(*1), air pollution kills approximately seven million people worldwide every year. It also causes serious health issues, particularly for children and seniors while exacerbating issues for those with existing heart or lung conditions. And it also continues to affect quality of life, particularly for those living in urban areas, and results in increased healthcare costs.

But it's not just individuals who are affected. Many of these pollutants also contribute to the erosion of metal, brick or concrete buildings or structures while carbon pollution from burning fossil fuels is rapidly changing the earth's climate. Approximately 29 percent of these greenhouse gas emissions are generated by the transport industry, including cars, trucks, airplanes and other vehicles. What is more, this number is set to rise. Worldwide car sales hit approximately 66.7 million in 2021(*2) during the pandemic – and the growing desire for mobility means that this figure is expected to rise by a massive two-thirds by 2050.

To reduce traffic emissions in cities – there's already been a great deal of progress in terms of minimizing the pollutants created by individual vehicles. Cars today produce 98-99% fewer pollutants compared to the 1960s, fuel is cleaner, with lead eliminated and sulphur levels significantly reduced. But the sheer number of vehicles means that there's much more to be done.

As part of its promise to move towards a Trusted Society by deploying emerging technologies and data-driven solutions, Fujitsu is working with multiple cities worldwide to help solve this challenge.

Optimizing traffic flow in the Port of Hamburg with the Fujitsu Digital Annealer
The port of Hamburg is one of the busiest ports in Europe, handling up to 20,000 trucks every day. This frequently leads to congestion, wasting road users' time and contributing to high emissions in the area. However, working with Fujitsu, the port has been able to reduce congestion and emissions by optimizing its existing infrastructure of roads, crossings and bridges controlled by traffic lights.
It achieved this by taking a holistic view of all the elements and applying Fujitsu's powerful, Quantum-inspired Digital Annealer to find the optimal use of existing infrastructure. The Fujitsu Digital Annealer is designed to solve complex combinatorial problems – essentially identifying the best combination of variables from countless possible options – delivering solutions extremely quickly. Its unique design means that it can process challenges that are far beyond the scope of traditional computing technology today.
The result for Hamburg was reduced traffic congestion, better management of port logistics and a 9% reduction in CO2 emissions.
(*1)World Health Organization
https://www.who.int/health-topics/air-pollution#tab=tab_1
(*2)66.7 million in 2021
https://www.statista.com/statistics/200002/international-car-sales-since-1990/
Montreal – using AI to inhibit and mitigate congestion
Another busy port in the Canadian city of Montreal took a different approach to streamlining its operations – by using AI to leverage the huge amount of data it already had at its disposal to drive improvements. This resulted in not just lower emissions but improved services for its citizens.
Fujitsu's predictive artificial intelligence was deployed to analyze CCTV footage and sensor data from around the port to predict immediate traffic flows, essentially anticipating traffic congestion before it occurs. This visibility allows the city to automatically adjust the synchronization of its approximately 2,500 traffic lights to optimize traffic flows, reducing both journey times and emissions.
An additional benefit for Montreal residents is that the same smart system is also being deployed in the city to optimize routes for city services such as garbage trucks or snowplows. This means that after each of its frequent snowstorms the city can now clear roads and sidewalks far quickly and more efficiently than before.
Reducing parking headaches – in Dublin, Ohio
Dublin Ohio, famous for its festivals, golfing events and attractive historic downtown, hosts over 2.5 million visitors every year. But this popularity means that visitors compete with locals for parking – causing congestion and negatively affecting local business.
To tackle this challenge as part of a wider Connected Dublin Initiative, the city has collaborated with Fujitsu to implement a smart mobility technology system based on its existing IoT infrastructure comprising CCTV cameras and high-speed fiber connectivity. The solution reviews input from the cameras and other sensors, to measure and track parking patterns, traffic flow, vehicle turnover rates and foot traffic information in each car park.
This data is analyzed, and insights are made available to community leaders, residents and motorists via a new smart parking app. Now visitors and locals alike can easily identify available parking spaces, optimizing car park usage, while indirectly reducing drive times, traffic congestion and associated emissions. The data also allows city staff and local companies to uncover trends that allow them to make informed, data-driven decisions to improve their business.
Making smart cities more data-driven to combat air pollution
Clean air is one of the many elements that make urban areas attractive and liveable. As air pollutants do not recognize municipal or country boundaries, it's clear that reducing emissions must be a collective effort. Towards this goal, Fujitsu is providing enabling technology for companies like Proventia, and organizations like Go Ahead London to clean London's air by reducing the emissions of their old city buses and old diesel engines. Proventia, a Finland-based company, retrofit exhaust systems to make old heavily polluting vehicles fit for the future. Fujitsu provide the Event Processing IoT Platform (EPP) running on a Microsoft Azure Cloud platform, that lets emissions data be seen in real-time. Go Ahead London operates approximately a quarter of the London Bus network, thus contributing significantly to the impact on London's air quality. Proventia's systems are already in use in Clean Air projects in Germany, Seoul, Sweden and Finland apart from London.
By enabling local authorities or cities to proactively manage their traffic and reduce emissions, Fujitsu is supporting not just cleaner air but also more efficiently deployed services, not to mention potentially unlocking savings in health care costs associated with pollution.
This is achieved by taking emerging technologies, most often deployed in enterprises, and implementing them in cities, municipalities, and ports. Our superpower is helping organizations unlock the potential of the data they collect, helping them on their digital transformation journeys. To find out how you can make your data work harder as well, visit our Data Driven Management webpage.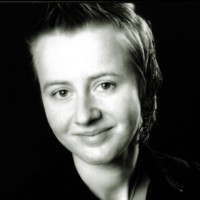 Anne-Marie Tumescheit
Business Development Manager, AI and Quantum-Inspired Computing
Anne-Marie helps coordinate and accelerate the global growth of Fujitsu's Quantum-Inspired Digital Annealer business and Artificial Intelligence offerings. She is based in Germany.