A data-driven approach to enhance food safety and healthy living
Fujitsu / April 26, 2022
The United Nations' 2030 Sustainable development goals include universal access to safe food as a key requirement. However, ten percent of people worldwide, that's approximately 600 million people, fall sick every year(*1) after eating food contaminated with bacteria, viruses, parasites or chemicals. In fact, foodborne illnesses cause approximately 7.5% of all deaths worldwide.

No wonder that most regions have stringent regulations for food stuffs and medicines. This means that retailers, food brands, pharmaceutical providers and distributors must demonstrate that their produce is safe for consumption. There is a growing portfolio of technology that supports this process – such as liquid or gas spectrometry – and yet there is still a heavy reliance on manual inspections as part of many processes, often requiring highly skilled technicians.

Considering the increasingly heavy workloads involved in this sector and the global skills shortage, there's an opportunity to automate and enhance much of this process. To support agri-food and pharma companies, Fujitsu is taking its experience of artificial intelligence driven quality assurance processes that are becoming more commonplace in manufacturing and applying these for customers in the food and pharma industries. The result is faster and more reliable safety and quality testing of foodstuff, and food and medicine containers, than is possible with human analysis. This also gives the ability to free up expensive, highly trained staff to focus on tasks that deliver more value.

Leveraging artificial intelligence to check for food contamination
In food safety, spectrometry has been incredibly effective, not just at quantifying elements such as macronutrients, vitamins or additives within foods, but also at detecting contaminants and increasingly in establishing food authenticity. Food samples are analysed to produce a spectrogram, a graph with different peaks corresponding to different components. Skilled technicians are employed to review these graphs and to report back to the customers. However, with the growing need to test a wider variety of foodstuffs, it can be challenging to keep on top of potentially thousands of samples every day.
Fujitsu is collaborating with agri-food analysis companies to address this challenge. The solution involves incorporating AI and machine learning to automate spectrogram peak interpretations, and implement new digital platforms for historical analytics and reporting. Once an AI system has been trained to identify all elements of the graph, it is consistently able to deliver a higher degree of accuracy than its human counterparts who can deliver incorrect results up to 2% of the time.
(*1) 600 million people, fall sick every year
https://www.ncbi.nlm.nih.gov/pmc/articles/PMC7810395/#sec2
Pharma turbocharges its quality assurance process with AI and image recognition
The pharma industry is also subject to process bottlenecks due to its reliance on skilled workers to handle certain tasks. In this field over the last two years, we've seen the pressure on drug companies to accelerate the production and distribution of Covid-19 vaccines. However, the logistics of achieving this are complex – with one hold up appearing in the quality assurance process for the medicine vials. This system traditionally relies on experienced quality control technicians to identify defects such as scratches, dents or even contaminants in the vials.
Fujitsu is working with several pharma companies to accelerate this process by deploying an AI-powered image recognition system. Fujitsu has established a system to capture millions of images of the glass vials as they progress along the manufacturing line. These images are sent to an AI system trained to recognize anomalies. When the AI system detects abnormalities in the production line, workers are alerted to the problematic portions and action can be taken without having to stop the production line. By using the data to analyse the frequency, location and cause of malfunctions, further productivity gains can be realized.
This system, based on Fujitsu's Computer Vision technology, leverages transferred learning - where the starting point is a machine learning system that has already been trained to identify and categorize different types of images. This makes it a relatively fast process to train it to recognize a perfect vial, and therefore to enable it to pinpoint any that do not measure up. It also means that training does not require examples of rare defects that could potentially cause critical issues. In addition, this AI quality assurance process can run alongside human inspections – but can better focus the efforts of the human participants.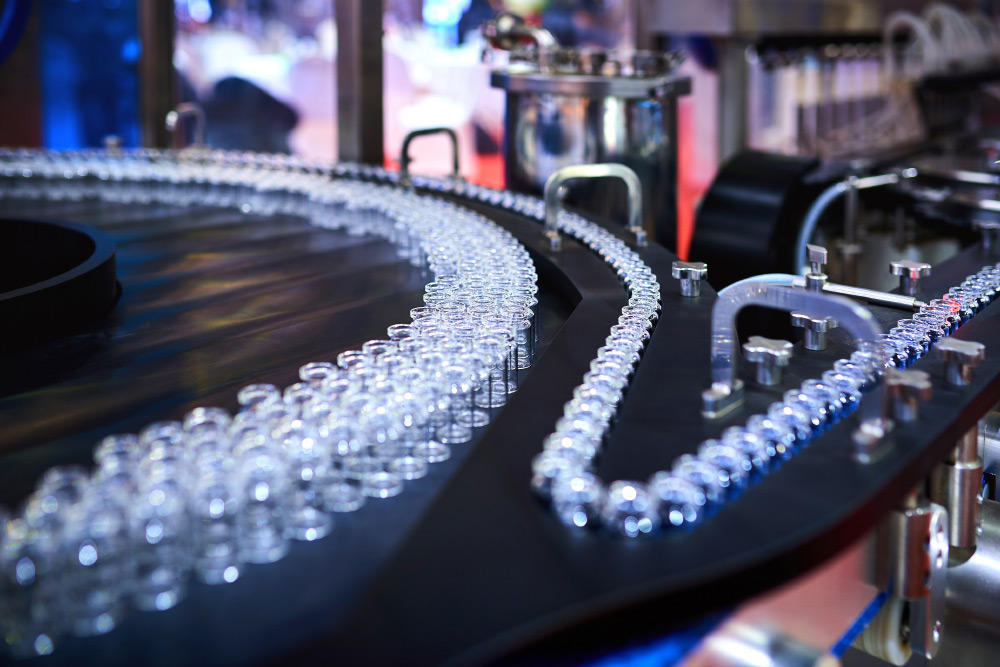 Data driven transformation and how to unlock the potential of data
The sheer volume of samples that need to be tested in food and drug manufacturing today means that any manual aspects of the process are likely to slow it down. However, our focus on data driven digital transformation gives us a new way of examining the challenge today.
There's rarely a shortage of data in today's processes, in the above cases this is in the form of spectrographs or images of vials on a production line, but it could be almost anything – from sensor data in manufacturing, to CCTV footage in retail. It simply takes the application of smart image recognition and artificial intelligence to turn this data into valuable insights. And for our customers in agri-food or pharma – this is just the start. This data driven transformation starts with the food products or the glass vials, but the same principles can extend to controlling the exact dosing of the contents, or even to managing the entire supply chain. You already have the data – the opportunities lie in how you manage and use it.
If you are interested in exploring how to unlock the potential of your data – you can learn more about Fujitsu's approach here.
Alex Saliniemi
Global Incubation Lead Solution Architect, Digital Experience Platform Business Unit (DXPBU)
Alex Saliniemi is the Lead Solution Architect of the Global Incubation Division, designing and implementing global solutions for AI and computer vision. At present, Alex leads the team developing the global FUJITSU Computer Vision Framework.