Resilience, adaptability and an interconnected future: the digital trends defining 2022
Fujitsu / March 3, 2022
It's been 2,500 years since the Greek philosopher Heraclitus said: the only constant in life is change. So the idea that nothing stands still is by no means a new one. But the pace of change sometimes accelerates – as the past two years (and counting) have proved.
Last year, we discussed change through the lens of the need for enhanced security, connectivity and the ever-growing importance of data. And while these trends remain a mainstay of our digital-first world, with a new year comes fresh challenges – and opportunities.
Looking ahead, I see the key digital trends that will shape our lives and livelihoods revolving around resilience, adaptability, trust and our increasingly interconnected future. Below, I explore these essential elements in greater detail, to empower your people and help your business succeed in the face of whatever the future throws your way.
A shift from survival to resilience
When the pandemic hit, many of the technologies adopted by businesses were reactionary choices to ensure continued operations. Soon after, we saw businesses begin to reinforce new ways of working by integrating solutions to further support employees – many of whom were still in remote or hybrid conditions.
Today, the world has come to accept that society will never look like it once did, so organisations will have to establish what they want their – pardon the cliché – new normal to look like. In turn, technology choices will have to be based on more than mere functionality and instead on whether a solution also improves business resilience.
In many cases, these new systems are not yet as mature as the ones that once resided in data centres. So, IT decision makers need to start embedding technology that can be trusted to reliably deliver going into the future.
But with firms now employing a mix of SaaS solutions and on-premises systems, the increased complexity of their hastily assembled infrastructures has caused them to become brittle. They now have many more potential points of failure or exposure, and it's a lot harder to understand their interconnectedness.
In response, we'll continue to see many organisations attempt to address these weaknesses by developing more flexible and highly scalable hybrid IT environments. This will give them more visibility and allow them to track how their different systems interact.
Moving towards trustworthy platforms
The challenge of securing the business landscape has evolved. It's no longer just about securing access to systems – organisations need to ask themselves whether they can truly understand and trust their data.
Fujitsu has already been pushing forward with projects that address this exact challenge. One such initiative is Trust and Trace : a DLT-based solution that harnesses blockchain technology to ensure the integrity and trust of data gathered across a supply chain.
In the textile industry, tex.tracer is another platform striving to improve security and traceability. Enabling businesses to track individual garments down to the source at the end of their supply chain to support sustainability initiatives and create a more transparent fashion ecosystem.
Similarly, our work with Botanical Water Technologies has helped the company on its mission to purify and re-mineralise water. With the launch of a new blockchain water trading platform supporting safe and secure water trading – delivering up to 3 trillion litres of new pure drinking water annually.
Ultimately, as businesses strive to better understand the dynamic quality of their data, I believe platforms such as these that foster trust through provability will continue to be a force for good in the remainder of the year – and beyond.
Supporting productivity and wellbeing with adaptable platforms
As well as looking to platforms for improved resilience and trust, businesses will also focus on solutions that enable them to flexibly pivot their operations in times of change. This has been a driving force behind the shift to cloud platforms as they help businesses to turn resources on and off more efficiently.
Looking ahead, we expect this to expand into commercial contracts that enable entities to work more flexibly with firms, such as Fujitsu, as system integrators and managed service providers. This will be essential for businesses looking for partners that will support their ongoing digital transformation.
However, another key aspect in this is the creation of adaptable workforces equally capable of resiliently navigating an uncertain future. As a result, I expect an increased focus on employee wellbeing, as businesses seek new ways to creatively empower and protect workers.
Employee enablement platforms, such as Microsoft Viva, provide managers with invaluable insights into work patterns so they can be better optimised. In turn enabling productivity to be better balanced against wellbeing (for example, looking at how much time an employee spends in meetings against how much time they have to focus on tasks).
Embracing an interconnected future
As we proceed into an increasingly complex, disruptive and uncertain future, we'll continue to help businesses leverage next generation technologies – from AI to 5G – to build richer customer experiences, stronger end-to-end security, and greater visibility across their value chain.
For leaders, a first essential step towards this is taking a long, hard look at all the systems they've put in place over the past two years, and considering if they're the resilient foundation their business needs.
Enterprises need to know the data they're relying on to make decisions can be trusted, so they need to interrogate their sources and ensure it's working the way they need them to.
And with workforces, leaders need to think about the ways they can go beyond merely thinking of ways to keep people working amid changing conditions. Organisations need to use this change in approach to truly understand if their employees feel cared for – because talent will always be the foundation of your business.
Fujitsu and Microsoft are the perfect combination when it comes to helping enterprises find the right technologies that will provide the resilient, trusted and adaptable foundations they need to succeed.
Get in touch today to see how we can help your people and business thrive.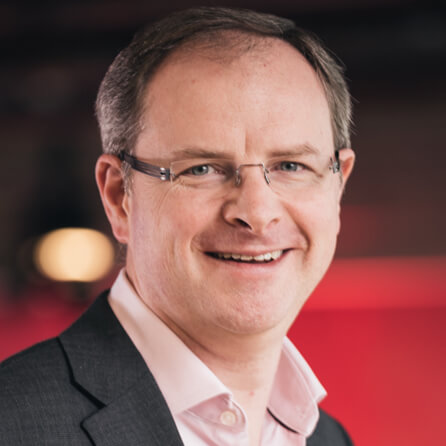 Andrew Brabban
Vice President, Head of Microsoft Global Business Development at Fujitsu
Andrew is responsible for Fujitsu's global business with Microsoft's cloud services. Working with Fujitsu's sales regions and global delivery centers, Andrew and his team drive strategy, offerings, skills, operational excellence and relationships with Microsoft. This team has overseen an 8x growth in Fujitsu's Microsoft cloud business over the past three years.
With a strategic appreciation of key market trends, including cloud, IOT, automation, analytics and mobility, Andrew is focused on driving cross-functional collaboration and delivering solutions that allow businesses to innovate quickly.