Digital innovation for a healthy, prosperous life
Fujitsu / November 12, 2021
Fujitsu recently introduced a new key focus area called 'Healthy Living' as a part of its new business brand, Fujitsu Uvance. Healthy Living aims at maximizing life experience to ensure a healthy and prosperous life for everyone. We talked with Yoshinami Takahashi, EVP, Head of Digital Software & Solutions Business Group, Global Solutions Business at Fujitsu, who shared how forward-thinking healthcare organizations are enjoying success in this field, with the help of Fujitsu's technology and co-creation approach.
Acting before reaching the point of no return
Q: What was the origin of 'Healthy Living'?
Yoshinami Takahashi: In the next few years, global warming and climate change will have increasingly dramatic effects on how we live. Who knows what new infectious diseases are coming? And the current spiral of social and economic uncertainty is likely to accelerate and deflect us even further away from dealing with truly important issues. I'm keen to do something about this. We all want to avoid going beyond a point of no return, not just in our lifetimes, but in those of our loved ones too.
And that sense of urgency was the starting point for Fujitsu's new Healthy Living initiative.
You have undoubtedly heard about Fujitsu's commitment to human-centric innovation. Our Healthy Living initiative is a prime example of what this actually means. Our president, Takahito Tokita, has spoken elsewhere about Fujitsu's Purpose, which is "to make the world more sustainable by building trust in society through innovation." Our strategy to achieve this is to make meaningful contributions to the UN's Sustainable Development Goals (SDGs). The global community must bring about these systemic changes to allow the nearly eight billion people around the world to live a good life – while keeping within the sustainable limits of this planet. We are aligning all the talent, commitment and technical expertise in Fujitsu to create a world that enriches life experience of everyone and continues to expand their potential.
At Fujitsu, we have vast global experience across a range of industries and business areas, and we aim to play a leading role in the creation of digital health ecosystems that transcend traditional sector boundaries. Finding answers will require us to be creative and work together. We want to work with you to make Healthy Living a reality for everyone, taking advantage of digital technology and its capacity to connect the world.
Four focus points of Healthy Living: Self-reliant, Seamless, Enhance and Ignite
Q: Please tell us more about the principals behind this initiative.
Yoshinami Takahashi: We have identified four focus points that set out the principles we aim to promote in our co-creation activities with customers and partners.
Self-reliant
The first is Self-reliant. Medical institutions have already played a critical role in treating health concerns, but what if we could help people before they reached a clinical setting? For this the guiding principle is a transition from treatment to prevention. We want to give people the tools to take charge of their health and make lifestyle choices that will keep them out of medical institutions. We think this shift to a lifestyle that emphasizes prevention is already starting to happen. It won't be immediate, of course, but we see a future in which technology can help more and more people become increasingly in tune with their minds and bodies.
Seamless
Second is Seamless. We envisage a future in which healthcare services are integrated into daily life for unparalleled convenience and access. No matter where you are, or what you do, health care services will seamlessly fit in to your daily life. With convenient access to information and services at the touch of a button, you can shape your health, your way. With apps that capture the health metrics that matter to you, you'll have everything you need to optimize your performance, look out for the things that you don't typically notice, gain peace of mind, and generally enjoy life. Whether it's exercise and nutrition recommendations, or music selection to aid concentration, health care services will be more personalized and seamless.
Enhance
Next is Enhance. Here we are broadening the horizons for medical care and drug discovery. By opening up niche fields, such as clinical trials and drug discovery, we can improve flow of information and accelerate development. With a greater range of options for treatment plans, care plans and medical practices, and unprecedented access to knowledge, people can make better decisions and be totally confident in them, thus taking ownership of their health.
Ignite
Finally, let's talk about Ignite. Artificial Intelligence, Augmented Reality, Mixed Reality, Virtual Reality and Robotics technologies have allowed us to question everything we thought we knew about the restrictions of space and time. Technology unlocks a world of possibilities, helping us overcome barriers—no matter who and where we are, unleashing the power of our communities and living better, together.
We recognize we cannot create all these new experiences and outcomes by ourselves. These four focus points are how we intend to work together with customers and partners to help achieve the vision of Healthy Living.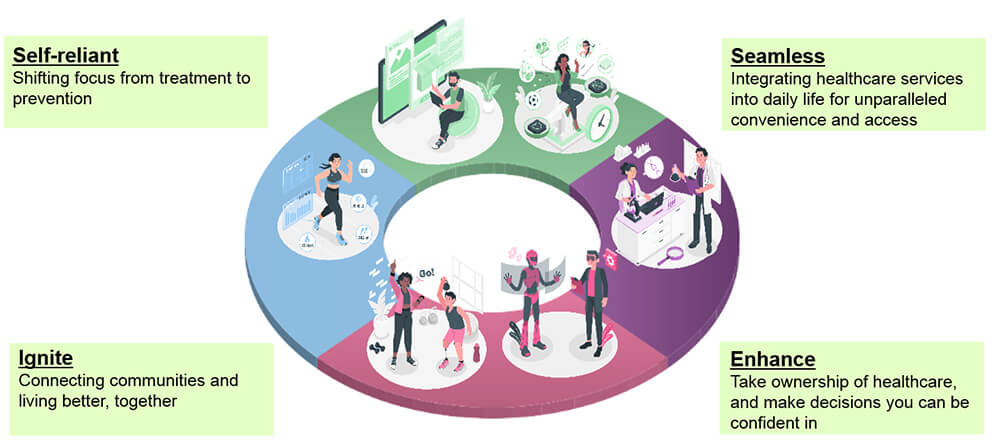 Four focus points of Healthy Living
Co-creating with customers and partners to achieve the Healthy Living Vision
Q: Which solutions are behind these focus points? Can you share actual projects you are working on?
Yoshinami Takahashi: Under the Enhance pillar, we have Innovation in Life Science, which accelerates the discovery of sophisticated pharmaceuticals, transforming the clinical trial process. Here we are collaborating with partners, such as Otsuka Pharmaceutical, Takeda and PeptiDream Inc., and utilizing data and digital technology for speed development and launch of innovative drugs.
In this area we are making full use of our R&D capabilities through open innovation in academic ventures using Fujitsu's Supercomputer Fugaku, the world's most powerful supercomputer, other advanced High Performance Computing technologies, and our Digital Annealer combinatorial optimization services.
For example, new drug development is shifting its focus from small molecule synthetic drugs to mid-molecule drugs with the potential both to treat previously incurable diseases and to significantly reduce drug side effects. In joint research with PeptiDream Inc., a leader in proprietary technologies for mid-molecule drug discovery, Fujitsu has significantly improved the search process for candidate compounds. Based on this capability, Fujitsu has established a joint venture with the aim of developing new COVID-19 therapeutics with PeptiDream Inc. and other partner companies. In the process, Fujitsu is also accelerating the digital transformation of the entire drug discovery process.
Innovation in Life Science
Yoshinami Takahashi: Turning to our Seamless pillar, we are offering a Digital health ecosystem, a platform for companies that provide services for consumers by acquiring, linking, and analyzing health data.
Fujitsu provides unified management of lifestyle information, including medical information, creating added value to stakeholders in areas such as pharmaceuticals, food distribution, health equipment, fitness and community health systems. Fujitsu is already engaged with relevant technologies, including trust-based management of personal data using Digital Trust Human Monitoring and in active use cases in developed countries, such as Finland.
At Helsinki University Hospital we are working with the gynecology department on a solution that helps mothers self-diagnose blood glucose issues that can lead to gestational diabetes. We see these technologies being used to innovate in areas like diagnosis and treatment support, disease prediction, and optimized treatment plans.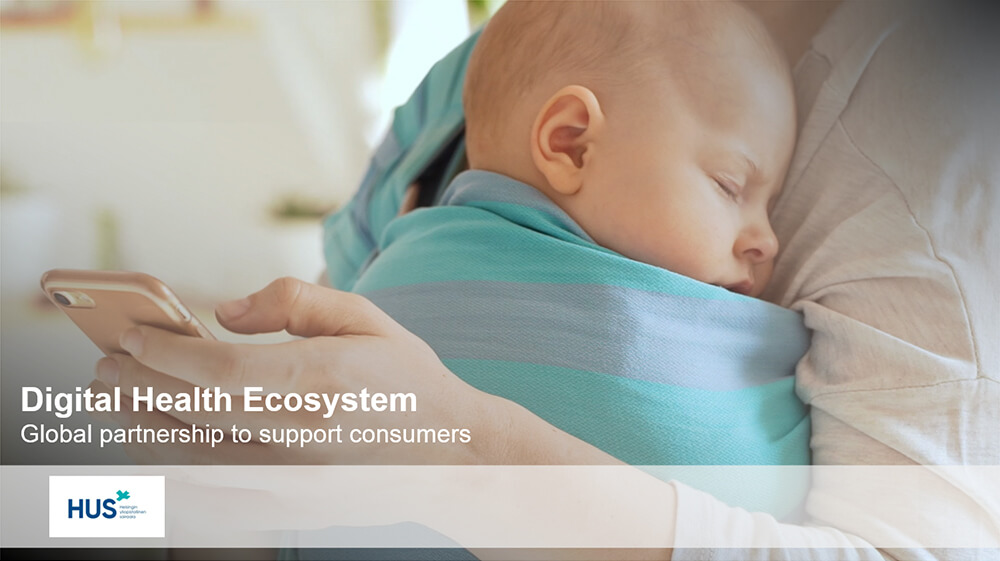 Digital Healthy Ecosystem
Yoshinami Takahashi: Finally, I will talk about the Smart hospital offering, which improves the quality of medical care by providing disease prediction and optimized treatment plans using AI. For example, in order to detect heart disease at an early stage, we have jointly developed an AI that estimates abnormalities in heart motion from electro-cardio-graphic data (ECG) with the University of Tokyo Hospital and have started clinical research to verify its effectiveness.
Another example is from Australia, collaborating with Macquarie University, we are developing a new AI-enabled diagnostic technology for brain aneurysms. The new AI-enabled diagnostic technology could dramatically reduce the time taken to review each scan which currently takes 15 minutes. This would bring significant cost savings and thus has the potential to save lives by detecting aneurysms that might otherwise be missed by the human eye. By speeding up the analysis, it would free up valuable radiologist time to focus on other patients.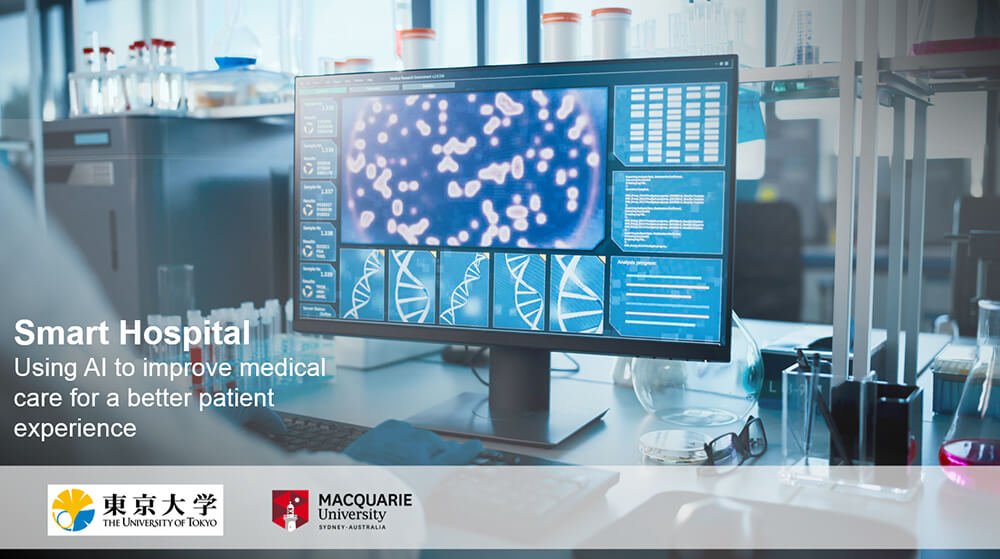 Smart Hospital
Together, we transform lives
Q: What are your hopes for the future of Healthy Living?
Yoshinami Takahashi: As you can see, we have a vision, we have highly-relevant advanced technologies, and are already co-creating with partners – and seeking new, like-minded partners, to put our ideas into practice. My hope is that the Healthy Living vision and our success stories will inspire healthcare ecosystems to work with us so that together, we can transform lives.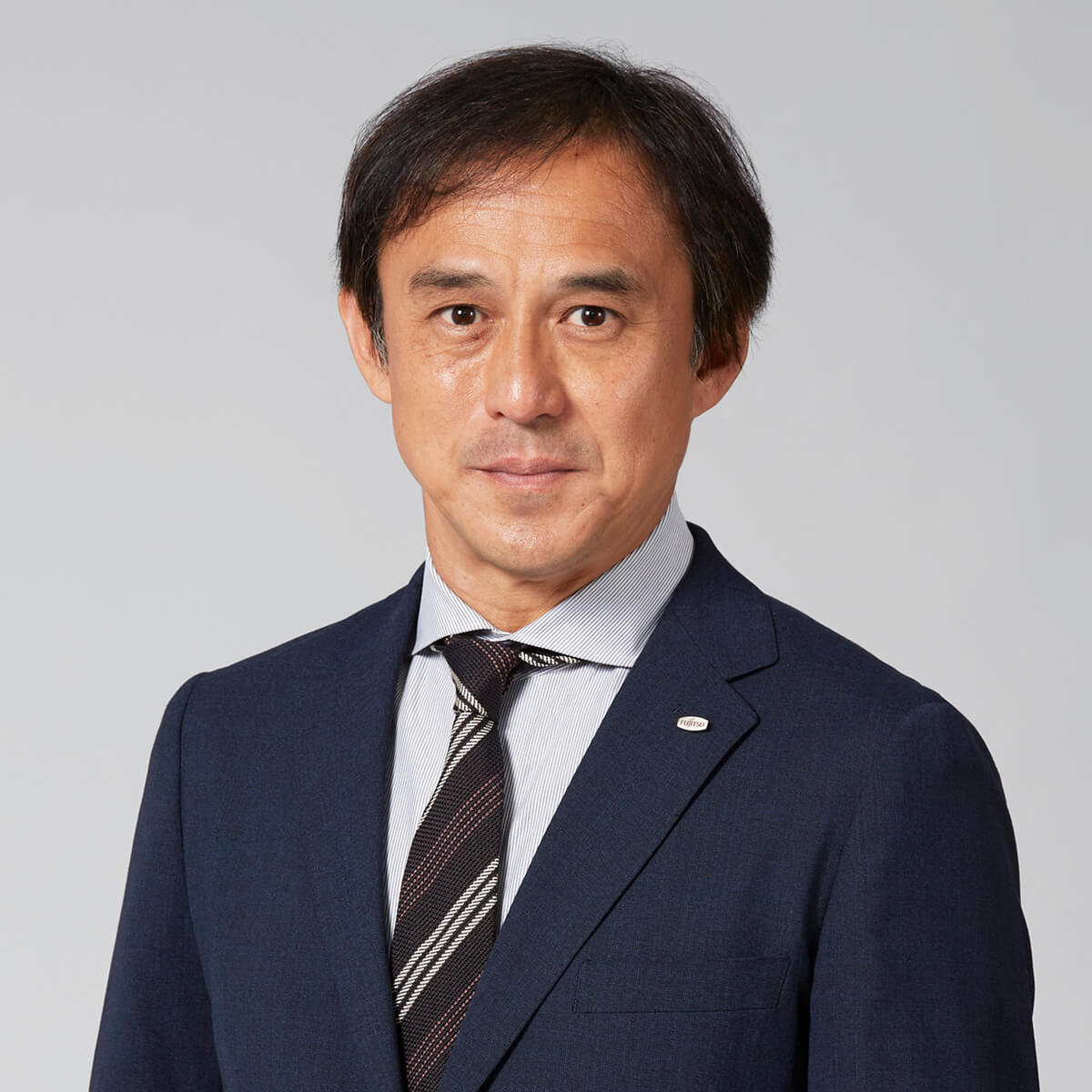 Yoshinami Takahashi
EVP, Head of Digital Software & Solutions Business Group, Global Solutions Business at Fujitsu