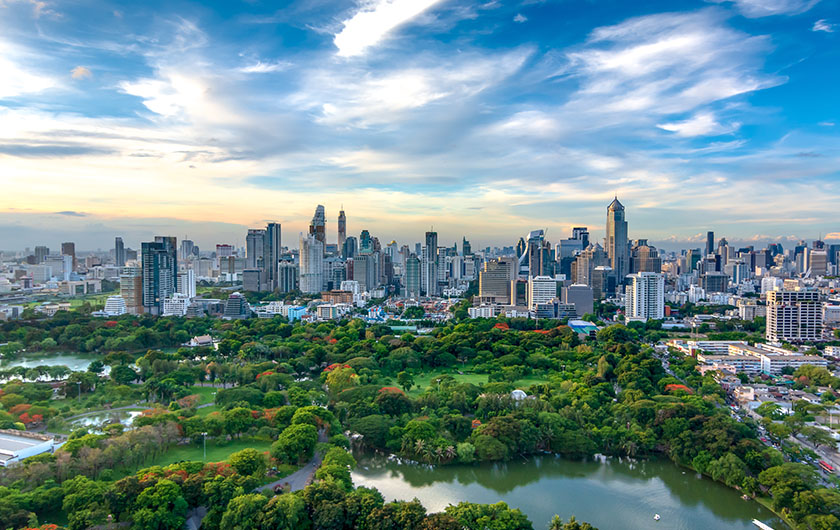 Contents
---
While operational efficiency and cost performance remain important metrics of success, businesses are increasingly striving to have an impact on the world around them by tackling environmental and social issues such as climate change and economic disparity. As a result, many companies have recently begun reassessing and redefining their purpose and looking for ways to demonstrate their corporate value both internally and externally. In doing so, it's essential that intention is followed up with action, as the public wants to interact with companies whose business practices make positive contributions toward a more sustainable society.
Fujitsu introduced its unique approach to Digital Transformation (DX) and sustainability, as well as its purpose and data-driven business initiatives, at Sustainable Brands 2021 Yokohama, an international conference that took place on February 24 and 25, 2021. As a company, Fujitsu has been practicing both transformation-oriented DX and business-supporting sustainability activities as we chart a path towards becoming a DX company, and we seized this opportunity to share our core ideas with the world.
The state of DX and sustainability around the globe
While many of the challenges presented by Covid-19 remain today, the global pandemic has also accelerated the pace of many companies' digitization efforts and promoted the case for DX. Covid-19 has also made it clear that surviving in a rapidly changing world will become increasingly difficult – unless companies make their corporate structures more resilient and more sustainable.
According to a forecast by research firm IDC, 65% of the world's GDP will come from digitalization by 2022, and DX-related direct investment is expected to grow at an annual rate of 15.5% from 2020 to 2023, when it will reach $6.8 trillion.
While DX is most commonly applied to areas such as IT/information systems, business operations, strategy development and marketing, both globally and in Japan, the idea that the true purpose of DX is to improve the Customer Experience (CX) is gaining traction. As the virtualization of company-customer engagement progresses, especially in the 'new normal' brought about by the pandemic, the trend toward DX for CX is growing at a pace.
Under these circumstances, Fujitsu's president and representative director, Takahito Tokita, has already declared that the company is not a digital company or a DX company simply because it provides technologies such as artificial intelligence (AI) and blockchain, but because it has the ability to use these technologies to change society for the better.
In light of this, Fujitsu has been promoting its own initiatives in the fields of DX and sustainability, which are based on a change of consciousness where employees are encouraged to make social issues their own.
Two sessions at Sustainable Brands 2021 Yokohama introduced Fujitsu's specific vision and shared practical examples. Taeko Yamamoto, CMO, participated as a panelist in the first panel – CXOs' Talk, Sustainability for Greater Corporate Value – and Hiromitsu Oikawa, Senior Evangelist and General Manager of the Evangelist Promotion Office, participated as a panelist in Digital Transformation x Sustainability: A new competitive edge for the new era.
Sustainability underpins the foundation of Fujitsu's purpose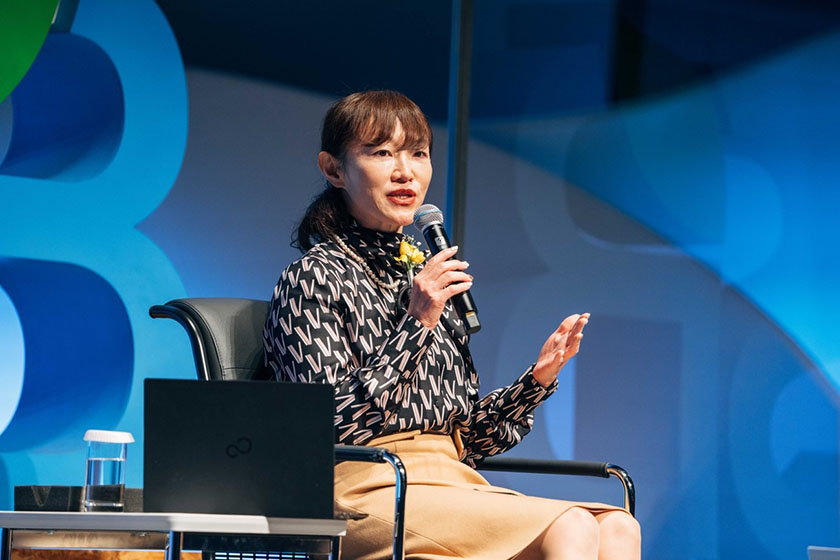 The first session discussed how companies can embrace sustainability in order to create corporate value, with the moderator posing the fundamental question: is sustainability consistent with corporate branding and marketing?
In response, Yamamoto said: "As we transform ourselves into a DX company, we are trying to manage our business in a purpose-driven manner in order to move towards creating a sustainable world, and we are developing our marketing in line with this purpose."
Fujitsu, which has 130,000 employees worldwide and is recognized as the number-one IT company in Japan and the seventh largest in the world, shifted to company-wide remote work in response to the Covid-19 outbreak. Even today, 80% of its employees work remotely, with a 75% satisfaction rate, and the company has established a sustainable system to support this work style. This has led to a superior experience of uninterrupted work and service, right down to direct customers and end users.
Internationally, providing a Total Experience (TX) that comprehensively satisfies the employee experience, the customer experience and the user experience is becoming an important indicator in corporate evaluation. The company's efforts in these areas, as well as in environmental, social and governance issues, have been acknowledged, and Fujitsu has been selected as a constituent stock on the Dow Jones Sustainability World Index.
In addition, Yamamoto spoke of how Fujitsu is realizing its corporate purpose – to make the world more sustainable by building trust in society through innovation – by evaluating its management from two perspectives: financial indicators (such as business growth and profits) and non-financial indicators (such as society and customer trust, employee engagement, and corporate culture change).
She also touched on the company's Global Responsible Business (GRB), an internal initiative that focuses on seven issues: human rights, diversity and inclusion, wellbeing, environment, compliance, supply chain, health and safety, and community.
Citing an example project in the area of wellbeing, Yamamoto described how Fujitsu responded to a request from the prefectural government when a cluster of people with Covid-19 were identified on an Italian cruise ship docked at Nagasaki port. In under nine hours, the company had delivered a dedicated chat application for health monitoring, demonstrating just what can happen when employees take social issues into their own hands and are empowered to come up with solutions.
Acting as a force for positive change
Yamamoto explained the importance of the five pillars of change, which she established as CMO, focusing particularly on 'Data-Driven Marketing' and 'Change Culture'. In terms of Data-Driven Marketing, she spoke about how the company had established a digital feedback loop on a global scale, which collects and analyzes the voices of customers and employees to make changes and measure the results. She also emphasized that this system of global monitoring and data management will play a major role in helping Fujitsu understand and support the sustainability and environmental issues that are important to its customers.
Fujitsu is also reforming its corporate culture as a part of its internal branding efforts. But it isn't just top-level management that's involved – each and every employee is encouraged to raise their awareness and take part in interactive communication throughout the organization.
In addition, the company has set KPIs and established a Sustainability Management Committee, which is chaired by President Tokita. The committee will check on the progress every six months, thereby creating a positive environment for employees to put the message into practice. Moreover, the company holds internal workshops based on design thinking, develops leaders called 'champions' in each division, and conducts activities to change the culture at a grassroots level, and so these reforms are being sped up by making them multi-channel compatible.
As governments and global companies pledge to move towards a decarbonized society, Fujitsu has announced it will switch to 100% renewable energy by 2022 for all electricity required to operate its cloud services in Japan. This is part of our efforts to contribute to the decarbonization of our customers and society by consolidating the processing done on individual servers into the cloud to save energy, and by having the cloud service supplied with renewable energy.
In this way, Fujitsu is continuing its efforts to create a sustainable business and society through a variety of measures, from the practice of remote work to the way we consume energy. And it will continue to search out ways to contribute to the sustainability of society as a whole.
Using data-driven 'future vision' to solve social issues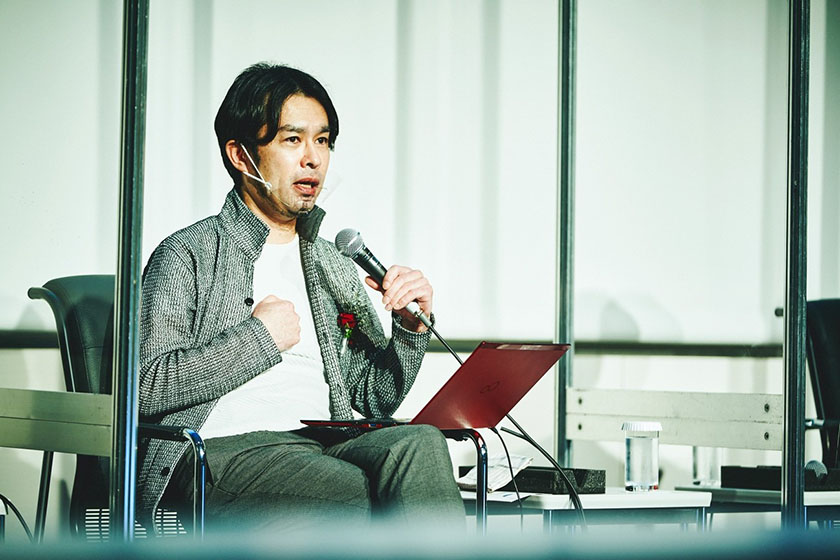 The second session at Sustainable Brands 2021 Yokohama sought to identify the role that DX should play when it comes to remaining a company of choice, which is a topic that has taken on unprecedented importance during the pandemic. As the future remains uncertain, the question of how the world will change and how business will respond continues to be a major concern.
We need to be mindful that the 'traditional' way of doing things will no longer work for all businesses, and many will not be able to return to how things used to be. Oikawa said the ability to reimagine is an essential quality right now, and that imagination will play a major role in overcoming the vulnerabilities of existing businesses and establishing new business models.
The growing global trend for businesses to be composable – built from interchangeable blocks in order to be flexible and resilient – means that all ideas, structures and technologies should be modular in the future. Oikawa cited an example from the manufacturing industry, noting that the pandemic had severely damaged the centralized supply chain, where products and parts are manufactured in low-cost locations. "As a corporate strategy," he said, "we need to move away from the traditional focus on cost and efficiency, and be flexible and responsive to change."
However, reviewing corporate strategy isn't something that can be done overnight. First, we must focus on the corporate purpose and create a future vision. Then, instead of planning a corporate strategy as an extension of the present, we must backcast (project backwards in time) from a 'future vision' that has been reconstructed based on the corporate purpose and then formulate a strategy to realize it.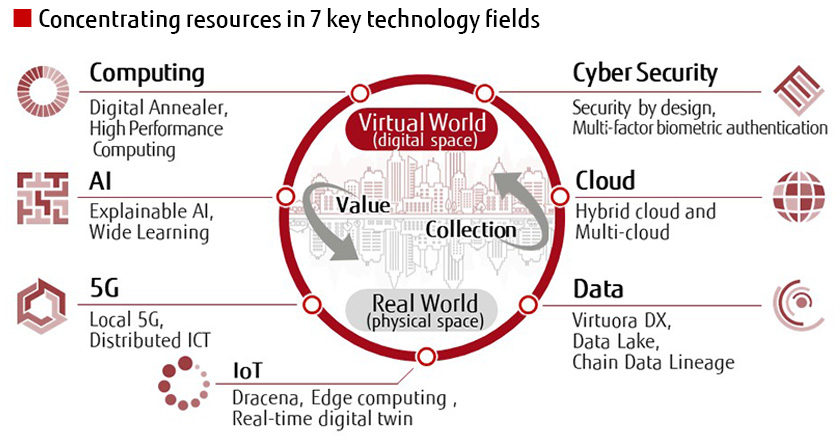 Fig. 1 Seven Technologies Supporting DX
In order to promote purpose-driven innovation, Fujitsu identified seven technology areas as a priority for DX: computing, AI, 5G, cyber security, cloud, data and the Internet of Things (IoT). For example, with regards to computing, supercomputer Fugaku – which was jointly developed by RIKEN (Japan's leading research institution) and Fujitsu – is well-known for its virus droplet simulations. Fugaku is expected to be used for medical treatment, while also solving a variety of social issues including manufacturing with new ideas, unraveling the mysteries of the universe and robotics research.
Meanwhile, AI and IoT will enable everything to be connected in order to create a digital twin, in which real events are visualized in a virtual space. For example, with the Smart Station concept, which Fujitsu is co-creating with OMRON Social Solutions Corporation, we plan to enable safe and comfortable station operations by virtually reproducing the passengers, staff and equipment. Through digital twins, where the real and the virtual are interconnected, Fujitsu itself is preparing for a data-based, future-predicting society.
Promoting social good through purpose-based global initiatives
Fujitsu is transforming from an IT company to a DX company by implementing a variety of measures based on a sophisticated fusion of corporate culture change and sustainability, and is striving to realize its corporate purpose. And, based on its international competitiveness and innovation, the company has been selected as one of the World's Most Admired Companies by Fortune magazine for a third consecutive year.
Fujitsu will continue to develop its business globally by focusing on social good initiatives in line with its own purpose, and we look forward to sharing Fujitsu's new initiatives that will solve social issues in Japan and around the world by leading the way in both the conception and implementation of DX and sustainability.