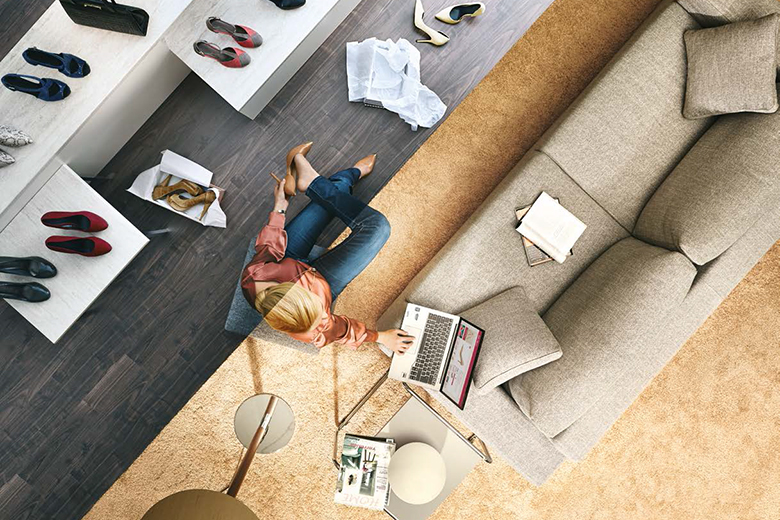 Retail is changing fast. It's becoming more competitive, more reliant on technology, and what often feel like the separate worlds of online and offline are blending to create one single customer experience. Retailers need to understand the valuable role each channel plays in creating an overall customer journey. They also need to identify how that experience, in a retail environment shaken by the impact of COVID-19, may be the difference between financial success or business failure.
Why customer experience is so important
Historically, some retailers deemed customer experience as a low priority, hard to measure, and difficult to pinpoint. What mattered was shifting product at the right price. However, customer experience is so much more than just the feelings or responses a customer has when they're in-store.
The customer journey starts when the buyer begins considering whether they have a want or need to fulfil and ends when they have the product in hand and are using it either to their satisfaction or dissatisfaction. In between, there are a myriad of opportunities to shape and influence the customer retail experience to encourage them to visit more, spend more, and be more satisfied.
Blending the customer experience in the offline and online worlds
Increasingly, retailers are beginning to realise that customers who shop in-store are the same people who browse their websites. Fujitsu has partnered with independent research and advisory firm DataDriven to survey more than 200 ICT leaders from nine countries about their thoughts and attitudes towards technology in the industry. Nearly two-thirds (64.2%) of respondents said they believe online and physical retail are moving closer together.
The increase in choice for consumers makes it more important for retailers to map their offerings to how consumers want to shop. For example, they may browse the retailer's website at home, compare the offering with others online, then drive to the store to try on or experience the product before purchasing it. To encourage the customer to come in store to complete their purchase, it's important to give them the information they need online.
For example, customers need to know:
Is the product is in stock?
Can it be delivered (and, if so, how much the delivery will cost)?
When is the store is open?
How to contact a staff member to view the product in-store?
When customers can arrange all of this in advance, before visiting the brick-and-mortar store, they're more likely to complete the purchase. When they can't get all the information they need, or if their in-store experience doesn't match their expectations, they'll be more likely to walk away.
This experience can work in the opposite direction too. If a customer visits a store in the first instance, that visit can be augmented by online interactions in an offline environment. For example, if the customer has previously provided their contact details and has joined in-store wi-fi, the store can send an offer via an app or social media, making the customer more likely to buy. Meanwhile, the staff in store may have an idea of who the customer is and can recommend products that the customer is more likely to be interested in, delivering a more personalised service that contributes to an outstanding customer experience.
These experiences tend to work best in non-food retail settings where there's more browsing, customers are more likely to have questions and welcome interaction with staff members, and the decision takes longer.
Food shopping is, comparatively, a more utilitarian experience in which customers tend to buy the same products regularly without much conscious thought. Therefore, for grocery retailers, blending the online and offline worlds successfully tends to be more about physical delivery. Grocers who can guarantee availability or deliver to the customer quickly and reliably, with consistent quality, can win the race.
The role of technology in a unified customer experience
Taking a customer from online to offline experiences seamlessly, requires an integrated mix of technologies. With the right systems in place, retailers will be able to deliver a unified commerce experience by:
Offering information relevant to the customer's geographical location on their smart phone or in-store tablet or checkout station.
Sending the customer detailed information on the products they're interested in, including whether they're in stock or can be delivered.
Facilitating click-and-collect services whereby the customer buys the product online then picks it up from their local store, or letting customers reserve a product online for in-store pickup (or book an appointment if it's a more involved product purchase).
Surfacing other product recommendations based on previous browsing history or the purchases made by similar customers.
Connecting customers online with in-store assistants who can help them either on the phone or when the customer visits the store.
Delivering information in real-time to make any engagement personal and relevant.
Customers can be fickle and unwilling to wait for sites to update or load, and they're unlikely to forgive a retailer who says their preferred item is in stock, only to visit the store and find out it's already been sold. As far as the customer is concerned, the interaction should be seamless, intuitive and fun, and this shouldn't change depending on whether they're interacting online or offline. For the retailer, accuracy is essential.
For the customer experience to resonate, it's essential the retailer clearly understands the buyer's journey. This can be done more effectively when the retailer can gather data about customers and analyse it to gain insights that power the experience.
The technology retailers can use to improve the blended customer experience
The backend technology powering retail experiences includes commerce systems that integrate product inventories, customer loyalty databases, point of sale (POS) systems, mobile technology, and eCommerce platforms. These systems and applications all need to work together in a logical way that maps to the customer workflow, from the user interface to the backend processing.
Digital transformation – joining up data, business applications and workflow to deliver a great customer experience or business operation with the support of digital technologies like cloud, mobile, AI and IoT is therefore a priority requirement for retailers to compete into the future. More than 70% of retailers agree digital transformation is an essential part of business success. Digital technologies are being used to deliver new customer service. Some 73% have implemented or moved towards giving customers the ability to buy online and pickup in-store. And 77% are also looking at delivering real-time in-store recommendations via smartphones.*
Read the full report on our website here.
Fujitsu is working with retailers and their partners to reveal insights into all aspects of the retailer's operations and the customer journey, including:
Customer behaviours: how the customer prefers to shop, what information the customer needs, how quickly they need it, and where to pull this information from.
Operational considerations: ensuring in-store tills are open when they're needed, stock is on the shelf, and even ensuring refrigeration is at the right temperature to minimise cost.
Customer experience: delivering impactful interactions that build loyalty and satisfaction through convenience, individualisation, consistency, and reliability.
Employee experience: giving employees the information they need to provide meaningful interactions with individual customers and minimising the burden of administrative work so they can spend more time on the floor helping people.
Retailing effectively in the era of COVID-19
COVID-19 has affected different retailers in different ways. While up to two-thirds believe COVID-19 has a negative impact, as many as one-in-five believe it will have some positive impact on their business.*
Social distancing requirements have disrupted traditional shopping environments and processes. However, this is likely to remain in effect for the foreseeable future, so retailers must adjust accordingly. There's been a notable shift to online purchasing in many instances, so it's essential for stores that already offer an exceptional in-person experience to match this with online offerings.
In stores, many retailers are transforming quickly to meet customers' needs for limited contact. This includes mobile scan and pay solutions and self-checkouts that protect the customer from having to touch any of the in-store devices to finalise their payment. Using their mobile phone to scan product codes and pay is notably more efficient and convenient in these situations.
The next step
The bottom line for retailers is that the 'store' is no longer four walls with products stocked inside it, it's a step in the end-to-end customer journey with a mix of physical and online experience. That experience can be enhanced through the right mix of technologies, processes and importantly, in-person interactions.
Fujitsu focuses on human-centric innovation. This means Fujitsu considers people and their needs ahead of the technology chosen to deliver those needs. The result is a collaborative approach that delivers real business results which we call Fujitsu's Connected Retail.
To find out how Fujitsu can help your retail business achieve customer experience excellence, contact us today.
by Richard Clarke
Fujitsu
August 7, 2020