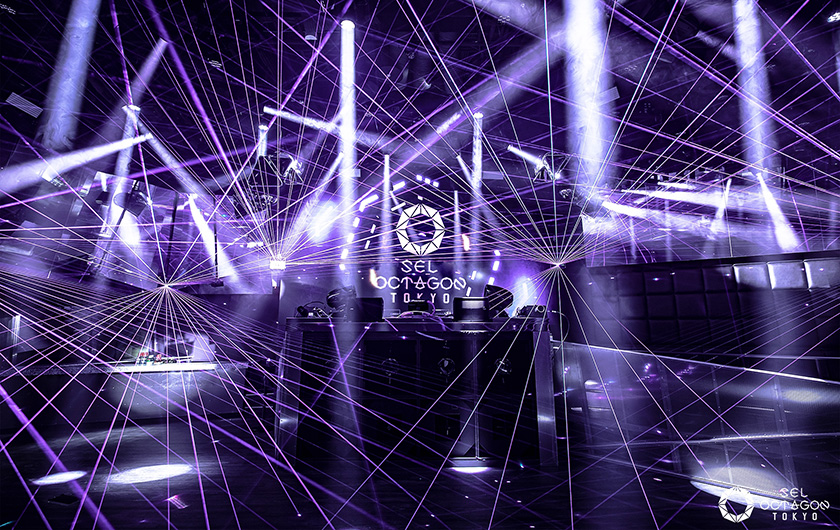 In February of this year, SEL OCTAGON TOKYO, a new nightclub, opened in Roppongi, Tokyo. The club is run by the Avex Group, an iconic Japanese entertainment company, and has drawn attention as a new late night spot that combines entertainment, art, and digital technology. And it's already attracting big crowds.
SEL OCTAGON TOKYO: an evolving night club using cutting-edge technologies
OCTAGON is based on the idea of bringing color to Japan's colorless night. Inside the club, each area features a specific theme that expresses the space's diversity. The entrance, for example, has a theme of excitement; the dancefloor filled with sounds and lights has the theme of fever; and the bar space, where revelers can retreat to relax, has the theme of release. OCTAGON occupies a 503 square meter space and can host up to 580 people. VIP seating can accommodate 120 people.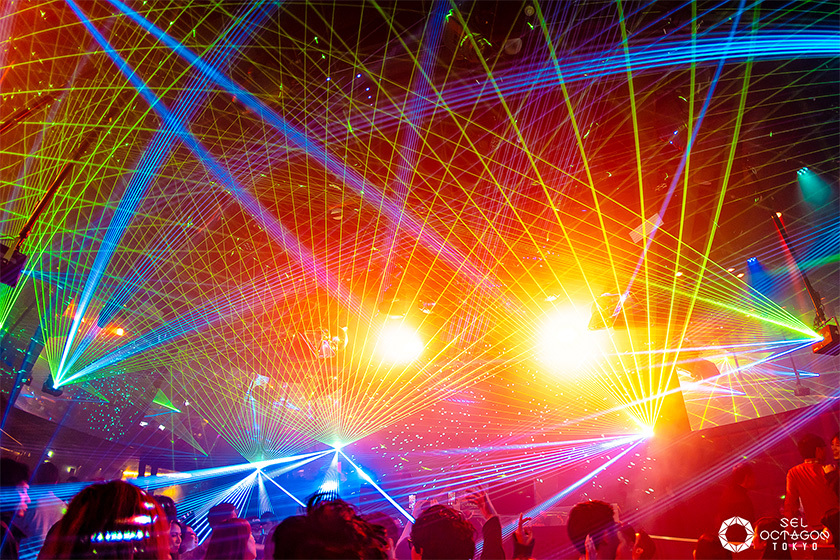 Staging with ten laser projectors and lighting livens up the dance floor (Photograph provided by Avex Inc.)
The club has become a go-to destination for the world's most exciting acts. Its opening night was helmed by a host of well-known DJs from Japan and overseas, including globally renowned DJ Nicky Romero, who livened up the floor for an encapsulated audience.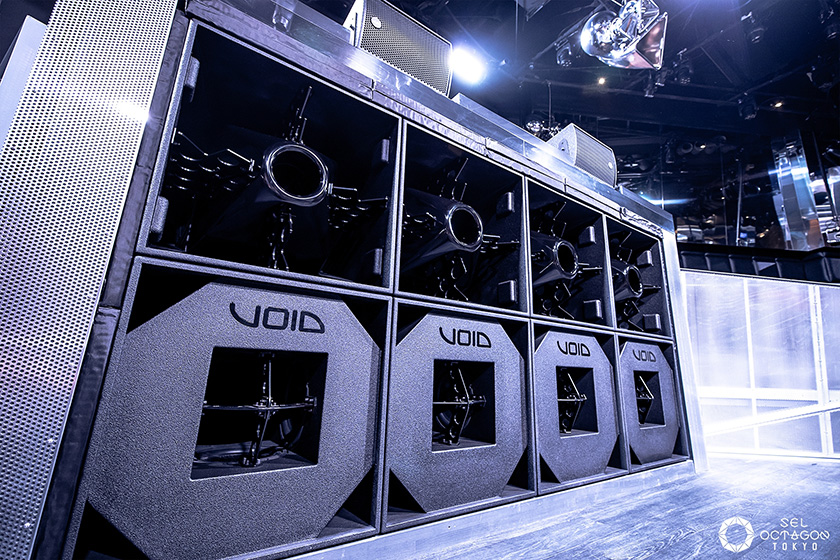 OCTAGON also pays great attention to sound. This sound system from the UK's VOID provides quality sound from the main stage. (Photograph provided by Avex Inc.)
Achieving a safe, secure club with palm vein authentication
In addition to its state-of-the-art staging, OCTAGON aims to ensure safety and security using cutting-edge digital technologies. Among these is an innovative palm vein authentication system. This authentication, which features Fujitsu technology, facilitates checking of IDs and cashless payment. As a rule, OCTAGON requires audience members to register with the palm vein authentication system upon entering the building for the first time. Once they register with their right hands, they will no longer be subjected to ID checks.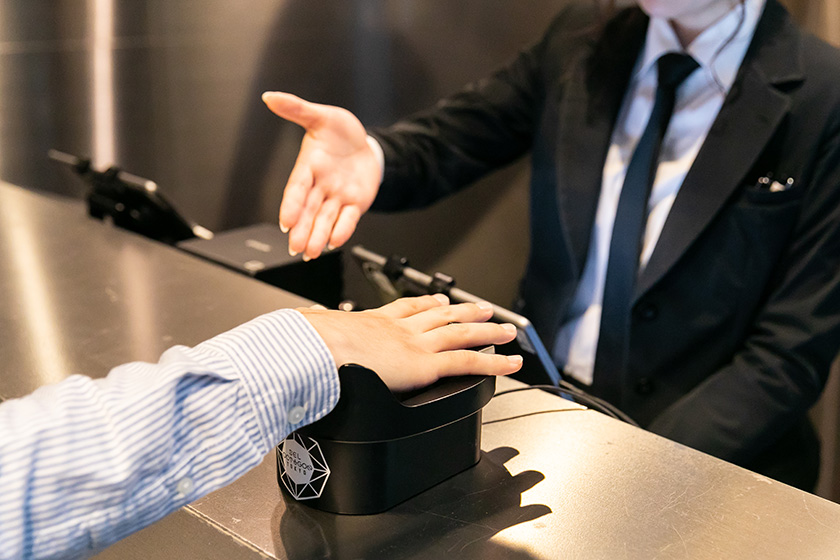 An authentication device at the reception counter. Audience members can enter the building merely by placing the palm of his or her right hand over the device without showing ID.
In addition, all payments, from the cover charge to food and drink inside the building, can be made simply by placing a palm over payment devices installed in the club. Attendees can simply link their credit card information to their palm vein data via a dedicated smartphone app.
Payments for drinks and food can be completed merely by placing the palm of one's hand over the device on the bar counter.
Thanks to the introduction of palm vein authentication, visitors to the club are no longer bothered by ID checking upon entry. And they no longer need to carry their wallets or change to buy drinks and food at the bar counter either. In addition to relieving visitors from the stress of ID checking and handling payment, this authentication also helps ensure smooth communication at the club.
A desire to transform Japan's nighttime culture
We sat down with Takeshi Mori and Atsushi Shimada of Avex Entertainment Inc., who are working to transform nightlife in Japan by utilizing cutting-edge technologies. We asked them about the response to OCTAGON's opening and the club's prospects.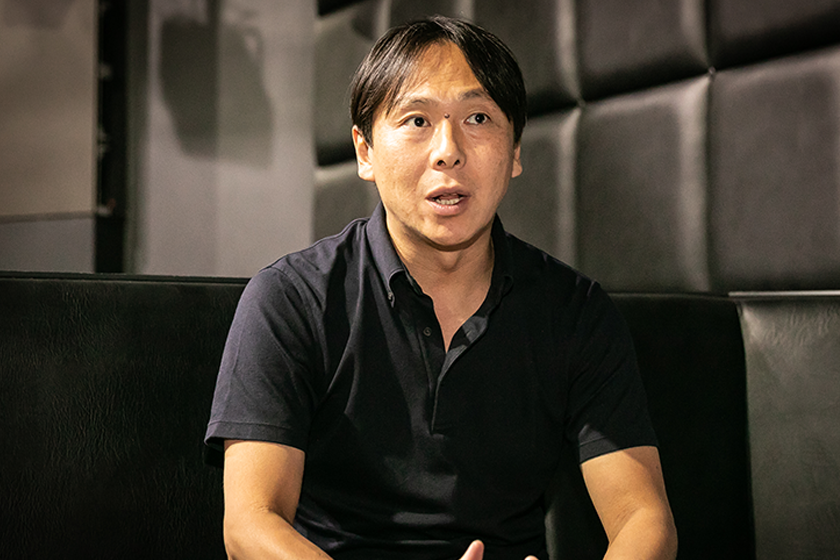 Takeshi Mori
Manager
Business Planning Unit, Lifestyle Business Group, Business Alliance Division
Avex Entertainment Inc.
Creating an iconic new meeting place in Japan
-- What was the initial idea behind OCTAGON?
Mori: You can't talk about clubs without talking about dance music. For almost 30 years, the Avex Group has taken the lead in dance music in Japan. Our mission is to disseminate music to a wide range of people, as well as to create music. After the closing of the Velfarre Club in Roppongi, we didn't have a permanent facility, so with OCTAGON, we aim to create an iconic new space in Japan.
Shimada: We are working to achieve three missions with OCTAGON: to bring the underground out into the open; to create a meeting place for Japanese and international celebrities; and to revitalize Tokyo's nightlife.
-- What needed to be changed with respect to the image of conventional nightclubs?
Mori: In Japan, people often imagine clubs as scary, smelly, or dirty. To wipe out such images, we strive to make OCTAGON a safe, secure space.
-- What makes OCTAGON special?
Mori: Some characteristics set OCTAGON apart from other clubs, such as biometric authentication via a palm vein authentication system. This system eliminates the stress of ID checking and cash payment, while improving the user experience by streamlining payments throughout the evening.
-- Why did you choose palm vein authentication above other biometric authentication systems?
Mori: We had also considered other biometric authentication options, such as face and fingerprint scanning. However, we found that some people dislike having their face photographed, and others have resistance to having their fingerprints taken. The palm vein system was less intrusive than these other methods. Another reason for choosing the system is that people feel it is easier to simply place the palm of their hand over the device, and the authentication process is smooth.
Improving the customer experience with stress-free entry and cashless payment
-- What changes did you notice after introducing the palm vein authentication system?
Mori: People are mostly surprised or have a positive response, saying things like "This is very new!" or calling it state-of-the-art. Although some are wary about registering their palm vein data, most find it very convenient once the process is complete.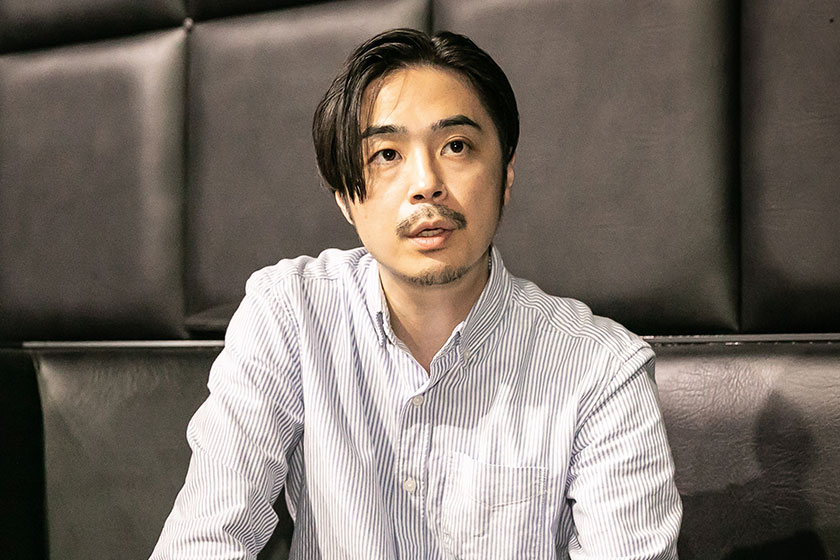 Atsushi Shimada
Chief Producer
Business Planning Unit, Lifestyle Business Group, Business Alliance Division
Avex Entertainment Inc.
-- What are the advantages for the operator?
Shimada: As a business, the system helps to reduce personnel costs and the burden on staff. Since there are fewer opportunities to handle cash, the burden of money management and the associated number of working hours have been reduced. The business can also manage registered customer information and develop new promotional measures based on this.
-- How will your use of this palm vein system develop in the future?
Shimada: We're interested in promoting EnterTech, which is the word we use to describe the combination of entertainment and technology. We're interested in incorporating cutting-edge technologies into all of our businesses. In July 2019, we established a subsidiary, Avex Technologies Inc., which aims to create new forms of entertainment by leveraging blockchain, the cloud, and so on.
Mori: Going forward, we are considering selling on the palm vein system that we have established for OCTAGON to other clubs and venues. We believe that EnterTech makes it possible to totally transform user experiences. We think this can be applied not only to live sessions and other events such as those Avex has been involved in to date, but also to VR and AR – which are more widely accessible to people. As technology evolves, more things can be done without human intervention.
Shimada: Until recently, club culture has been open only to a certain group of people. With OCTAGON, we're spreading this culture to a wider audience in the way that only the Avex Group can. Anyone coming to OCTAGON will feel how different it is to other clubs.
Speakers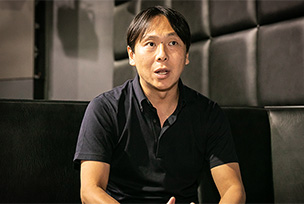 Takeshi Mori
Manager
Business Planning Unit, Lifestyle Business Group, Business Alliance Division
Avex Entertainment Inc.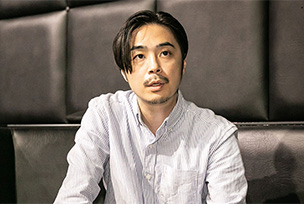 Atsushi Shimada
Chief Producer
Business Planning Unit, Lifestyle Business Group, Business Alliance Division
Avex Entertainment Inc.
by Fujitsu Blog Editor
Fujitsu
November 19, 2019