How can AI transform our society? Fujitsu updates Kozuchi to accelerate the speed of AI adoption
Fujitsu / September 8, 2023
"Many organizations highly realize the need to incorporate AI to grow their business, but they don't know how to introduce it." In April 2023, Fujitsu released Fujitsu Kozuchi (code name)- Fujitsu AI Platform(*1) to address this challenge. This is a Fujitsu initiative to accelerate delivering advanced AI technologies to customers. This article introduces some of the new AI features that have been added to Fujitsu Kozuchi since the April release, as well as some background into how this initiative came to be.
The key success factor of AI adoption is speed of the road to PoC
The environment surrounding our society is rapidly changing and becoming more complex. From changing customer purchasing practices to contamination of foreign materials in manufacturing and distribution processes. In order to survive, companies need to learn new business models, evolve organizational structures, and enhance their customer responsiveness. However, in many cases, manpower is limited and such challenges are difficult to deal with due to labor shortages.
This is where Artificial intelligence (AI) can help. In recent years, the accuracy of AI has been improved by deep learning algorithms and the rise of cloud platforms that can perform computations at high speed. This has led to the availability of solutions that can learn from the collective intelligence of mankind and appropriately recognize, analyze, and deal with those situations. ChatGPT, a conversational generative AI, is an example.
Although many enterprise companies are interested in adopting AI, less than 20% of them have even considered, validated and implemented it. On the other hand, about 70% of companies that have completed an AI proof of concept (PoC) typically move to production.
In order to overcome this situation, Fujitsu released Fujitsu Kozuchi (code name)- Fujitsu AI Platform (Fujitsu Kozuchi) in April 2023. This platform enables customers to quickly verify the latest AI technologies and implement those technologies as simply as possible. Fujitsu Kozuchi enables us to minimize the effort and cost of environmental preparation during the verification phase as much as possible, thereby reducing the barriers to completing a PoC.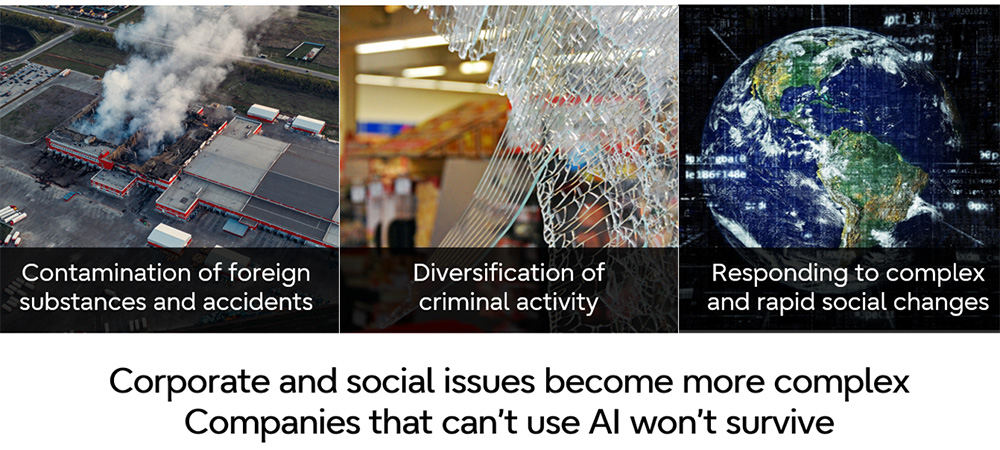 Importance of AI
Fujitsu Kozuchi rapidly evolves based on customer needs
Fujitsu has accumulated over 30 years of experience in AI research to provide solutions that address customer issues in each industry and every function. In the 4 years since 2019, it has provided more than 6,000 case studies with customers all over the world, including Japan, the United States, Europe and Asia. It was also recorded as being No.1 in Japan, based on number of AI-related patent applications, having 970 AI-related patents and inventions from 2014 to October 2022. Fujitsu Kozuchi has also released the AI components backed by those case studies and patents, named "AI Innovation Components" and "AI Core Engines," which are grouped by industry scenario and general-purpose function.
In fact, Fujitsu Kozuchi's work was a project that took only about four months from conception to release. It is planned to update features once a quarter to meet customer needs in an agile manner. Specifically, the following features were added and updated from the first release in mid-April to the end of July.
AI Innovation Components:
・Cashier Fraud Monitoring: By automatically detecting and notifying customers of fraudulent activity at self-checkout counters, based on the camera image above the self-checkout areas, this component enables protecting the store's profits and compensates for lack of sufficient monitoring personnel. As a first step, we have released a scanning leak detection function. (Released in July)
・Defect Factor Analysis: This component analyzes the conditions under which defective products occur in the manufacturing process – even with the limited data of infrequent defect occurrences – and helps improve the efficacy of quality control. By using AI to analyze factors that tend to depend on expert know-how, it can reduce by about half, the man-hours required to identify factors and make policy decisions. Key AI technology used: Wide Learning. (Released in July)
・Operation Process Analysis: it has expanded the automatic segmentation of element work function to automatically segment the time required for each element work in relation to the work from a video of a series of actions of a worker on a manufacturing site. It works in combination with Broadleaf's workers analysis software OTRS. (Updated in July)
AI Core Engines:
・Conversational Generative AI: Verify with your own business data, safely and securely in a protected environment. It features the ability to create answers using chat history and uploaded documents (see Figure 1). (Release in July)
・TDA Time Series Anomaly Detection: Anomalies and their warning signs can be detected early in complex time series data. Analysis using Fujitsu's proprietary Topological Data Analysis (TDA) technology detects changes in time series that cannot be detected using statistical information alone. (Released in July)
・AutoML: Easily automate the process of designing and building machine learning models to quickly generate accurate, faster, and more explainable scripts than other tools. (Demo site) (Released in June)
・Explainable AI: Table data can be exhaustively tested for all possibilities, explaining the results of decisions and providing field improvement actions. (Demo site) (Released in May)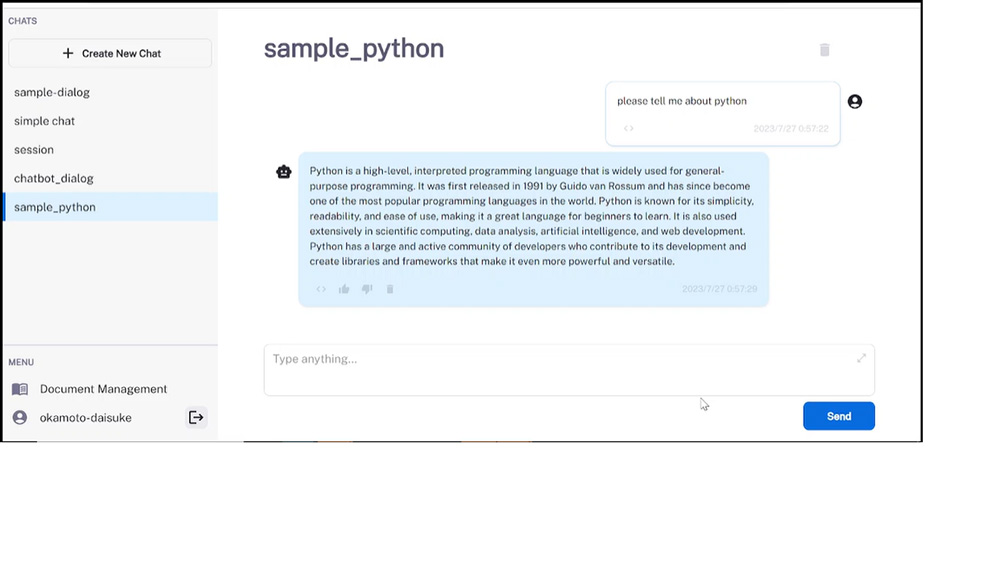 User Interface of Fujitsu's Conversational Generative AI
Fujitsu's overcoming challenges for rapidly delivering cutting-edge technologies to customers
This is actually the first time at Fujitsu when such a rapid release of advanced technologies have been carried out. In the past, Fujitsu Research and Fujitsu were separate companies, and it often took many years for the advanced technologies developed at Fujitsu Research to be offered to customers as a Fujitsu business proposition. However, the situation has changed since Fujitsu Kozuchi was released.
Two developers - Daisuke Okamoto of Technology Strategy Unit, who was responsible for the development and launch of the Conversational Generative AI engine, and Genta Suzuki of Fujitsu Research, who was responsible for the development of Actlyzer, a behavior analysis technology common to Cashier Fraud Monitoring and Operation Process Analysis, told us how Fujitsu Kozuchi was developed.
Please tell us what you worked on and what you struggled with in this Fujitsu Kozuchi update release.
Okamoto: When we proposed Fujitsu Kozuchi to our customers, we received the most inquiries about verification of generative AI. In response, we launched Conversational Generative AI engine from scratch in a very short period of two months. Drawing on the company's existing efforts to implement Generative AI, we tackled the challenge of creating a small team that can leverage our data in a secure environment that many customers need. To be honest, it was very difficult working as a team until late every day, but it was a very good experience to be able to release it in a very short time. We will continue to enhance its functions.
Suzuki: Fujitsu has put human sensing technology to practical use in its brick-and-mortar stores. For example, the Fujitsu Cognitive Service GREENAGE, an action detection solution in the city, and the AI gymnastics scoring systems, but it also has a number of other advanced human sensing technologies that are yet to be commercialized. With this updated release, we can finally bring Fujitsu's expertise to our customers by industry use case. Because the process was different from the existing one, there were many things that were new to us in terms of internal coordination and how to proceed with the project, and I was confused. Our team members are very excited to be able to quickly bring the technology we have developed to our customers. We will continue our research so that we can continue our quarterly release cycle.
As such, Fujitsu's advanced technology development system is being transformed to meet the needs of the market and customers. Please keep an eye on future trends of Fujitsu Kozuchi, which is still evolving.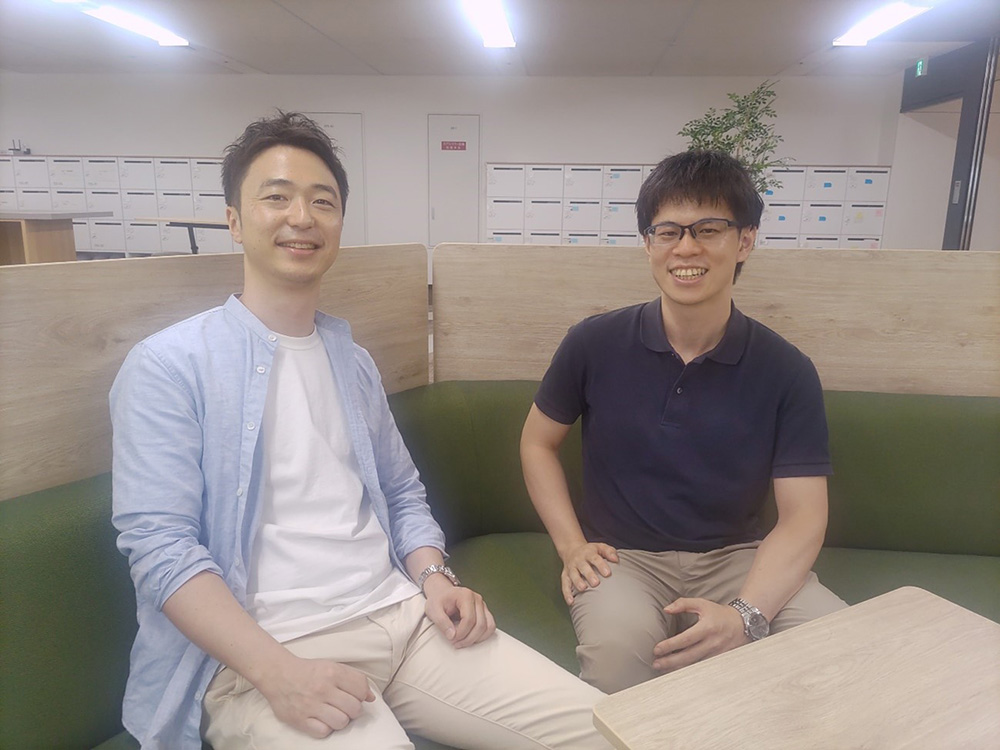 Daisuke Okamoto of Technical Strategy Unit (right) and Genta Suzuki of Fujitsu Research (left)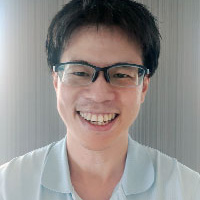 Daisuke Okamoto
Manager, Research and Analysis Division, Technology Strategy Unit, Fujitsu Limited
After joining the company, he worked on large-scale SI and DX projects as a field SE in charge of customers in the transportation industry. After that, he experienced a lot of analysis and construction projects specializing in AI, and worked hard to spread AI inside and outside the company, including the establishment of a company-wide organization and Fujitsu Kozuchi.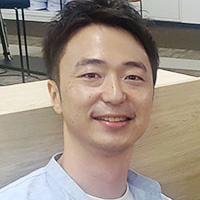 Genta Suzuki
Senior Project Director, Human Reasoning Core Project, Artificial Intelligence Laboratory, Fujitsu Research, Fujitsu Limited
Since joining the company, he has been involved in research and development of computer vision and its field application. He has led the development team of Actlyzer, a behavior analysis technology, since the start of research, and has achieved various results such as demonstration, commercialization, field application, and competition award. He was awarded the Silver Award for Field Innovation by the Society for Artificial Intelligence in 2021.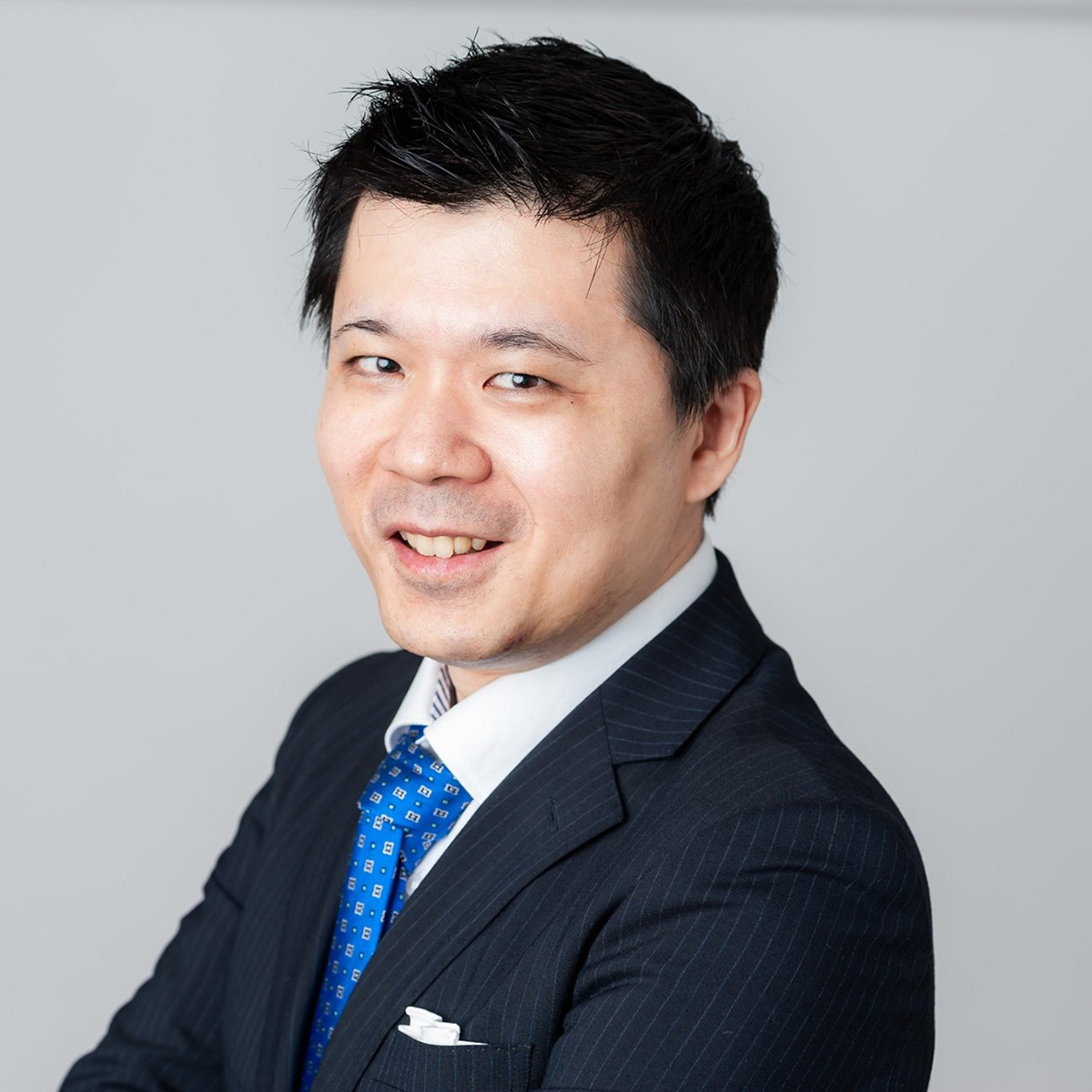 Shinichi Komeda
Senior Director, Technology Marketing Division, Global Marketing Unit, Fujitsu Limited
With the personal purpose of "helping Japan become great again through innovation," he is engaged in daily marketing and technology transformation activities at Fujitsu.