[Joint research] Improving quality of life for cancer patients through AI breakthroughs in genomics
Fujitsu / June 24, 2022
Cancer genome medicine or precision cancer medicine is to provide the optimal treatment based on genetic mutations in cancer tissue. This field holds the promise of personalized medical care that is appropriate to the genomic information of each patient's cancer. Hopes are high that this could be "a dream cancer treatment."
Cancer genome medicine is being promoted in developed countries around the world. On the other hand, challenges remain: there is a shortage of specialists with knowledge of advanced genome information, while selecting therapeutic agents is difficult.
Fujitsu is advancing the "Healthy Living" initiative to work towards a world that enriches the life experience of everyone and continues to expand their potential.
One major initiative is Fujitsu's collaborative project with the Aichi Cancer Center in Japan. This project aims to develop an AI technology(*) system for clinical settings in order to assist physicians in drug selection, thereby expanding the use of cancer genome medicine - and improving patients' quality of life (QOL).
We interviewed Dr. Issei Imoto, the director of the Aichi Cancer Center Research Institute, and Masaru Fuji of Fujitsu's Computing Laboratory, who are leading this initiative. We heard about the project's significance in the future of cancer genome medicine and their ambitions for patients' well-being.
Cancer genomics for optimal treatment
- Firstly, please tell us what kind of cancer genome medicine is currently being developed for clinical practice.
Dr. Imoto: In cancer genome medicine, first we conduct a comprehensive cancer genomic profiling test, based on a patient's cancer tissue and blood, to examine the mutations in the genes involved in the development of cancer. We can predict a patient's response to drugs and the side effects from mutations we find in genes. Then we search for therapeutic agents available in Japan to find the ones that we believe will be effective in providing optimal medical care.
The Aichi Cancer Center promotes world-class cancer research and medical care through collaboration between research facilities and hospitals to build the foundation for the next generation of cancer care. In recent years, the development of molecular-targeted therapeutics has been advancing. And while molecular targeted therapeutics are effective only against cancer-specific proteins related to cancer growth and metastasis, they have few side effects and do not damage normal cells. However, currently, there are no molecular-targeted therapeutics or drugs that address all genetic mutations detected in cancers. Of the approximately 300 genes examined in the comprehensive cancer genomic profiling test, only about 20 genes have available therapeutic agents. The development of therapeutic agents for molecularly targeted therapy is urgently needed.

- What other challenges are there besides the development of therapeutics?
Dr. Imoto: There are various challenges, such as the small number of genes that can be targeted and the fact that drugs are not always effective, depending on the status of the genetic alterations. One challenge for clinicians is the time-consuming process to decide which therapeutic agent to select, based on the results of cancer genomic proofing test. Physicians need to collect and compare a lot of data on the efficacy of the drugs they consider for treatment—a single physician or researcher would have a hard time exhaustively examining countless databases and articles as new information is updated daily. This problem has led us to realize the need to support the work of physicians in selecting drugs, using a system that provides physicians with as much reliable information as possible promptly, to promote cancer genome medicine.
We aim to shorten the time from testing to drug selection by enabling physicians to select candidate drugs and predict their efficacy more quickly and simply. Physicians will be able to spend more time with each patient and propose a variety of options that take into account the individual patient's QOL, including the selection of more effective therapeutic agents, the order of medication, and a regimen that avoids unnecessary treatment. That is the essence of cancer genome medicine.

Two AI technologies that help physicians in treatment selection
-How is Fujitsu approaching the challenges around cancer genomics?
Masaru: Fujitsu started researching AI for genomic medicine in 2016. Since then, we have collaborated with Kyoto University and the Institute of Medical Science at the University of Tokyo to launch the technology, which has enabled us to receive advanced knowledge from specialists in the field. Through research and development, we wanted to contribute to the well-being of individuals by assisting physicians in the treatment selection process based on patients' genetic information, which is currently a time-consuming task. Therefore, my research group has developed various AI functions, including my specialty, natural language processing technology.
Furthermore, we believe that it is essential to conduct research with institutions on the forefront of treatment to implement our technology into society. In 2019, we launched a joint research project with the Aichi Cancer Center – a leader in cancer care in Japan – to promote world-class cancer research through collaboration between research institutes and hospitals. Since then, we have conducted joint research with the Aichi Cancer Center for practical AI technology.

- This system was developed to offer patients personalized cancer treatment. Concretely, what can the system achieve?
Masaru: By inputting test data, such as a patient's cancer type and genetic mutation, the system assists in selecting therapeutic agents. The system handles drug information corresponding to cancer types, genetic mutations, and experimental data to evaluate their therapeutic effects, which are managed by various expressions and rules in multiple external databases. The system leverages the Aichi Cancer Center's therapeutic drug selection expertise and Fujitsu's AI-based data-integration technology to organize drug information and experimental data into a knowledge graph, which features a common data format and expressions. A knowledge graph is a network of knowledge that systematically links various types of information and represents them in a graphical structure, making it easier to understand the relevance of information. This will allow us to narrow down the therapeutic agents thought to be effective against different cancer types and diverse genetic mutations in each patient.
By combining this system with Fujitsu's AI technology for language processing, which identifies terms and phrases used in research papers from context, physicians will be able to instantaneously refer to relevant information from more than 1.2 million medical papers when evaluating the effects of a planned course of treatment. This new system will greatly reduce the time required to search for supporting data and will help physicians aggregate and review a variety of evidence, verify the validity of their drug selections, and improve the overall efficiency of their work.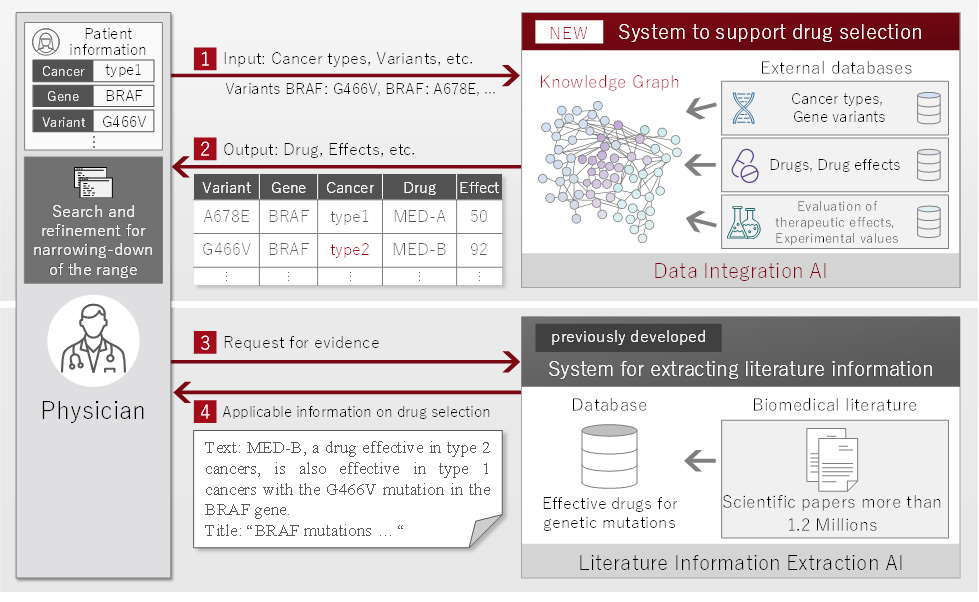 Toward a physician-friendly system
- By combining these two technologies, you can better support physicians. What did you focus on in the development process?
Masaru: Our research group made many improvements to the system, while keeping in mind that it should be easy for physicians to use in a series of medical procedures. This success is largely due to Dr. Imoto's advice that it is important to incorporate an easy-to-use interface that assists physicians in broadly deploying the system, which will then lead to a true improvement in cancer genome medicine.

- During an experiment at the Aichi Cancer Center, you were able to confirm that this technology could identify drug candidates that are expected to have therapeutic effects against eight different genetic mutations. How significant do you think this system is?
Dr. Imoto: I think it is incredibly significant for the medical field. Physicians will be able to select drug candidates and predict their efficacy in a shorter time. A physician-friendly system also means that information can be returned to patients more quickly. The possibility of making decisions quickly and accurately will enable patients to select more effective treatments and, conversely, weed out treatments that are not likely to be effective. There are also high expectations that this system will create an environment where even physicians who are not specialists in advanced cancer genomics can select therapeutic agents or propose new treatment methods based on genomic information.
In the future, we would like to add unique and distinctive data to existing databases and article information as reference information. At the Aichi Cancer Center, we have developed cancer tissue and cell culture models in which some genes have been modified. The effects of therapeutic agents can be verified in these experimental models. We are also studying drug resistance and collecting the latest information on what kinds of genetic alterations are associated with drug resistance. We expect that these implementations will further advance the system.

Promoting well-being , the driving force of the collaboration
-What challenges do you hope to take on in the future as cancer genome medicine continues to evolve?
Dr. Imoto: The Aichi Cancer Center, a comprehensive cancer center that integrates the research institute and the hospital, will continue to provide each patient and family with the best cancer care for all life stages, from prevention to diagnosis, treatment, and post-treatment. Through the hospital, we hope to contribute to the evolution of cancer care in Japan and worldwide by making available the results of the Aichi Cancer Center's efforts in early-stage diagnosis, drug and immunotherapy, and prevention based on genomic information.
In this context, we believe that the effective use of AI technology will advance the average quality of cancer care and lead to optimal personalized cancer care for each individual. I believe that there are still many areas in genomic medicine that can be solved by the elemental technologies in which Masaru specializes. Therefore, I would like to see the company actively incorporate technological innovations that will have a ripple effect on genomic medicine.
Masaru: I would like to use my expertise in AI technology and apply it to medicine, a field where I can make a significant contribution to society, to help treat patients. As a researcher, I believe it is important to imagine what I am trying to achieve in the future while striving to develop the technology at hand. I believe that creating a society in which people can live healthy, prosperous, and enjoyable lives is where technology should come into its own.
We want to fully deploy this system and contribute to the well-being of as many people as possible by creating a stress-free environment where information is efficiently integrated.
Learn how maximizing life experiences unleashes everyone's potential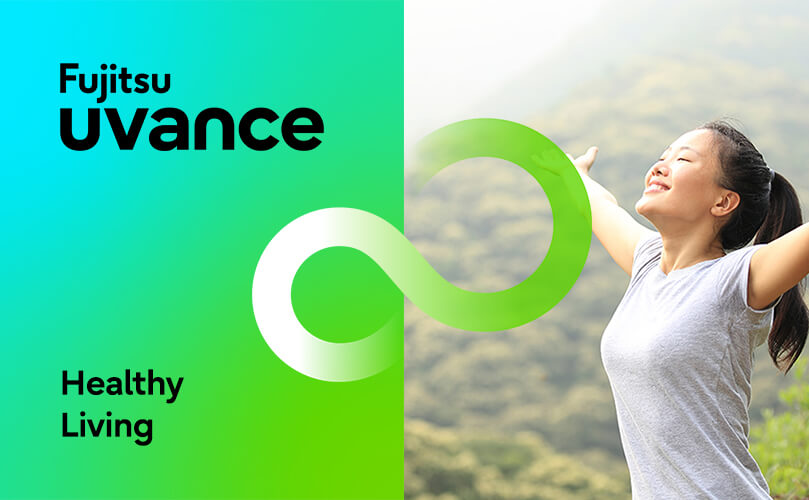 Healthy Living
Fujitsu introduced a key focus area called 'Healthy Living' as a part of its business brand, Fujitsu Uvance.
We will create a world that enriches the life experience of everyone and continues to expand their potential.
Read more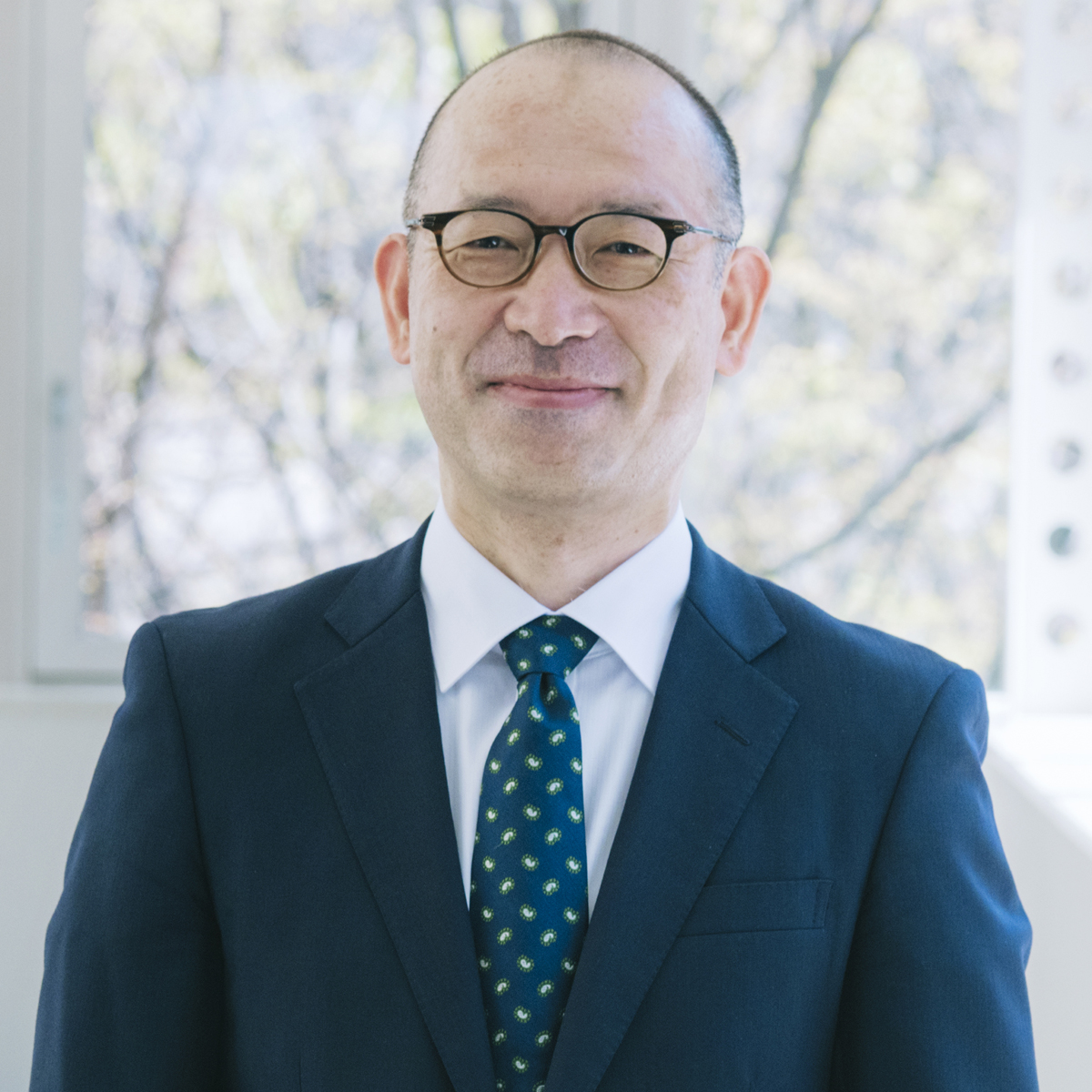 Dr. Issei Imoto
Director of Aichi Cancer Center Research Institute
Dr. Issei Imoto graduated from Kyoto Prefectural University of Medicine in 1987. He started human genome research when he studied at Mayo Clinic in the United States after seven years of clinical and research work as a gastroenterologist. He continued his research at Tokyo Medical and Dental University since 1999 and then the University of Tokushima (as a professor) since 2010, and has participated in cancer genome medicine at the Aichi Cancer Center since 2018. He is an MD and also holds a Ph.D. He has been in his current position since 2021 and is also a board member of the Japan Society of Human Genetics (JSHG) and the Japanese Society for Hereditary Tumors (JSHT).
Masaru Fuji
Project Manager, Computing Laboratory, Fujitsu Ltd.
Since joining Fujitsu, Masaru Fuji has been involved in research and development related to natural language processing, in particular machine translation, including the translation system ATLAS. He was seconded to the National Institute of Information and Communications Technology (NICT) in 2014. In 2017, he started researching and developing genomic medical AI at Artificial Intelligence Laboratory, Fujitsu Laboratories Ltd. (at the time), and he participated in the AMED Program for Integrated Database of Clinical and Genomic Information. He has been working on large-scale genome analysis at Fujitsu's Computing Laboratory since 2022. He is a Doctor of Engineering (Natural Language Processing) and is also a director at the Association for Natural Language Processing.