Driving a better future with TOYOTA GAZOO Racing
Fujitsu / June 8, 2022
Toyota Motor Corporation is an undisputed leader in the global automotive industry. They have been involved in motorsports for more than half a century and continue to innovate on racetracks around the world. Toyota's desire to change the future through motorsports has a lot in common with Fujitsu's philosophy – and that was the catalyst for our sponsorship of TOYOTA GAZOO Racing. We sat down with our project manager to find out what Fujitsu is aiming to achieve through this sponsorship.
Toyota and Fujitsu collaborate to change the future through motorsports: A shared goal
Motorsports push the limits of people and vehicles – and the thrilling action never fails to wow crowds.
Toyota Motor Corporation, Japan iconic automaker, has been involved in motorsports for more than 60 years, participating in various racing categories. Through motorsports, the company continues to innovate and take on challenges that open the door to a new future. Fujitsu strongly identifies with Toyota's aspirations; their stance on business development aimed at solving social issues – including the realization of a carbon-neutral world – overlaps with Fujitsu's philosophy, leading to the decision to sponsor TOYOTA GAZOO Racing.
What kind of future will Fujitsu's participation help build? We spoke with Takeru Hirahara of the Global Customer Success BG Mobility Business Division of Fujitsu Limited, who has worked to strengthen relationships with customers as a business producer while supporting the sponsorship on the frontlines, about the process leading to the sponsorship and expectations for the future.
Please tell us the background of Fujitsu's sponsorship of TOYOTA GAZOO Racing.
Masatake: In the Account Department, we have been interested in the possibilities of motorsports for several years and have been making preparations that would enable us to take advantage of the potential of motorsports when the timing was right. Eventually, we had an opportunity to discuss this matter on a Company-wide level, which led to this sponsorship.
What was the thinking that led to this particular sponsorship?
Masatake: We believe that giving back to society what we have gained through our participation in motorsports is a very important part of the path toward achieving a sustainable society. Toyota is involved in numerous activities aimed at the further development of the Japanese automobile industry – and their focus on creating a bright future with motorsports is a starting point. Together with Toyota, we would like to recruit like-minded people and expand this initiative across various industries. We hope to contribute to the world through our efforts with such people. This is what we had in mind.
We have long been Toyota's ICT partner, and it is a great pleasure for us to be able to strive toward the same goals in motorsports – to share the same joys and sorrows.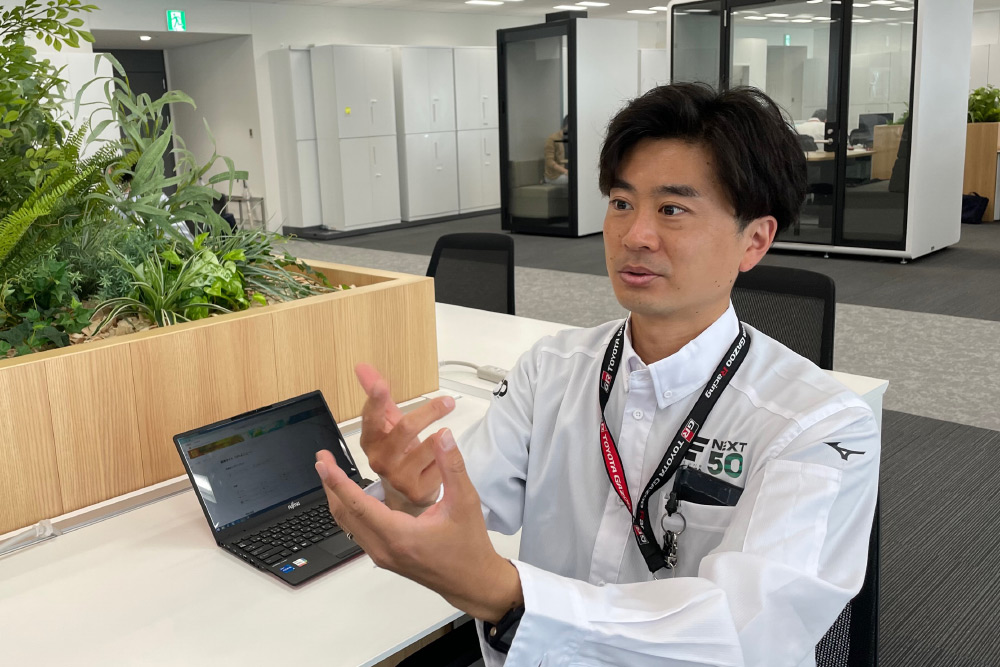 Fujitsu's historic first step into motorsports
Please tell us about your role and mission in this project.
Masatake: I'm usually promoting various projects with Toyota. Specifically, we are collaborating on car production, supply chain systems, sales and repair systems, company-wide private cloud, supercomputer implementation, security, etc.
I have been working as a business producer for several years now, planning and carrying out ideas that will lead to future business development for Toyota. As part of this effort, I wondered if there was any way I could help Toyota's motorsports business; what better way to train people and cultivate technology for better car manufacturing. I had been enthusiastically researching and developing ideas on my own, as well as a volunteering in the All Japan Rally Championship to experience what it is like to be in the field.
Armed with the outline of a plan and information I had accumulated in motorsports, I'm leading from the standpoint of someone in the Account Department to maximize the use of Fujitsu's technology. This is my role. Of course, I will need the knowledge of the Marketing Department and cooperation with members of overseas subsidiaries, but I would like to lead the project as one who is extremely excited to work in this area. For this activity, I have been temporarily transferred to Japan Race Promotion (JRP) since May of this year, and I am involved in this project from the standpoint of race promoter.
What has Fujitsu achieved in terms of DX initiatives in motorsports and mobility?
Masatake: In the past, Fujitsu Ten (now Denso Ten Limited) sponsored the Toyota team in the World Rally Championship (WRC), and in Australia, Fujitsu General became an event and team sponsor in the Supercars Championship. Currently, I hear that Fujitsu General is providing imaging solutions to ensure safer driving on the Nürburgring circuit in Germany.
We believe that Fujitsu's full-fledged involvement in motor sports in this way is a historic first step.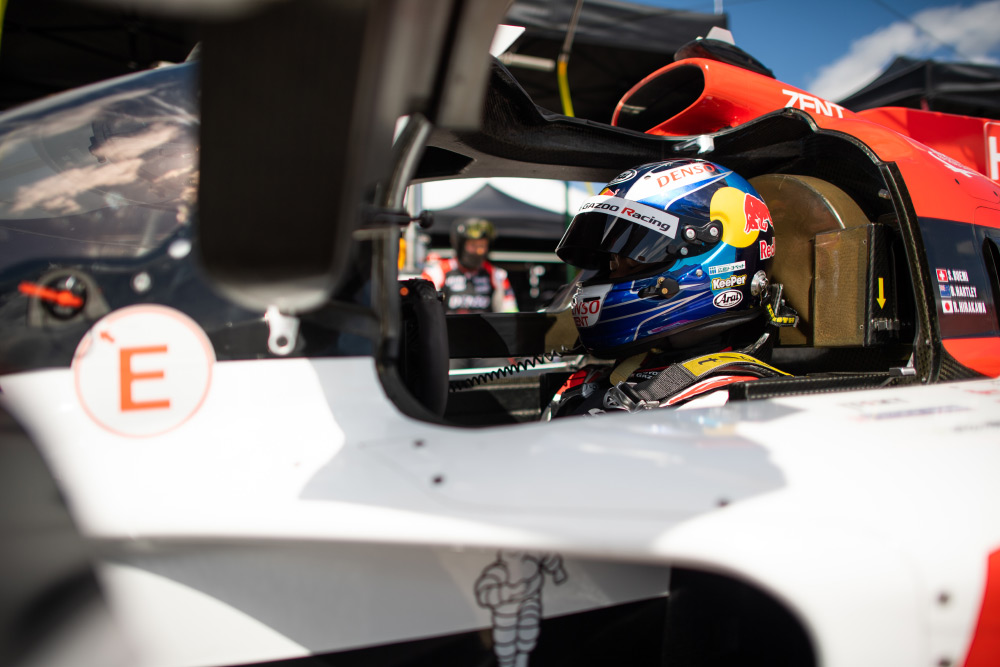 Pushing the limits of people and technology in extreme racing conditions
What outcomes do you think Toyota is anticipating from Fujitsu?
Masatake: My sense from the many people I have spoken to is that we should work together with a shared sense of passion and continue to take on challenges that will lead to a bright future together. I feel this is important.
How does Fujitsu hope to contribute to TOYOTA GAZOO Racing and motorsports through its technology?
Masatake: First of all, we would like to support Toyota's decision-making process when considering race strategies and settings. Given the various factors involved, how can we come up with the optimum solution in a short amount of time? This is what I'm eager to pursue.
In addition, I would like to take up the challenge of establishing new sports entertainment – to create a fresh style of watching sports.
We also believe it is important to increase the number of like-minded allies and partners, and we would like to connect with various companies using our matching technology. Through these activities, I want to contribute to increasing the popularity of motorsports and further developing the industry.
How do you plan to use your knowledge from this project to solve social issues and improve the world?
Masatake: I am very proud to be able to take on a challenge in a new field: the World Endurance Championship. I believe that competing alongside Toyota in extreme racing conditions will be essential to training our people and developing our technology. We hope that this experience will directly lead to victory in the race, but we also believe that the technologies developed here will surely be useful in solving various social issues, including decarbonization.
By combining the wisdom and determination of the Fujitsu Group, we hope to link this experience to making the world a better place.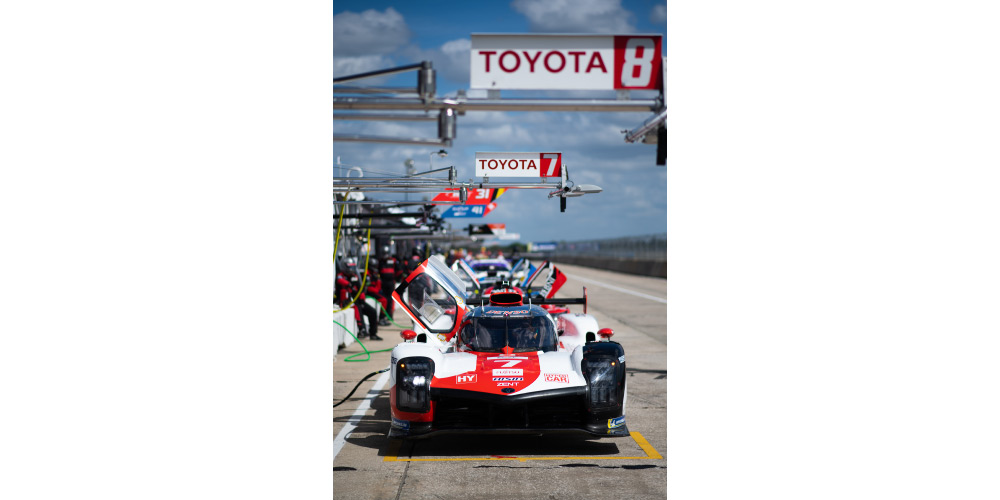 Fujitsu is committed to solving society's problems through motorsports and other challenges in new fields.
Thank you for your continued support.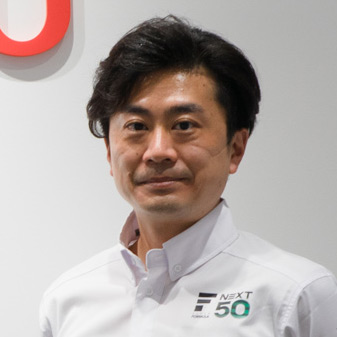 Masatake Hirahara
Global Customer Success BG Mobility Business Division, Fujitsu Limited