Our network vision for a sustainable future – MWC Barcelona 2022
Fujitsu / April 27, 2022
In February 2022, MWC Barcelona, organized by GSMA, was held at Fira de Barcelona. Fujitsu participated in this event and showed how digital innovation is creating new possibilities for a connected and more sustainable world.
What is the future going to be like?
The potential of new technologies is enormous, from self-driving vehicles, to robotics, to augmented reality. And underneath it all is the network. But the pace of change has put huge pressure on our planet. So we now must ask ourselves, how can we realize all of these opportunities for the future, without imposing a cost to our society?
At Fujitsu, we know we have a responsibility to create the world we all need, and we believe technology is the most powerful tool to make it happen. The sudden and unexpected impact of COVID-19 has accelerated change in our values and lifestyle for years to come.
Fujitsu is driven by our purpose and our passion to make the world more sustainable. To achieve this and to drive your success we've got a new business focus - Fujitsu Uvance.
Fujitsu Uvance brings together our capabilities and cutting-edge technologies to enable us to move forward together for a more sustainable world … driving transformation across Key Focus Areas like Sustainable Manufacturing, Consumer Experience, Healthy Living and Trusted Society.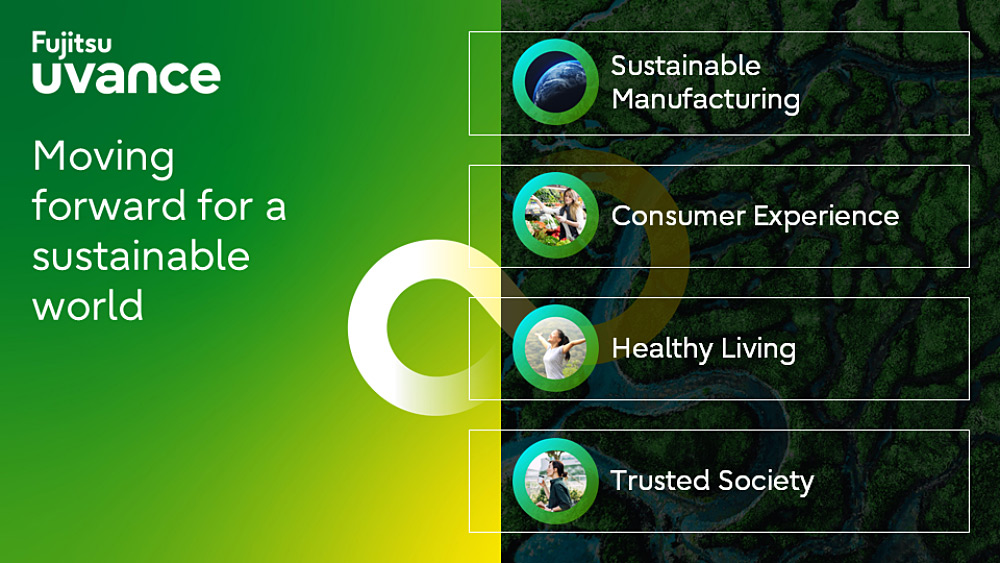 Where do networks come in?
Networks are one of the core technologies that binds all of these things together. Networks are essential to driving the success of our businesses and solving the problems that our society faces.
We have a clear vision for the network of the future. It is a network that can continually evolve to realize the benefits of new and powerful digital innovation. But it also must be sustainable.
Our future networks vision sets out how we can realize the benefits of technology without damaging the environment.
We envision a network that is converged and will provide the simplicity and flexibility we need to realize the next wave of digital innovation.
Our network vision for the future
How will Fujitsu realize that future?
Core to realizing that vision is technology.
At MWC we showcased some great examples of the cutting-edge innovation that we are bringing to our customers to realize the flexibility and sustainability that we promise in our vision.
Our new software-based vCU/DU offers high performance and high capacity while reducing environmental impact using our own unique technology such as dynamic resource allocation, reducing energy consumption by 50% compared to conventional RAN technology.
Our low power radio unit paves the way for the 6G era, where network speeds will be 10x faster than 5G.
Our solutions for intelligent control and orchestration are enabling data-driven automation to reduce costs and improve service quality.
We are leading the development of open optical transport, building low power, high-capacity optical networks. Our vision of a low-energy, high-performance network is built on intelligent optimization.
But we don't believe in doing all of this alone. We're working with partners in the Open RAN ecosystem, driving multi-vendor interoperability and innovation across the ecosystem.
And we're really excited about our Private 5G and Enterprise 5G technologies. Transform the way you operate your business, making it smarter and more efficient.
Fujitsu at Mobile World Congress 2022
Let's move forward for a sustainable future
Just as important as the technology is the people behind it.
The exciting future we envision is founded on the roots of our business. Fujitsu people have been driving innovation in telecommunications for 86 years.
Fujitsu's purpose is to make the world more sustainable by building trust in society through innovation.
And that's exactly what you get with our technology – innovation that lets you build trust, whether that's in the connections your business relies on, or whether that's the relationship you have with your customers and society, driving you to become more sustainable.