How to take advantage of the fair data economy
Fujitsu / April 8, 2022
We are going to hear a lot more about the fair data economy. It's a new approach advocated by SITRA, a Finnish Government organization, focusing on the services and data-based products created ethically. Fairness in this context, according to SITRA, means the rights of individuals are protected and the needs of all stakeholders taken into account.
In a fair data economy, the issue of control over data becomes crucial. That doesn't necessarily mean who is storing the data but who is giving permission to use it. If that data is about me, then shouldn't I have "sovereignty" over how it is used? This blog explores the role of distributed ledger technologies (DLTs) such as blockchain in facilitating this new attitude towards data ownership.

Who has sovereignty over data?
There is an increasing role here for distributed ledger technologies (DLTs), such as blockchain, which can enable self-sovereign identity (SSI). DLT gives visibility over what is really happening with data and the power to control who can access it, when, and for what purposes. In healthcare, for example, SSI enables patients to allow certain parts of their medical records to be accessed for approved research programs. But only the relevant data. It's not like handing over your ID card at a nightclub to prove your age and revealing your address in the process.
With DLT-enabled data sovereignty in the future, many consumer fears related to the misuse of their data will begin to recede. Using technologies such as blockchain, companies can control and validate the data they expose to others – effectively becoming data brokers.
In the meantime, companies today must implement much clearer data strategies to ensure they meet the rising demand for fair data policies. This makes managing control of data an increasingly important factor for companies of all sizes, worldwide. In a fair data economy, companies must reach better, more equitable, and sustainable decisions, with data owners — people like you and me — enabled to stay in control of what is shared with third parties.
Capabilities and culture
To make the necessary changes, we think digital leaders — that's the chief data officers, chief digital officers, chief information officers and chief technology officers of an organization — should focus on two key areas: technical capabilities and culture.
Technical capabilities involve successful use of the tools needed to derive insights from the vast volumes of data surrounding organizations, whether from legacy systems or modernized business applications.
It is essential to ensure enterprise requirements such as security, privacy, and governance are addressed simply and consistently across the entire data estate.
The latter area of culture involves ensuring organizations develop a "data-driven" value at all levels. A data-driven culture consists of both mindset and skillset. Those who want to leverage data and care about both its quality and in controlling how it is shared need the proper training and capabilities.
Getting fairer, faster
Fujitsu has identified three data accelerators to support a digital business strategy by becoming data-driven from the bottom up in the transition to a fair data economy.
The first is a robust and flexible data strategy. In a world demanding greater operational agility and efficiency, digital technologies bring together ever-increasing data pools to solve challenges and transform business.
In a recent poll for Fujitsu, three in four (76%) digital leaders believe the pandemic accelerated the urgency for their organization to are improve their data strategy. But they need to get going. Almost half (46%) also say their organizations failed to meet targets over the past year due to limited access to data. Changing your data strategy without linking it clearly to the business and operating model is a recipe for failure in the current market.
The second data accelerator to support a digital business strategy point is the need for increased investment in data. Around a third (30%) of business leaders who say they are suffering from the lack of investment for remotely harnessing data believe that actually had an impact on their company's performance. Therefore, it's critical to ensure data and insight are available on time through increased investment in three areas: People, processes, tools and systems – that are focused initially on strong use cases to yield quick wins – and that can tap in partnerships and ecosystems to overcome business challenges.
Blockchain and the data supply chain
The third accelerator concerns the data supply chain. Organizations are striving to democratize the use of data — to make it available to everyone who requires it, as this enables their people to respond rapidly to any sudden change. But this data supply chain must be resilient. Today, data must be pulled from various business areas to generate insights that subsequently shape decision-making. This is particularly the case as more individuals within organizations and business units are required to access and use data from the broader ecosystem.
Since the data supply chain extends beyond organizations to include external partners, suppliers and customers, blockchain is one possible supporting solution to ensure resilience and transparency. Distributed ledger technology (DLT) offers a transparent way to track data, who has access to it, and when it is used. The immutable nature of the distributed ledger solves the complex problem of auditability of data usage in multi-party ecosystems, which are fast becoming the norm.
For enterprises, it is essential to note that blockchain is rarely an end-to-end solution. Instead, it is an underpinning technology that must be integrated along with all other necessary measures involving technology, people and processes. It can ensure everyone has access only to the correct data. This depends on tools and governance that help people access the data that is only relevant to them, ensuring the privacy of sensitive information in the process.
If you're interested in taking a deeper dive, there's a Fujitsu website where you can find out more about what we're calling The Great Data Acceleration.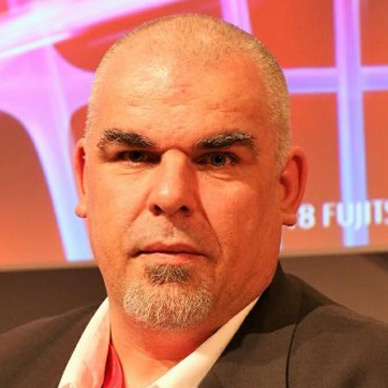 Frederik De Breuck
Chief Digital Officer / CTO Fujitsu Belgium, Head of the Enterprise Blockchain Solution Center at Fujitsu Global
Profile description: As CDO and CTO of Fujitsu Belgium, Frederik De Breuck overall responsibility is to drive growth and strategic renewal by transforming traditional businesses into digital ones. Frederik also manages the Enterprise Blockchain and Data Trust Solution Center for Fujitsu Global, focusing on building production-ready Blockchain and Distributed Ledger solutions and creating innovative methodologies to increase enterprise adoption
Colm McDaid, Environment Lead Interregional Engagement, Fujitsu
Experienced professional with a diversified background of environmental sustainability within a technology organisation.

Supply chain knowledge enhanced by previous experience as a logistics manager for an international business.

Colm has worked within Information Technology organisations for over 20 years gaining experience at a high level and on a number of technologies and services.

Strong knowledge of Sustainability, Environmental Management, Environmental compliance and impact reduction.