Optimizing cost and agility: 3 cloud-enabled actions for fluid, future-proof operations
Fujitsu / March 31, 2022
The capacity to change is critical for organizations to keep offering customer and societal value today and tomorrow . Accordingly, organizations are prioritizing agility in operations, technology and culture, for a faster and more cost effective response to changing market demands – and for a more sustainable future. In this blog, we explore what's behind the new age of cloud-enabled agility, how you can embrace it, and the cost of standing still.
The new age of cloud-enabled agility for business and society
The need to increase organizational 'agility' has been preached about for years… but a new sense of perspective on it, changing motives for it, and the maturity of solutions to make it real have all shifted the landscape dramatically. Being 'agile' - that is the ability to rapidly flex, change, and continuously evolve from a financial and operational standpoint - has never been more important. It represents the future of how business services should be delivered and is a key part of what we at Fujitsu call becoming an 'adaptive organization', whereby agility underpins operational effectiveness, speed to market, ability to deliver new insight, and customer and societal value. This adaptive future is a key priority for most C-suite leaders* - and it should be for you.
The cloud is a key part of building that agility. Hybrid- or multi-cloud architectures provide the flexibility, speed, security, and resilience you need to fuel your journey to becoming an adaptive organization.
* Mark Wheatley, How adaptability skills can help to tackle novel problems, EY, July 2021
Crossing the chasm: from 'cost out quick' to 'always optimal'
As a technology consultant, I am very familiar with organizations seeing their IT estates as an area to drive cost out quickly. And with the help of the cloud it can be done. The $20k per month Emerald Performance Materials managed to save, through migration with us, is just one example.
Every organization's perspective changed during the pandemic, with 71% of leaders admitting they were unable to keep up with external change during this time. Of course, the need to simultaneously meet market needs faster while changing delivery models and reducing costs, will have undoubtedly put pressure on you to do 'more with less'.
For this reason, we're helping customer continuously optimize both cost and agility in the cloud to future-proof the business for sustainable success. This might involve extending practices adopted during the Covid-19 period or re-setting the direction altogether. Either way, the overall outcome is being able to save, scale, and serve better. We see three initiatives as crucial to making this happen, which I'll now take you through:
1. Accelerating cloud correctly: right goals, right approach
2. Removing the technical debt 'ball and chain'
3. Continuous optimization for constant progress
Accelerating cloud correctly: right goals, right approach
Some years ago, there was a huge rush to the cloud. Worried at the prospect of standing still, cloud migration was heralded as the answer to seemingly every challenge. In particular: saving money through flexible commercials and enabling agility through scalability. But going 'all in' on public cloud and undertaking a mass lift-and-shift without detailed and joined-up strategic thinking (as many organizations have) has led to disappointment in terms of expectation vs. reality - and in many cases it has led to more cost, complexity, and compliance issues.
So, do cloud strategies need an overhaul? Well, following huge and hasty adoption during the pandemic, they should be carefully re-evaluated.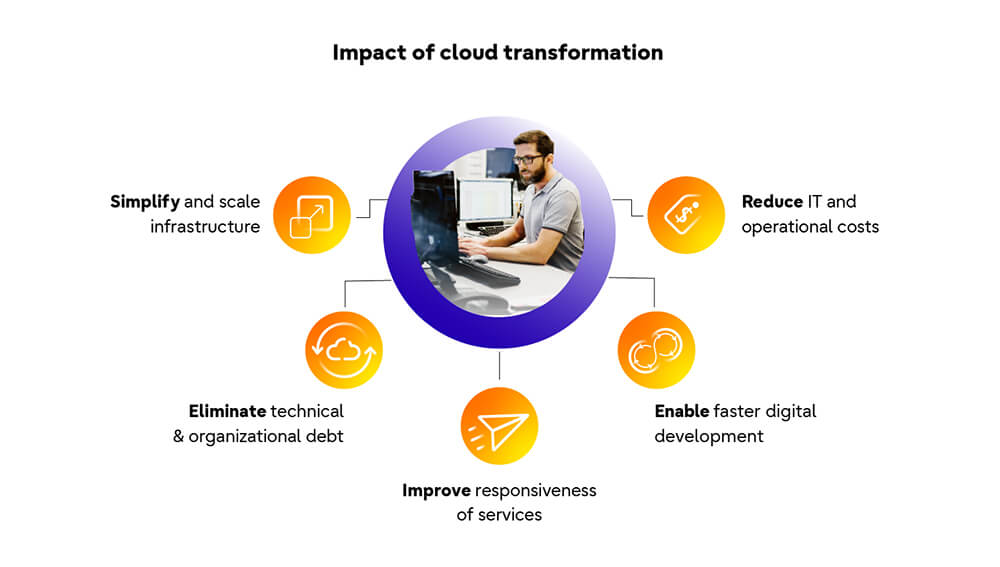 There are many advantages to transforming and optimizing with cloud - but your approach needs to be well thought-through and joined up with business strategy
The very first strategic consideration is to ensure your cloud strategy is driven by business requirements and not technology.
In our research, more than two-thirds of IT and business leaders said that cloud (platforms, applications and data) is now the most important contributor for enhancing customer engagement and experiences. Yet despite this, most organizations (54%) still classed their cloud strategy as a set of technology-driven initiatives rather than being led by business needs (46%).
We have seen cloud improve service delivery to customers, as well as bringing responsiveness to back-end processing, for example, augmenting services through chatbots and conversational AI, or driving relevance through AR/VR and data-enabled personalization.
But a key strategic consideration, as Tim Moody (our Head of Global Offering Strategy) pointed out on his podcast recently, is that you can't decouple this pursuit of innovation from the need to manage resilience and risk. Covid-19 elevated this to being a board level issue, whereby cloud (and the IT function more broadly) is now acknowledged, not as an inhibitor and isolated area to cull spend, but as a business enabler for de-risking service reliability, employee wellbeing, and more.
We help a lot of organizations ensure they're well-architected for efficiency, compliance, and security, using a model that strikes a balance between risk and agility in order to enable innovation safely, rather than simply constraining it altogether.
Removing the technical debt 'ball and chain'
As we saw through the pandemic, organizations that can pivot to meet changing demands quickest are the most successful. Over the last decade we've seen many large, seemingly dominant organizations swept aside by digital-native companies with a baseline advantage in terms of having no 'legacy baggage'. Look at Monzo for example: despite traditional banks adding digital services, it now occupies 38% of the UK digital banking market.
The key to levelling the playing field in a cost-effective way is to address your technical and organizational debt through cloud migration and modernization. Through our work with customers, it's clear that this:
- Accelerates delivery - by removing the dependance on outdated technologies and processes which are not built for speed, we've accelerated time-to-market by up to 57%.
- Frees up human resource - our research found that organizations are spending 3x as much time servicing technical debt than they are on innovation and initiatives to drive the business forward. This reduces when the 'debt' becomes redundant through modernization or outsourcing.
- Reduces cost - the cost to service legacy tech and processes is not only a drain on most organizations' time, but their budgets, too. We've seen it take up to as much as 75% of overall engineering spend, but have managed to reduce it to as little as 25%.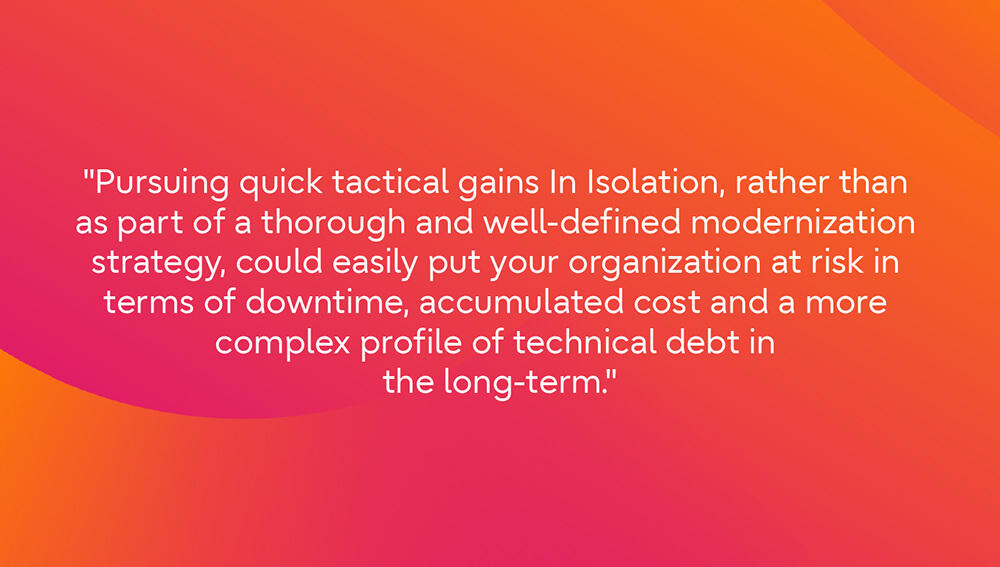 Pursue technical and organizational debt with a long-term strategy for sustainable results.
So how do you address it? Most organizations struggle, with our research showing that around half of IT leaders saying that it's too complex a landscape to even attempt to tackle.
Legacy components have interdependencies on a myriad of things that are critical to major aspects of service delivery. Pursuing quick tactical gains in isolation, rather than as part of a well-defined modernization strategy, could easily put your organization at risk in terms of downtime, accumulated cost and a more complex profile of technical debt in the long-term.
Iterative and infinite: the need for continuous optimization
In this blog, I've written about the importance of getting your deployments right, but if you don't optimize them on an ongoing (and ideally automated) basis, then your spend and risk profile will inevitably rise beyond control, meaning you'll be unable to maximize the full potential of your adopted cloud platforms.
This is particularly important for the modern adaptive, continuous delivery model. For me, there are a couple of things that need to be considered front-of-mind. One is your baseline managed services and their ability to adapt with changing requirements. These should be robust, standardized, and highly accessible. A key recommendation is to maximize the role of self-service and automation in your cloud optimization, as we did for Bâloise Assurances. With another customer who optimized in the cloud effectively, we were able to reduce Total Cost of Ownership (TCO) by 60%.
The second point is to ensure your optimization model is joined up across your organization, rather than belonging to the infrastructure layer alone. This is key to driving greater application development velocity and underpinning must-have concepts you need for today and in the future, such as DevSecOps at scale, agile full-stack development, and developing distributed/composable applications across hybrid environments. All of this sits within a tower of our adaptive organization framework called Build Services Faster, and this relationship demonstrates how different areas of transformation need to work hand-in-hand.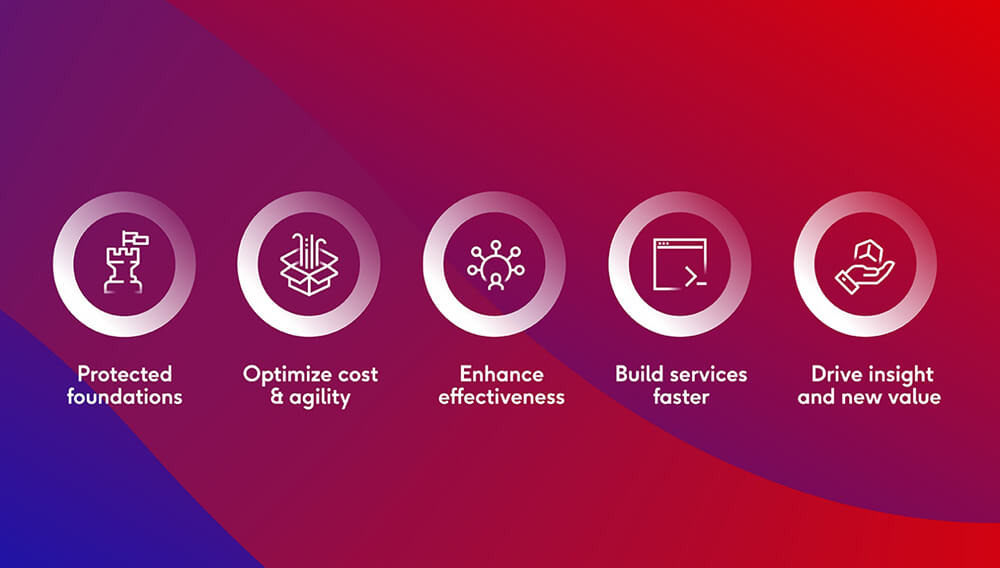 Working on these five components for continuous transformation together will allow you to build resilience, responsiveness, and relevance for the future.
Helping you to optimize cost and agility
Without the right partner, the complexity of optimizing in the cloud can be bewildering. You may be looking for the right place to start or the right people to get you started. To help you, Fujitsu brings a fusion of expertise across the topics I explored in this blog.
We're technically skilled, industry proven, and highly collaborative. So, if you're looking to migrate and modernize in the cloud, get in touch through the links below.
Visit: www.fujitsu.com/global/services/ao
Mail: askfujitsu@uk.fujitsu.com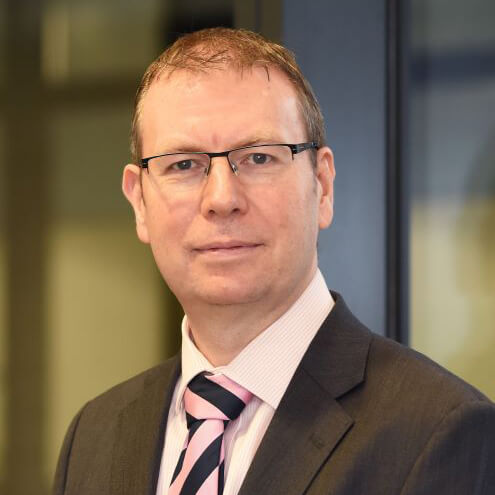 Martin Cawthorne
Martin is the Head of the Enterprise Transformation Portfolio for Fujitsu Europe, he is responsible for leading our value proposition and creating the Fujitsu's vision, strategy and product roadmap. He has held various roles with global reach across Enterprise Service Transformation and Presales within Fujitsu, Accenture and Deloitte that enables him to build perspectives that cross business sectors, regions and cultures.
LinkedIn