Hybrid IT - delivering value in an increasingly connected world
Fujitsu / March 24, 2022
Hybrid IT is a key element of our new business focus, Fujitsu Uvance. We talked with Kazushi Koga, Head of Digital Infrastructure Services Business Group, Global Solutions Business at Fujitsu, to find out how Hybrid IT is creating new societal value by connecting services and data.
(Fujitsu ActivateNow2021 Key Focus Area Sessions)
How is digital technology changing society?
Technology advances continue to accelerate rapidly. For example, CPU computing power and network speeds in 2030 are expected to be 100 times greater than today, with more than 25 billion devices connected to networks. Technology is rapidly spreading into every aspect of our lives and becoming a critical foundation to modern society.
The advance of new technology is also changing attitudes and priorities with regards to our environment and societal challenges. For example, we're already seeing significant new investment in the United Nations' Sustainable Development Goals (SDGs), with spend of over $120 trillion expected by 2030, reflecting the growing importance attached to creating a more sustainable society.
We're also seeing much greater focus on the critical nature of data and security, as organizations attempt to transform vast amounts of data into value, while limiting associated security risks, both for themselves and their customers.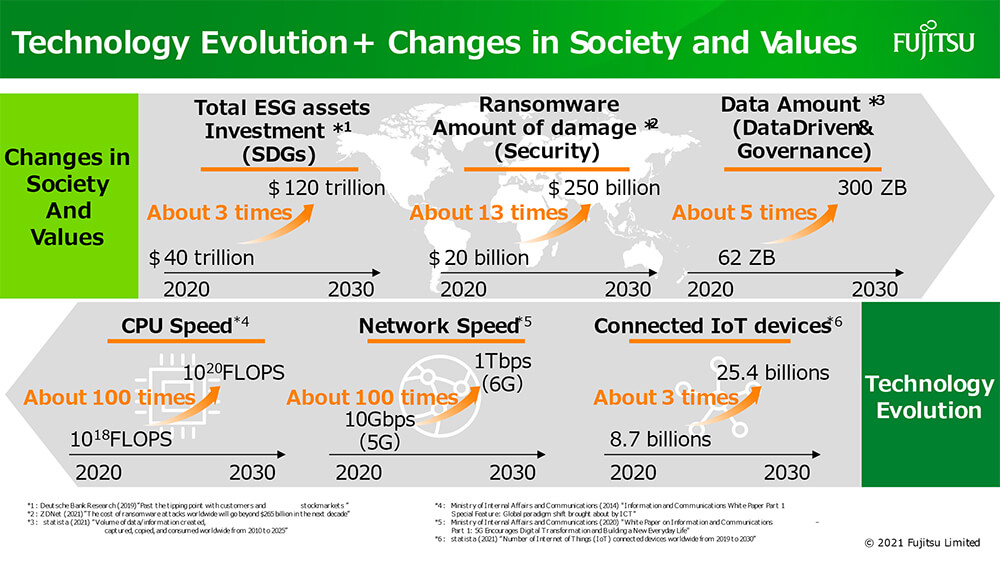 Technology Evolution + Changes in Society and Values
How can Hybrid IT create new societal value?
At Fujitsu, we believe that Hybrid IT will play a key role in creating new value, integrating and managing a variety of digital infrastructures to create a solid foundation for modern society.
Hybrid IT enables us to create new value and address societal challenges by combining the best of the physical and digital worlds. Let's start by considering the four pillars of Hybrid IT.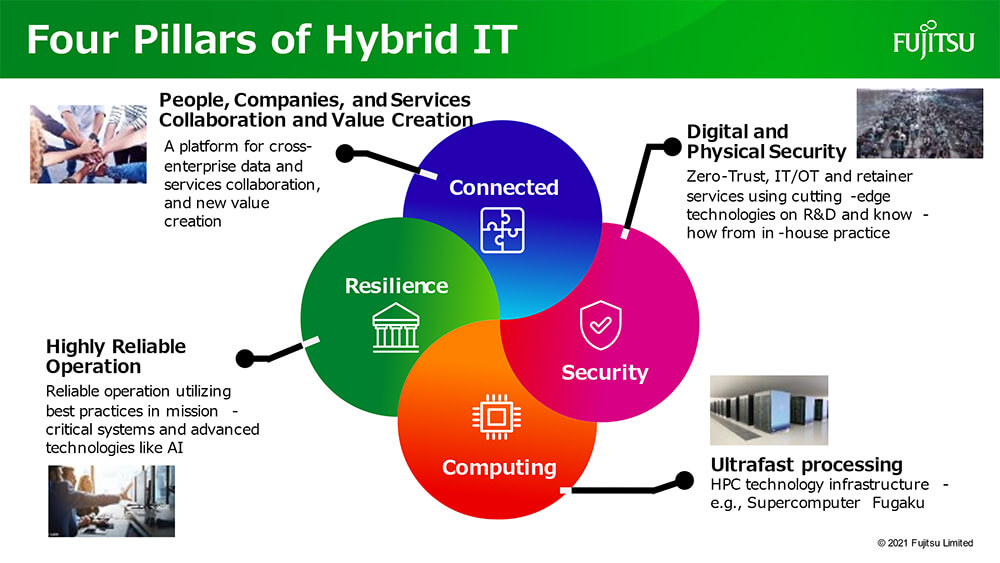 Four Pillars of Hybrid IT
Resilience
With Hybrid IT, we incorporate advanced technologies, such as AI, to create digital infrastructures with the ability to detect problems before they occur. This enables early intervention to avoid unwanted failures, ensuring continuous operation of critical services and a better experience for employees, customers and society at large.
Computing
To create value from data in the future, we will need to process enormous amounts of data faster than ever before. To meet this challenge, Fujitsu has advanced ultra-fast, high-performance technologies such as Fugaku, the world's fastest supercomputer. Hybrid IT enables a modern cloud-based environment that enables customers to exploit advanced technologies like this to address a wide range of business and societal challenges, well beyond their traditional applications in scientific and technical computing.
Security
Today, Fujitsu successfully operates and manages over 200,000 devices for our 130,000 employees based on an established zero-trust approach. Through Fujitsu Laboratories, we're now investing in the development of new technologies that will drive even more robust levels of data security, leveraging the combination of our in-house experience and R&D expertise. As a result, our Hybrid IT solutions will incorporate the most advanced security functionality, delivered through flexible 'as-a-Service' models.
Connected
By 2030, we expect over 25 billion devices around the world to be connected, with organizations, people, things and data all securely linked by emerging technologies such as blockchain. It's becoming increasingly important to collect and manage this data while simultaneously ensuring the highest levels of data trustworthiness and traceability. By combining the latest digital technologies with robust security, Hybrid IT provides the ideal foundation for this increasingly connected world.
Hybrid IT in action
Fujitsu has been working with organizations around the world to realize the benefits of Hybrid IT. Let's share some examples.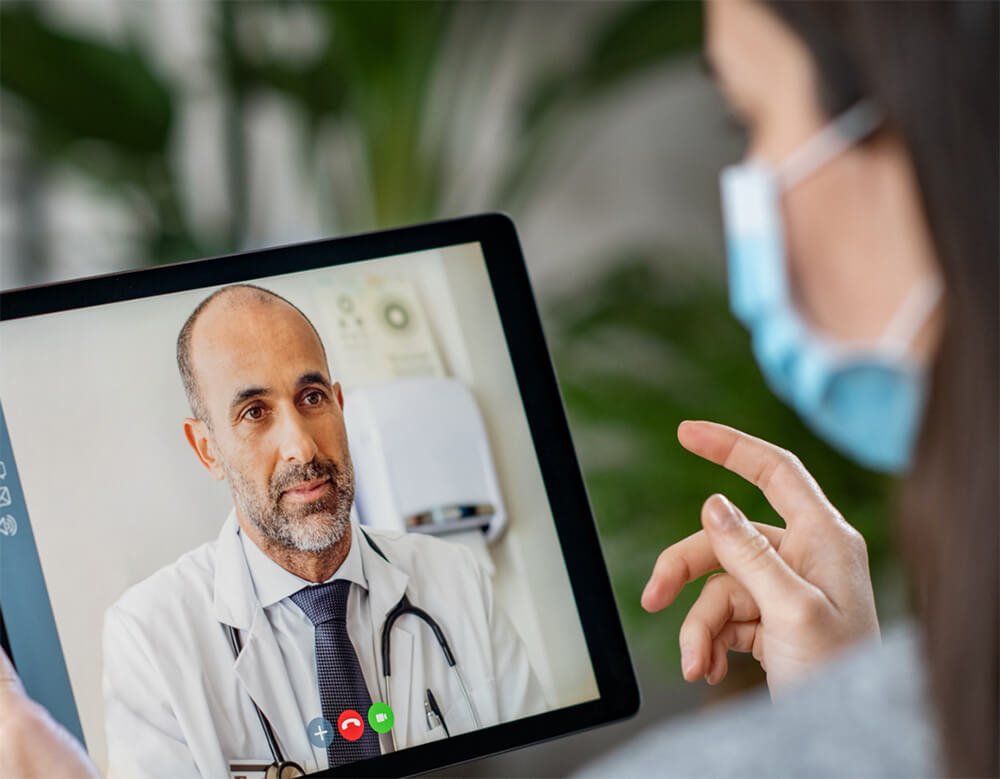 Providing a secure, resilient foundation for healthcare in just 72 hours
(Center for Telecommunications and Information Technology《CTTI》)
In Catalonia, Spain, the Centre for Telecommunications and Information Technology (CTTI) needed help to provide services to their 40,000 healthcare professionals as the world suddenly moved to remote and direct field working during the early days of the COVID-19 pandemic.
Through a Hybrid IT approach, Fujitsu provided CTTI with a secure, robust foundation for both their applications and the sensitive personal data they hold, ensuring they maintained trust with the citizens they serve. This enabled healthcare workers to continue to access data and medical applications and provide care at the point of need, within the new remote-working model. This solution was deployed for CTTI within 72 hours, made possible by the ability of Hybrid IT to deploy services securely in the public cloud.
As a result, CTTI healthcare workers have been able to spend more time with their patients and deliver enhanced levels of care.
Building a digital foundation to reduce operating costs by 70%
(International Personal Finance《IPF》)
We've recently helped International Personal Finance (IPF), a leading international consumer credit provider, drive over 70% reduction in their operational costs by building a flexible, digital foundation based on Hybrid IT.
By moving key services into the cloud, IPF has been able to free resources to focus on business transformation activities. This has helped IPF to drive new value by integrating and exploiting more data, embracing innovation such as high-performance computing to optimize and enhance their business.
Resolving a cyber breach and enhancing continuous security
(Scottish Water)
Scottish Water provides drinking water to nearly 2.5 million UK households. When they experienced an unexpected cyber breach, Scottish Water asked Fujitsu to deploy the Cyber Threat Intelligence Service, providing urgent assistance in identifying the problem, recovering the affected devices and protecting the organization against future risk.
We are continuously helping our customers to improve their data security processes, helping them reduce risk and work towards zero-trust processes and more robust Operational Technology (OT) security solutions.
How do we ensure security and trust?
We're pursuing significant R&D initiatives to extend the concept of zero-trust security more widely across multiple industry sectors, helping organizations transition from conventional concepts of security boundaries towards zero-trust models. We're now deploying both Trust as a Service (TaaS) and Chain Data Lineage (CDL) as key technologies within Hybrid IT to ensure security and trust at the heart of new customer solutions.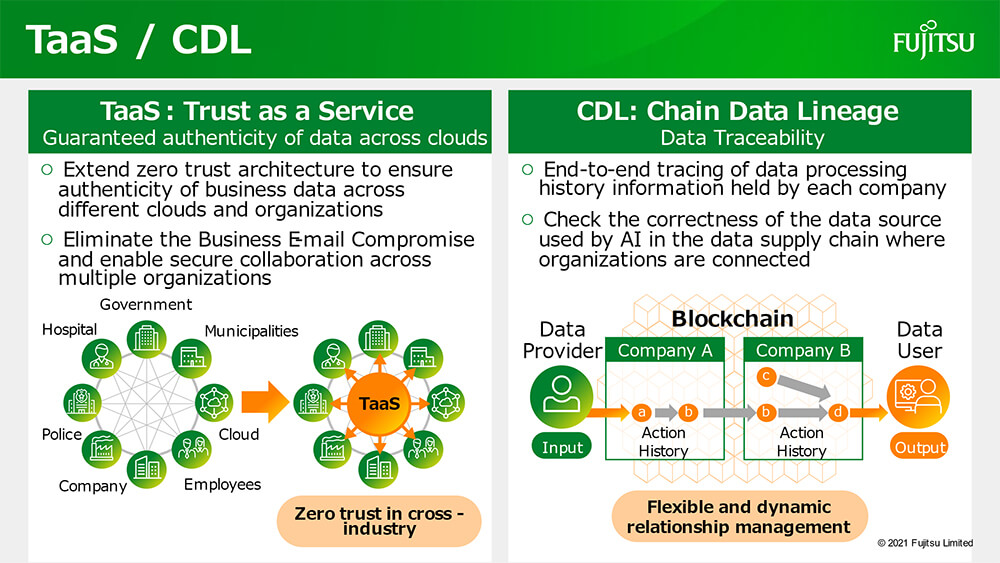 TaaS: Trust as a Service /CDL: Chain Data Lineage
Trust as a Service(TaaS)
The COVID-19 pandemic caused an immediate shift towards more remote and hybrid working models. This has inevitably increased the risk of cyber-attacks, including the compromise of business email systems.
In direct response to these challenges, in 2020 we introduced a technology called Trust as a Service (TaaS), ensuring the guaranteed authenticity of data shared between different cloud platforms. This ensures that data being exchanged as part of an ongoing business collaboration is always correct.
Chain Data Lineage(CDL)
Chain Data Lineage (CDL) technology can trace the origin of data generated by different organizations, ensuring you always know who created the data and where it came from.
In addition, Fujitsu has led the development of new technology to connect different blockchains securely. In collaboration with Accenture, we released the Hyperledger Cactus operational support system in 2020, the most advanced solution of its kind. By integrating such technologies into our Hybrid IT capability, we can ensure the highest levels of security and trust in an increasingly connected world.
Working towards a safer, more connected world
Fujitsu's purpose is to make the world more sustainable by building trust in society through innovation. Hybrid IT underpins this purpose, helping our customers and society create new-generation information infrastructures that bring together the physical and digital worlds safely and securely.
For most organizations, the entry point for Hybrid IT continues to be the 'lift and shift' of current solutions to the cloud, helping to establish a secure environment, based on zero-trust technology, which can then be gradually enhanced to full Hybrid IT capability.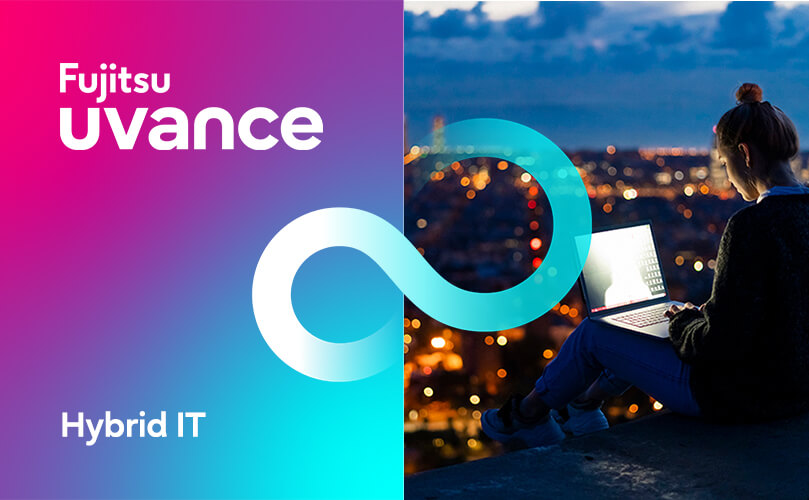 Hybrid IT
Fujitsu introduced a key focus area called 'Hybrid IT' as a part of its business brand, Fujitsu Uvance.
We will realize a connected society that connects people, data, and things in the world safely, solves social problems, and creates new value.
Read more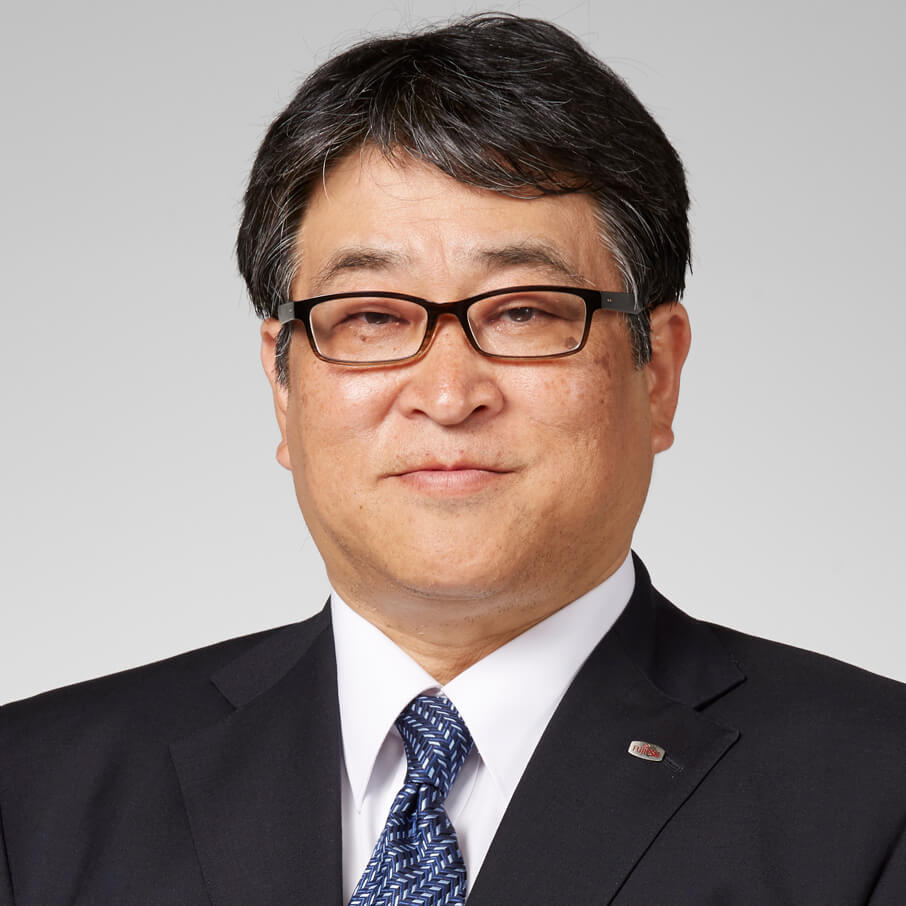 Kazushi Koga
Head of Digital Infrastructure Services Business Group,
Global Solutions Business
Fujitsu