Put pace into digital development: 3 critical initiatives for building services faster
Fujitsu / March 18, 2022
Business leaders understand that to remain relevant to their customers - and attract new ones - they need to accelerate the development, release, and continuous improvement of digital services and applications. This blog explores why this outcome is crucial for delivering sustainable business success and societal value - and provides three key initiatives to help you achieve it.
It's time to prioritize pace
Clearly, speed-to-market is key for being one step ahead of your competition. But what about the bigger picture? In our research, two-thirds of organizations admitted they need to respond faster to changing market demands . So, it's all about providing more value, faster: for your own organization in the form of competitive advantage, but more so for your customers and society, in terms of quickly supporting and delivering on their latest needs driven by social, environmental, and economic forces.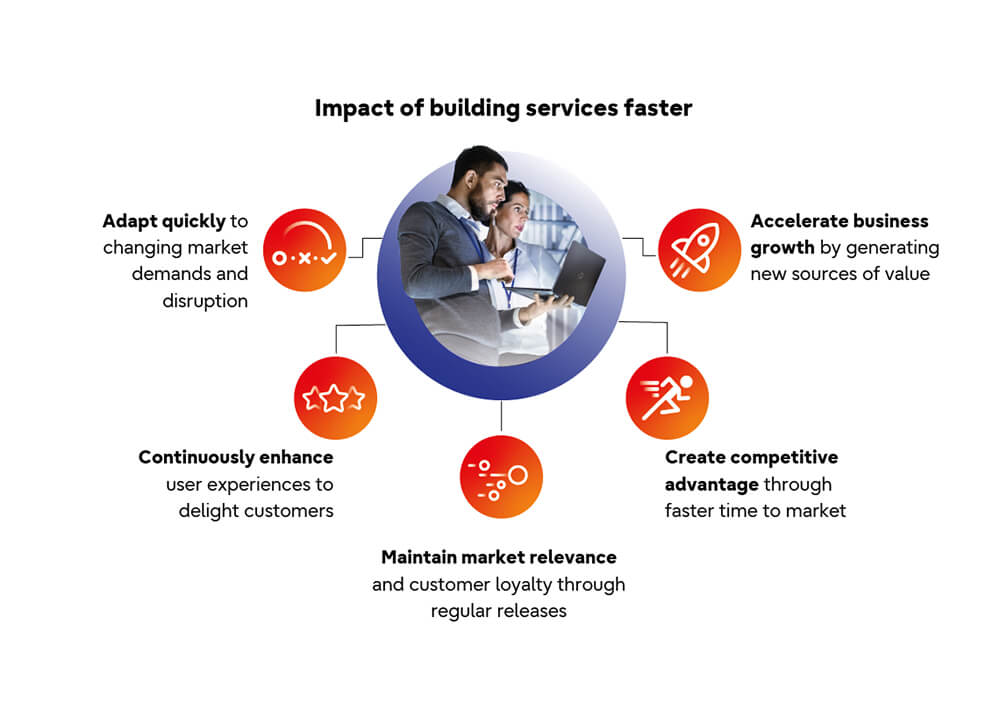 This graphic highlights the outcomes of building services faster.
The COVID-19 pandemic highlighted some powerful examples, with the closure of physical locations and social distancing meaning that organizations had to switch to digital delivery to ensure customers could still access services. New platforms, applications, and features needed to be delivered within hours or days, not weeks or months.
Away from the pandemic situation, organizations capable of building services faster have been able to bring new offerings and features up to 300% faster. This has been key for achieving outcomes like continuous improvement of the customer and user experience , providing more seamless access and delivery of products, enabling more responsive and personalized support, and, for some of our customers, helping to save lives.
How organizations can accelerate
Many digital natives already have everything in their armory to build services faster. But what about organizations, perhaps like yours, who must make the transition towards modern applications that are developed, delivered, and enhanced rapidly?
You need to invest in and converge three key things to succeed:

1. Technology architecture
2. Approach and processes
3. Digital engineering skills

I've outlined some key views on these below, based on experience of accelerating development with clients of all shapes and sizes.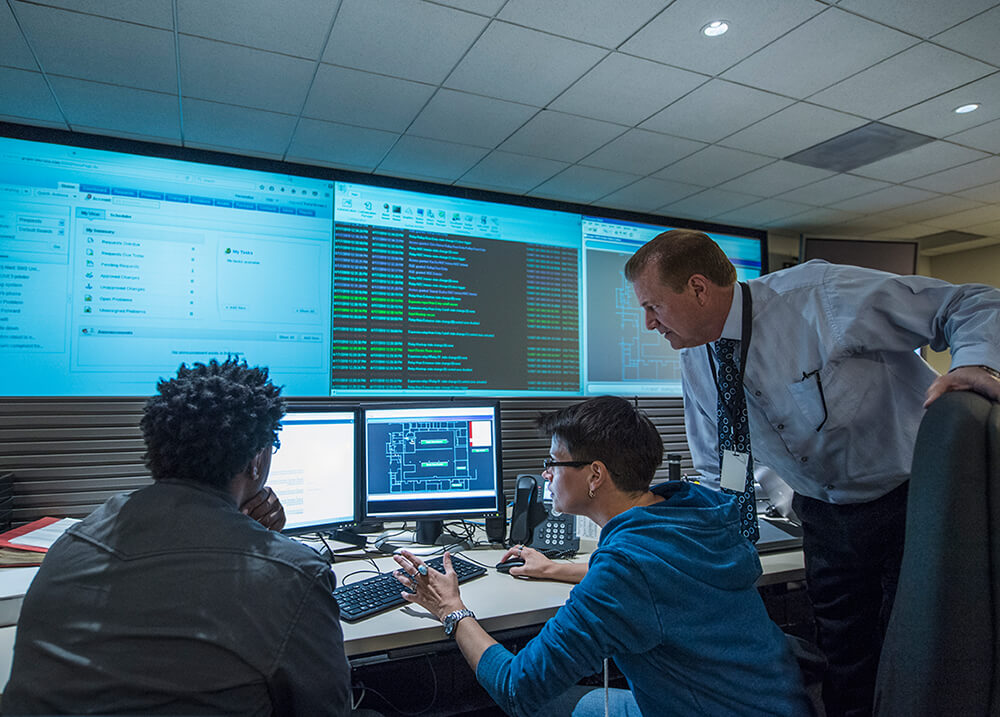 An organization's ability to work at pace depends on the right combination of architecture, agility, and people.
Initiative one – Architect for velocity
To increase the speed of digital service delivery, you need the right application architecture. One vital characteristic is composability. Gartner research predicts that over the coming years, organizations with a 'composable apps approach' will get to market 80% faster than competitors.
It's easy to see why, with this architecture, application components can be quickly assembled, adapted, retired , or re-assembled to adapt to emerging needs or opportunities. Many of the highest-performing digital businesses rely on this approach to deliver an always-relevant, always-evolving experience to customers – with containerized microservices and tools such as Kubernetes often key to delivery.
Of course, legacy applications are not going to disappear overnight. In many cases they simply can't be touched or altered as part of transformation due to being so critical to 'business as usual' services and/or regulatory compliance. Luckily, there are now multiple approaches (and technologies like containers, API gateways, and more) that can ensure your transformed or newly-built digital services can interact with and drive value out of these monolithic application investments. We can guide on the right approach for you, but you can get a base-level understanding in our build services faster whitepaper.
Initiative two – Adopt an agile innovation approach
Increasing application velocity isn't just about technology. It needs the right approach.
We can look at this through the lens firstly of team formation and structure, which is a key thing that often needs to change. This means 'out with the old' rigid structures and siloed resources that are no longer fit for purpose and 'in with' autonomous multi-disciplined product squads, embedded within business functions that collectively strive for clearly defined outcomes.
We can also look at organizational culture and processes, which collectively are another key area to improve. In particular, the move towards an ethos of 'experiment and evolve' serves a development style of continuous improvement through agile iteration. Gartner research predicts that by 2024, 80% of organizations will use iterative, experimental methods like lean, agile, and design-thinking for business and product design. But while these are fine methods in their own right, more than anything it is the adoption and scaling of DevOps practices which will be key to driving the required change in how the organization operates.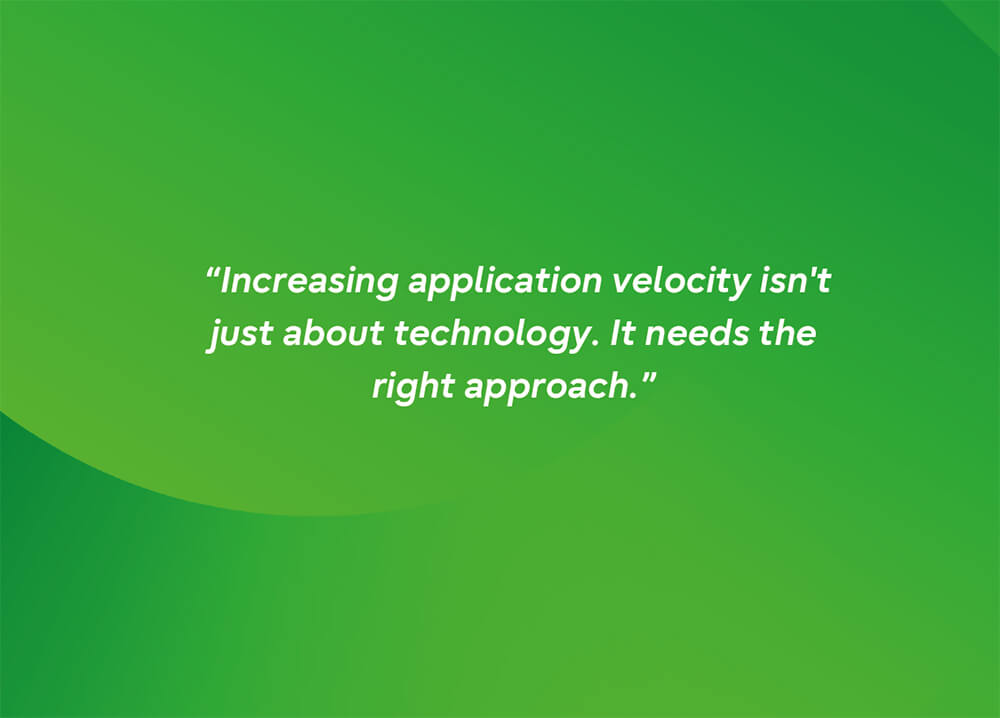 People, processes, and culture are critical to building services faster.
For this reason, it's not surprising that the most successful organizations are not only building services faster today, but they're building inclusive developer community cultures which attract and retain the best talent for sustained success in the future.
That's certainly been the case for many of the customers we have worked with. If we look at Coop Trading for example (the organization that accelerated time-to-market by 300% with us), they completely transformed the way they deliver digital services. As a result, they are able to serve customers better and become more competitive, while also achieving zero churn in the developer pool, with engineers feeling empowered and excited to be building powerful services at rapid pace and augmenting their skills as they did so … which brings us on to our next topic.
Initiative three – Address digital development skills gaps
When it comes to skilled digital development resource, most organizations are finding that demand outstrips supply. They simply do not have the right development experience in-house to build services faster. Nor can they augment it alone, so great ideas and opportunities go to waste.
To make matters worse, the skills problem isn't a static one. Technology is moving at such a pace that your developer pool needs to be more versatile , more diverse, and more broadly and deeply certified with each passing week. This gives you three options, which for most organizations need to be combined to some extent:
1. Reducing skills dependency - Technology can turbocharge the productivity of developers and allow their advanced skillset to be focused where it is really needed. Low/no-code is reaching new heights for this reason, with Gartner predicting that around 65% of application development will be done through low/no-code tools by 2024. By allowing blended business and technical teams to explore and refine ideas rapidly though an immersive creation process, it makes digital services easier to enhance and faster to release. Just look at Rock2Recovery, a client we helped to accelerate life-saving new applications in just days through low-code.
2. Building skills internally - An obvious answer is to invest in enhancing internal capability. But with the competition for digital skills becoming tougher, throwing money at external hiring is unlikely to be a sustainable answer. Investing in cross-skilling your existing developers is a good place to start, and you can augment this by creating, mobilizing, and expanding a citizen developer community to include your non-technical or less technically skilled employees in digital services development.
3. Creating a skills ecosystem - For many organizations, gaining or building the right skills is difficult, but doing this fast enough to meet your business challenges is near impossible. However, you can develop skilled engineers, on-demand, by working with partners to create a skills ecosystem. We contribute to this by supporting our customers in four modes: the supply of individuals for ad-hoc tasks, small squads for rapid projects, large project teams for major initiatives, and engineering consultancy to define and guide strategy. This 'dev on tap' model delivers great results and a team of external experts who understand your business and share your end goal.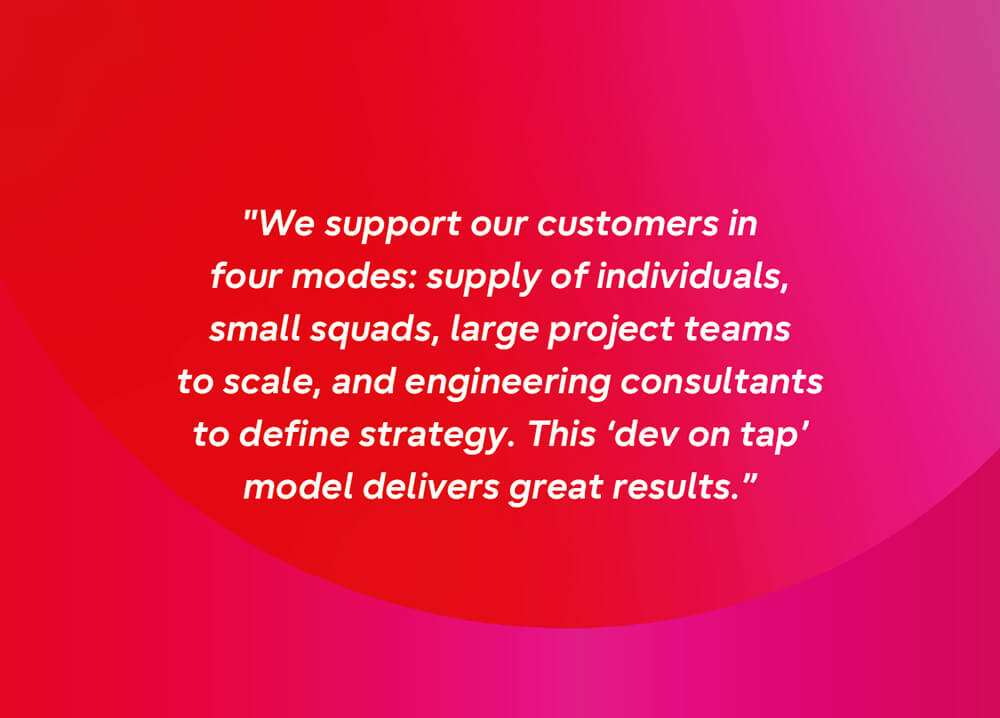 There are four main ways Fujitsu can support your resourcing needs for digital services development.
Helping you to build services faster
Accelerating digital service development is complex. You may be looking for the right place to start or the right people to get you started. To help you, Fujitsu brings a fusion of expertise across the technology, process, and people areas we've explored.
We're technically skilled, industry proven, and highly collaborative. So, if you're looking to build services faster, get in touch through the link below.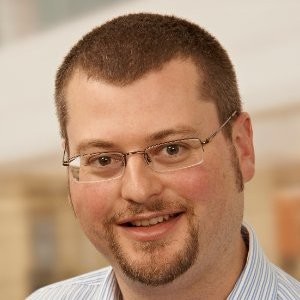 Andrew Howles
Digital Technology Architect, Fujitsu
An MBA and TOGAF certified consulting architect, Andrew brings structure, clarity and strategic insight to complex challenges. He takes a vendor- and platform-agnostic approach, drawing on a broad base of technical knowledge combined with a software engineering background as well as management experience in a government trading fund. He has shaped strategic IT programmes, built architecture teams from scratch and established a track record for solving show-stopping architectural challenges. He has also shaped and led the delivery of consulting propositions.
Connect:
https://www.linkedin.com/in/andrewhowles/