The Vision of the Future with Human-Centered Technology [Part 2]
Fujitsu / February 28, 2022
On January 19th and 20th, 2022, Fujitsu held "Fujitsu ActivateNow: Technology Summit 2022" as an online event.

The theme -- "Towards a Sustainable World: Technology Shaping a Better Future" -- was designed as a place to discuss how technology innovation can help solve complex issues such as climate change, natural disasters, social challenges (including inequality and aging), and pandemics. In addition to examples of cutting-edge technology from Fujitsu R&D, panels with experts from academia, government, medical, and industry discussed the future of the technology field such as computers, AI, and data, and society. The discussions highlighted issues we face in both.

Part 2 focuses on the panel sessions.
Digital Twin Technology to Improve Social Environments
After the keynote, two panel sessions were held in both Europe and North America. In both regions, Panel 1 discussed "Towards a Trust Society: Coordinating Digital Actions for Positive Social Impact"; and Panel 2 was about "Technologies Powering the Future of Healthy Living".
At Panel 1 in Europe, data sharing in transport was a hot topic. Panelists said that sharing data in areas such as aviation, railroads, and roads should lead to better operations, customer experiences, and sustainability, but progress is slow. This is because commercial data is contained in silos, and standardization is incomplete. Moreover, ethical and security issues in data sharing remain difficult.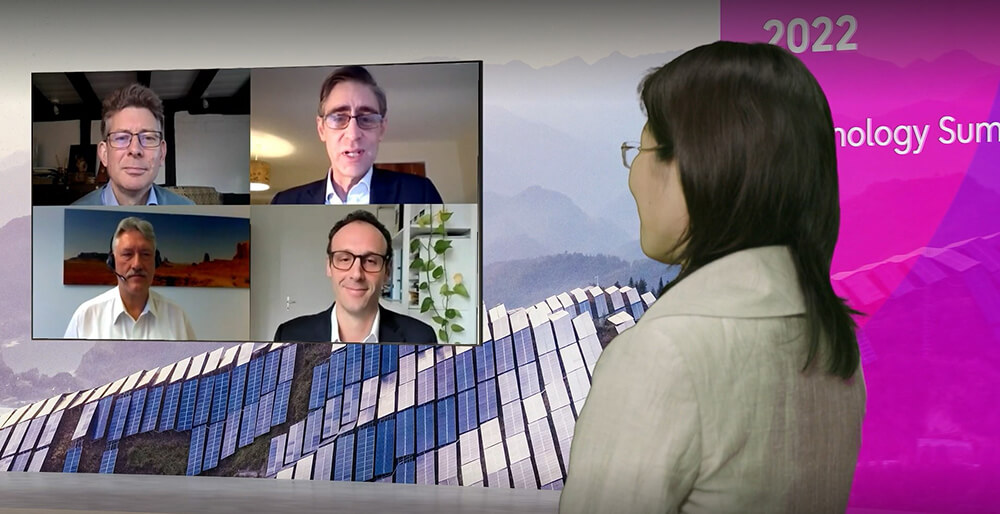 Panel Session 1 "Towards a Trusted Society: Coordinating Digital Actions for Positive Social Impact" (Europe)
Experimental projects are underway. Mark Enzer, CTO of Mott McDonald and head of the National Digital Twin Program (NDTp) in the UK, explained that NDTp has developed a "Demonstrator" to make the theory more tangible. The Climate Resilience Demonstrator (CReDO) makes it possible to evaluate the resilience of infrastructure to climate change through simulations across different sectors of energy, water, and telecommunications.
In Munich, Germany, attempts are being made to understand the patterns of micromobility, which could greatly reduce CO2. Uwe Jasnoch, Vice President for Business Development at Hexagon, showed a monitoring and simulation tool jointly developed with Fujitsu. In addition to vehicles and roads, it visualizes how dust particles fly in the city.
Thomas Deloison, Director of Mobility at the World Business Council for Sustainable Development (WBCSD), said that data sharing can enable digital and physical connectivity and contribute to policy making, but to do so, stakeholders must break down silos and work together under a shared vision.
The European Panel 2 addressed the reality and challenges of digital healthcare. In Finland, cross-ministry policies are driving the digitization of medical care. Jukka Lahesmaa, Senior Adviser to the Permanent Secretary's Office of the country's Ministry of Social Affairs and Health, said experience shows that scaling digital healthcare requires an ERP platform across social services and health care data, integrating factors such as patient self-monitoring and the work of different healthcare professionals.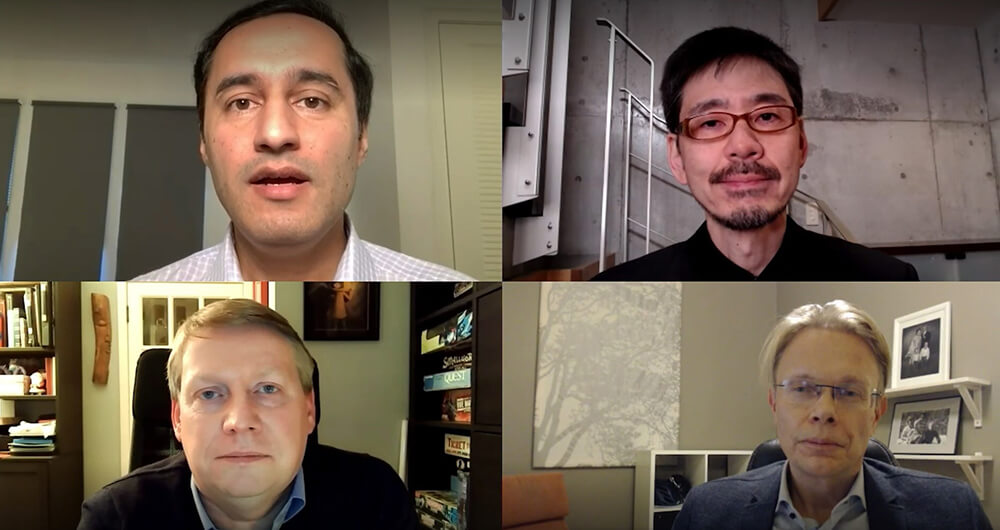 Panel Session 2 "Technologies Powering the Future of Healthy Living" (Europe)
The Scottish Government uses digital technology in mental health care. Chris Wright, National Advisor for Digital Mental Health, said it requires a deeper understanding of the meaning of the data blending it with the traditional excellent clinical care, not just aiming for efficiency. During the pandemic, one-third of patient referrals were sent digitally, a higher rate than before, but access points still needed to be diversified. Wright also emphasized the need for a holistic approach that takes into account socio-economic factors to bring to light those who are in urgent need of support.
Akihiro Inomata, Senior Research Principal at Fujitsu Research, said it is important to coverall medical care pathways, including prevention. Mathematical optimization technology will help this process, he said. In addition, stakeholders such as medical institutions, local governments, regions, and households need to connect and cooperate.
Optimizing Technology for its Users
The main discussion in Panel 1 in North America was the current status and challenges of digital twins. It is well known, for example, that McLaren has created digital twins for Formula One racing to improve the performance of race cars through simulation and real-time monitoring. However, even in the industrial world, widespread high-level uses of digital twin technology are yet to be achieved.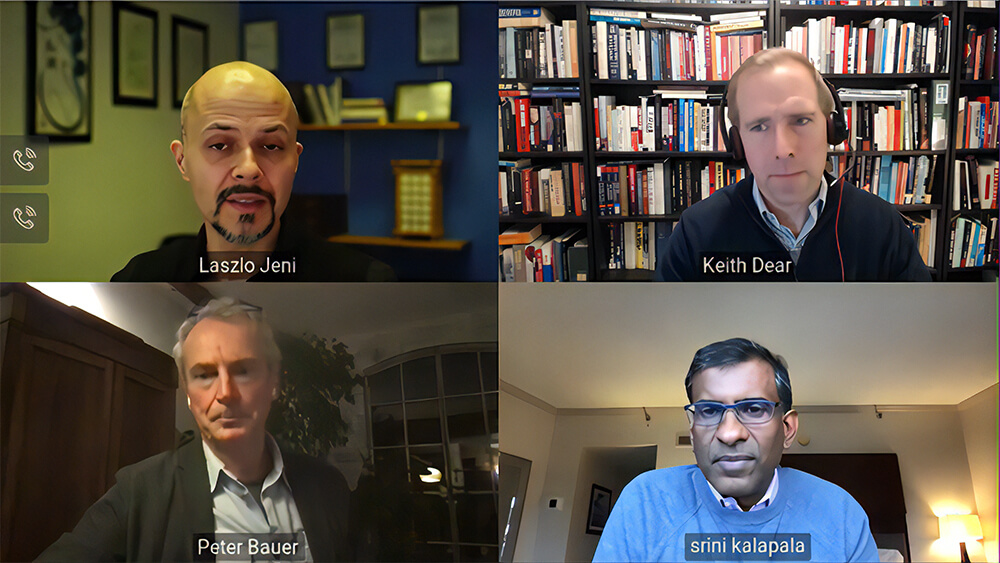 Panel Session 1 "Towards a Trusted Society: Coordinating Digital Actions for Positive Social Impact" (North America)
Peter Bauer, director of the European Center for Medium-Range Weather Forecasts (ECMWF), said that the center has made considerable progress in simulating global systems, that is, the technology of predicting weather by digital shadowing, but it has not yet reached the full realization of digital twins. He pointed out that nonlinear phenomena such as weather are different in concept from race cars, which have short feedback loops. As geoengineering becomes more possible, digital twins to prevent disasters are being discussed. But Bauer warned that some simulated solutions, if applied in real life, could be irreversible, and that scientists should expect uncertainty.
Laszlo Jeni, a system scientist at Carnegie Mellon University who models human behavior said that using data from various sensors on smartphones can be enough to support people with mental health problems in near real time. In cases where suicide may be imminent within 20-30 minutes, collating this data with a digital twin could lead to successful intervention.
Verizon's Vice President of Technology Strategy and Network Cloud, Srini Kalapara, said that in order to fully utilize the digital twin approach, many techniques are essential. For example, it is important to build a ubiquitous high-speed communication environment. It is also necessary to determine the number and type of sensors that will be deployed in the real world, and where to do the processing. These and other approaches will help make simulations as accurate as possible.
Panel 2 in North America featured Paul Rothman, Dean of the Medical Faculty for the Johns Hopkins University School of Medicine and CEO of Johns Hopkins Medicine. During the pandemic, the university created a website that tracks the number of infections around the world, a project that attracted a huge amount of attention. He said that it was started by a professor of engineering and two graduate students at the university. The site highlighted the unique environment of a research university medical school, where experts who can handle big data are in close proximity to medical researchers.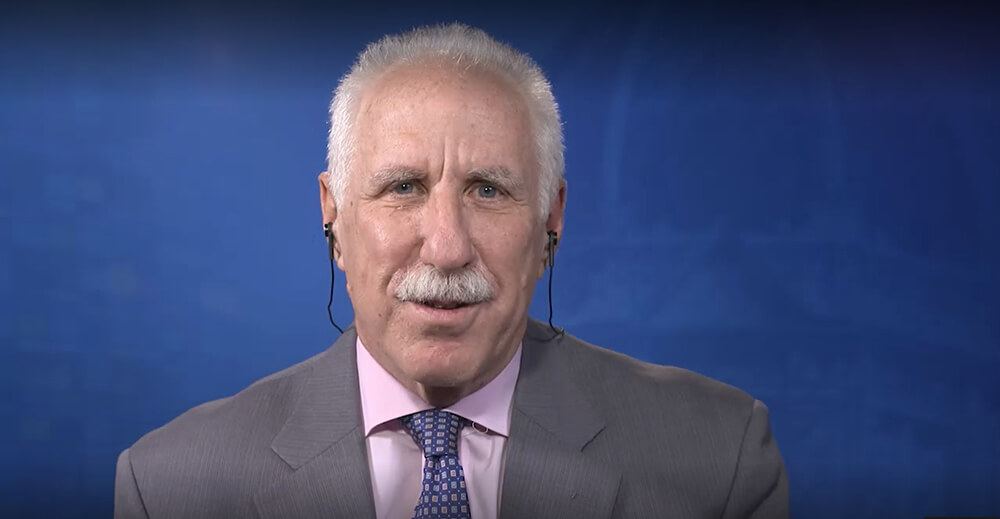 Paul Rothman, Dean of the Medical Faculty for the Johns Hopkins University School of Medicine and CEO of Johns Hopkins Medicine
Over the past two years, Rothman explained, the hospital has conducted more than 1 million covid tests and has treated more than 10,000 inpatients. In addition, for more than 50,000 infected patients who visited, the hospital predicted which cases become more severe, using a method developed in the institution's Precision Medicine Initiative, which helped to secure the ICU beds.
Further data utilization was carried out as the Omicron strain spread. Combining its models and data with data from the federal and state governments, Hopkins predicted the number of critically ill patients in low-vaccination areas so that hospitals across two states would be ready.
Telemedicine is also part of the mix. Here again, a predictive model is used to determine whether the patient can handle the telemedicine technology. It shows that the use of technology must be designed to be very human-centered. In the future, Rothman said, big data will need to be aimed at monitoring lives to prevent diseases that are caused by socio-economic factors, helping to solve inequality problems in medical care.
He emphasized that the use of technology should be translated to "the betterment of the patients." This approach, he said, is essential for the development of truly useful technology.
Thinking Into the Future
After two years of pandemic, businesses, developers, and consumers have come to scrutinize the true role of technology. The Fujitsu event -- focusing on key issues such as sustainability, trust and human health -- provided attendees with opportunities to learn, and to think.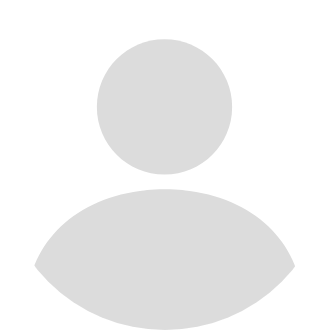 Noriko Takiguchi
Freelance editor and journalist
Takiguchi, based in Silicon Valley and Japan, writes extensively about technology, business, politics, international relations, design, and architecture. A special focus of her work has been trends in robotics in Silicon Valley and elsewhere in the United States. She publishes news about robotics through her own website robonews.net. Her books include: Why is Garbage Not Sorted in Silicon Valley? (President Inc.), The Rem Koolhaas File (TOTO Publishing), and Toyo Ito, Architect Japan (Chikumashbo Ltd.). She also has translated such works as Machine of Loving Grace by John Markoff (Nikkei BP), Bringing Design to Software by Terry Winograd (Pearson Education) and Leading Matters by John L. Hennessy (Diamond Inc.). She graduated from Japan's Sophia University, majoring in German Studies and International Relations. From 1996 to 1998, she was a Fulbright visiting scholar at Computer Science Department of Stanford University.