Toward a More Imaginative and Sustainable Future: The French Japanese Business Summit
Fujitsu / January 24, 2022
In November 2021, the fourth French Japanese Business Summit, organized by the French Chamber of Commerce and Industry in Japan, was held at the Nikkei Hall (Otemachi, Tokyo). The theme was Vision for 2050: A Path Towards an Imaginative and Sustainable Future. This event brought together international speakers from a range of different backgrounds in order to strengthen cooperation between French and Japanese business and government. Fujitsu's COO & CDPO, Hidenori Furuta took to the stage to introduce the company's proactive and global efforts to realize an imaginative and sustainable future.
Fujitsu's Purpose: Contributing to a Sustainable World
Furuta: The 2020 Davos Manifesto defines the purpose of a company as "engaging its stakeholders in shared and sustained value creation." Meanwhile, the theme of the 2021 World Economic Forum was The Great Reset and this event called for cooperation between stakeholders around the world in order to overcome the effects of COVID-19.
Given these circumstances, I have been thinking about what the world will look like in 2030, which is the year that the SDG targets will be realized. I believe that the world will have changed and that we will have entered a new world in which people, communities, things, and data are connected, and innovation is occurring to solve social issues.
With the aim of contributing to this sustainable world, in 2020 Fujitsu declared both internally and externally that our raison d'etre and Purpose in society is to "make the world more sustainable by building trust in society through innovation." As a global technology company, all of our business activities are focused on achieving this goal.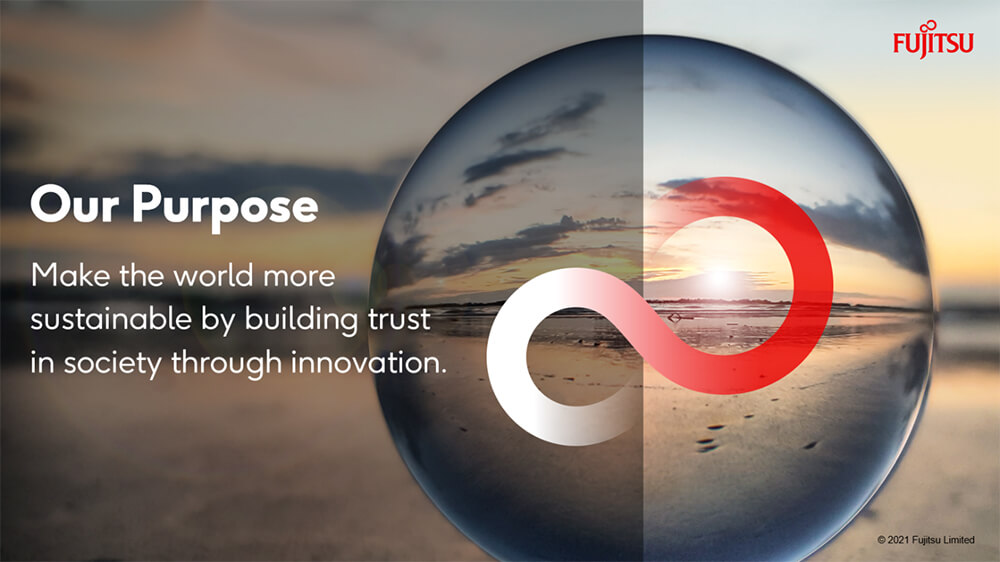 Our Purpose
Fujitsu Uvance: A New Business Brand Aiming to Solve Social Challenges
Furuta: In October 2021, Fujitsu announced its new global business brand Fujitsu Uvance, which has the aim of realizing our Purpose. The name Uvance comes from a combination of the words "universal" and "advance."
We have also established seven Key Focus Areas in which we will deliver greater value to our customers and society through Fujitsu Uvance. There are four cross-industry areas for solving social issues, which are Sustainable Manufacturing, Consumer Experience, Healthy Living, and Trusted Society. In addition, there are three technology platforms that support these cross-industry areas: Digital Shifts, Business Applications, and Hybrid IT.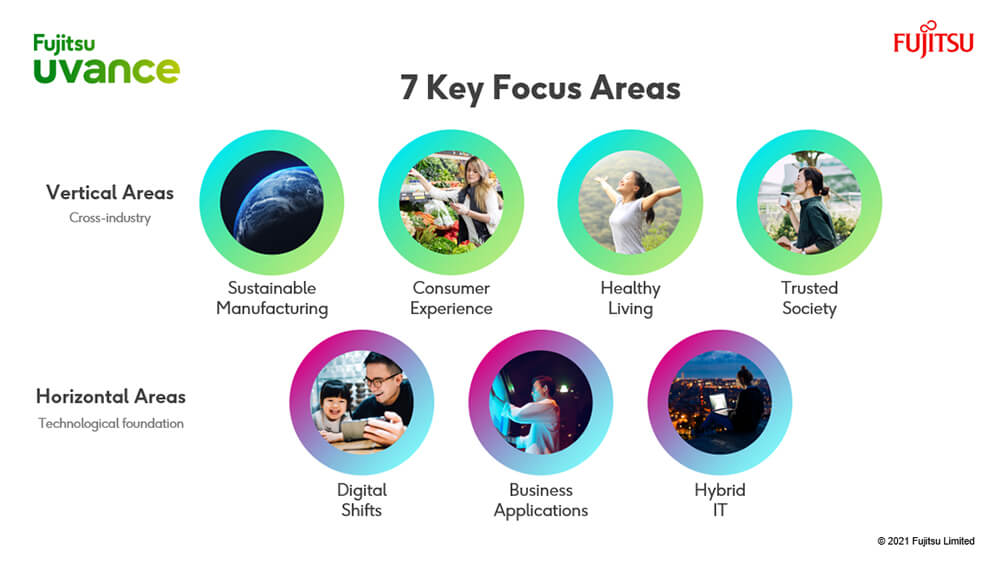 Fujitsu Uvance and 7 Key Focus Areas
Furuta: Today, as an example, I would like to introduce our scopes for two of these areas.
The first is Sustainable Manufacturing. The field of manufacturing has seen serious problems and unprecedented disasters, such as pandemics, political crises, and labor imbalances. Despite this, we must adapt to every situation and continue to provide the products and services that enrich people's lives. As our customers seek more sustainable practices in their production processes, we can offer solutions and services to create carbon neutrality, resilient supply chains, value chain optimization, and people enablement.
The second is Consumer Experience. In order to meet the needs of consumers and improve their consumption experience, we have four scopes: Smart Retail, which provides consumers with the best customer experience (CX); Smart Supply Chain, which supports waste-free and sustainable consumption; Smart Enterprise, which realizes back-office reform for businesses; and Smart Platform, which creates a new economic zone and service industry through value exchange.
Fujitsu's Sustainability Management: Toward Carbon Neutral
Furuta: Furthermore, in order to realize our Purpose, it is essential for Fujitsu itself to achieve sustainability and sustainable growth, and we need to build a relationship of trust with all of our stakeholders. From this perspective, in addition to financial indicators such as operating income, we are incorporating non-financial indicators into the core of our business activities, with the aim of improving our relationships with society and customers, as well as the culture of Fujitsu itself. As a responsible global company, Fujitsu has defined seven key sustainability management issues, including human rights, wellbeing and the environment, within our Global Responsible Business (GBR) framework. We believe that our efforts in these areas will build trust with our customers and employees.
Furuta: As an example of the sustainability management Fujitsu is aiming for, I would like to introduce our efforts to solve environmental and social issues. As the trend toward carbon neutrality in global society accelerates, Fujitsu has committed to reducing CO2 emissions in its own group to virtually zero by 2050. However, a long-term goal also requires short-term goals. In response, we have significantly raised our greenhouse gas emission reduction target for fiscal 2030 from a 33% reduction to a 71.4% reduction (compared to fiscal 2013 levels). This new target has been certified as "1.5°C level" by the Science Based Targets (SBT) partnership. We are also shifting to renewable energy sources. By fiscal 2022, we plan to use 100% renewable energy to power the operation of the FUJITSU Hybrid IT Service FJcloud, a cloud service provided by our data centers in Japan.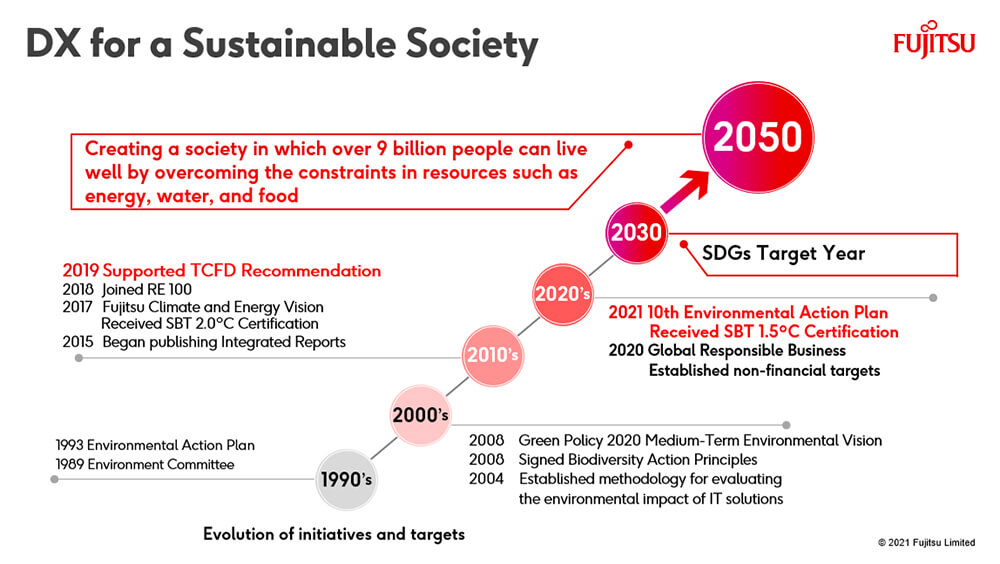 DX for a Sustainable Society
Furuta: Under Fujitsu Uvance, we will continue to bring trust to society as a whole and lead the way in transforming the world for the better through the innovations generated by our business activities.
Innovative solutions that address business challenges and solve societal issues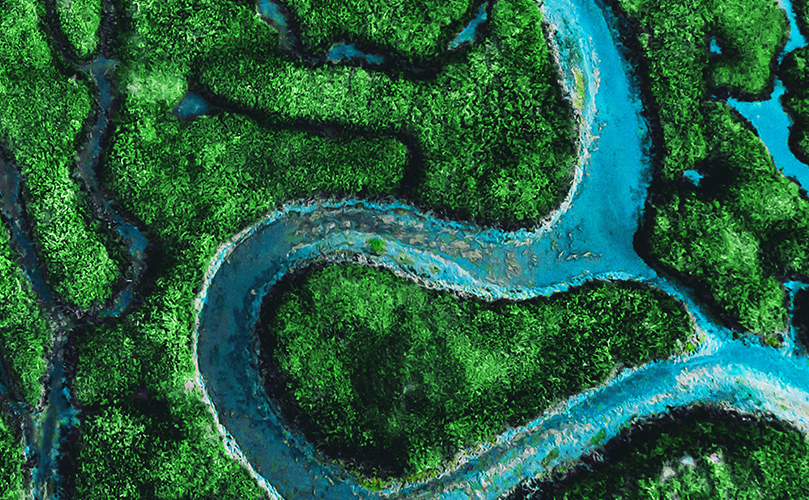 Fujitsu Uvance
Fujitsu established its new purpose in 2020, taking a new path to transform into a business based on the ideal vision of society to realize a more sustainable world. As it envisions the problems that it anticipates will arise in 2030, Fujitsu has identified seven key focus areas to form the basis of Fujitsu Uvance.
Read more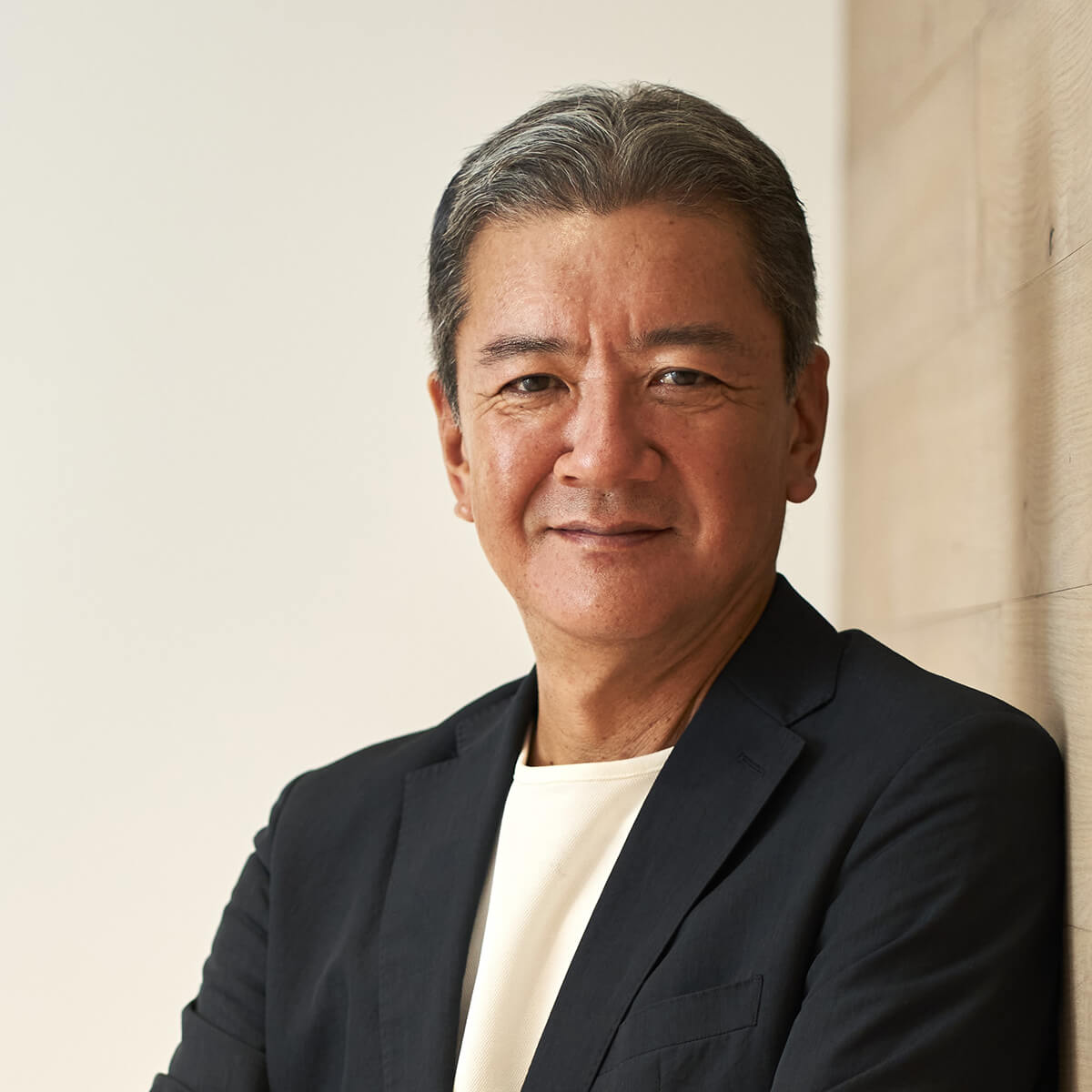 Furuta Hidenori
Representative Director of the Board, COO & CDPO, Fujitsu Limited