To overcome the doubters, AI must help build a trusted society
Fujitsu / December 23, 2021
People have always been suspicious of new technology, and sometimes with good reason. Therefore, it stands to reason that any new technology will inevitably be caught up in waves of positive and negative thinking – especially if it is something major, like AI, with the power to change we all live.
It's not enough for AI supporters to just ignore the doubters and wait for them to come around. It's perfectly reasonable for people to assume that new developments are for someone else's benefit - and they are only going to change their minds if there is good evidence to the contrary.
That's why we have just published a whitepaper - AI-Enabled Trusted Society: Fueling advancements in society – that looks at how AI can help rebuild trust in technology.
The use and misuse of data
One particular challenge currently eroding trust is the use and misuse of data. Our paper focuses on how AI can help create a platform where public and private data can be hosted securely and trusted to action solutions that deliver tangible benefits for individuals, companies, and society.
We break the challenge up into three areas: human-centric public services, resilient society, and smart city eco-system.
There are many possible dimensions to the first of these. We highlight healthcare for the elderly, as this is a massive and growing issue for society. By 2050 - only 28 years away now - the percentage of over-60s globally will have nearly doubled, from 12% to 22%. The number aged over 80 will have quadrupled. We are already feeling the effects of this shift, with a shortage of up to 100,000 physicians predicted by 2030.
AI potentially offers a solution to this shortage. Companies like Apple and Fitbit already provide biometric trackers that alert us if the AI detects anomalies or concerns. Xsens, Kardian, and Qventus build AI-powered fall detectors to detect when elderly people slip or fall over. And there are AI-enabled technologies for virtual companions to assist the elderly who live alone, understand the fundamental biology of aging, and explore ways to end or delay aging and age-related diseases.
But the price for these advances, say the skeptics, is a level of intrusion into personal data that goes beyond what is advisable. How, they say, can we trust the data to be kept safe and not misused for purposes of which we disapprove? Business, too, has its concerns. What are the legal-liability, regulatory and reputational consequences if there is a data breach?
In the paper, we identify and explore three ways in which AI can help build a greater trust in the data being used to deliver benefits like healthcare for the elderly:
1. AI can help spot cyber threats and possible malicious activities before they can gain a foothold.
2. Using AI, we gain the capacity to take an inventory of vulnerabilities – and address them - across gigantic data sets.
3. And we can build AI-powered applications – available to individuals - that ensure organizations are not using our data for unintended purposes.
Fujitsu recognizes these needs and is already addressing the issue of digital trust with its Trust-as-a-Service (TaaS) technology to automatically verify who created the data, when, and whether it's been tampered with.
Creating a more resilient society
By analyzing real-time data with AI, we can also predict and help mitigate the impact of events with the potential to disrupt society. Computer vision technologies applied to satellite imagery can detect approaching environmental problems, for example. AI-powered robots could also help ensure ocean health by monitoring pollution levels, and physics-based modeling can assess the likely impact of extreme weather conditions on city infrastructure.
Fujitsu is already engaged in AI applications for a more resilient society, from the relatively mundane – but technically challenging – areas of city traffic optimization and the optimal transportation of goods and resources, through to the allocation of resources in a pandemic. At the furthest edges, we are also replicating society's dynamics in a 'digital twin' to respond quickly to emergencies such as cyclones and floods.
Making connections with AI
However, none of the benefits of AI are possible without connecting data across domains such as administration, mobility, energy, health, and education. In the third and final part of the white paper, we address examples of how connected AI can help rebuild trust in society. Fujitsu is making progress towards this goal in areas that include removing bias from the allocation of scarce city infrastructure resources; analyze energy data patterns to speed up system fault identification and repair; reduce CO2 emissions by increasing efficiencies in production and transportation; and create smart educational content and intelligent tutoring customized to the learning styles and preferences of individual pupils.
Reversing fear of AI
Our argument is that people fear AI because it exposes how much personal information we disclose every time we use digital technologies, such as smartphones. But the reverse is also true. AI can also protect data, prevent its misuse and ensure the person remains private.
Artificial Intelligence is powerful. There are risks, but AI can also help shape the future and the vision of a trusted society. That's Fujitsu's vision, and we hope our whitepaper triggers your curiosity to find out more about how to achieve that goal.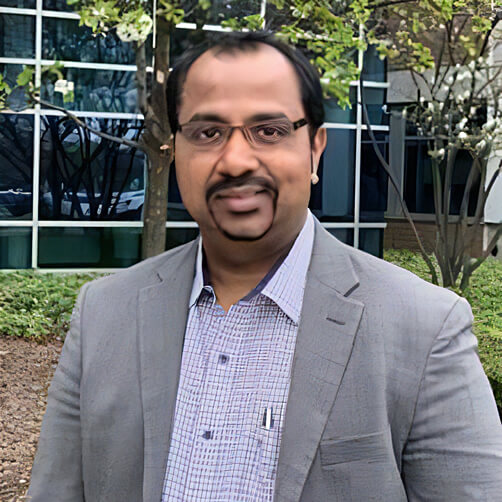 Shan Chidambaram
Head of Data Analytics, AI, and Quantum Inspired Computing, Fujitsu America, Inc.
Shan joined Fujitsu in 2017 to build and lead the data analytics and AI business at Fujitsu America. In his current role as the global head of consulting for Fujitsu's Mobility DX organization, Shan and his team of industry consultants, data scientists, and solution architects are responsible for delivering new data monetization opportunities, and business optimization solutions for clients by solving complex and intractable business problems utilizing data analytics, AI, and quantum-inspired technology. Shan recently led Fujitsu's social impact initiative of solving problems related to Covid-19 using data analytics and quantum-inspired technology.