Transforming the radiation therapy experience for patients through Gamma Knife radiosurgery
Fujitsu / November 24, 2021
In February 2021, Fujitsu in collaboration with researchers at the University of Toronto (U of T), announced the development of a technology for dramatically streamlining the creation of radiation treatment plans for Gamma Knife radiosurgery to treat illnesses including brain tumors and arteriovenous malformations.

This collaboration stands to drastically improve both treatment and the patient experience. This collaboration leverages Fujitsu's quantum-inspired computing technology, the Digital Annealer, which rapidly solves combinatorial optimization problems. We had the pleasure of speaking with Dr. Mojgan Hodaie, scientist, neurosurgeon, and Professor at the University of Toronto Department of Surgery; and Hidetoshi Matsumura, Senior Researcher, Advanced Computing R&D Centre at Fujitsu Consulting (Canada), about their collaboration conducting Gamma Knife radiosurgery research and their thoughts on resolving social issues.
Coming together to provide patients with state-of-the-art technology
- Can you start by telling us about the project you're working on?
Hidetoshi: In 2017, we entered into a strategic partnership with the University of Toronto and established a new research centre in Toronto. Working for this research centre, I conduct several collaborative research projects between Fujitsu and the University of Toronto. I am helping U of T use our Digital Annealer for their Gamma Knife radiosurgery research on this project.
Mojgan: The Gamma Knife is a different way of looking at how radiation is delivered to the brain. The common way that we think of radiation is that the whole brain gets a dose of radiation, and it's typically associated with severe side effects such as hair loss, nausea, vomiting, and other unpleasant symptoms for patients. Using Gamma Knife radiation, we construct a radiation plan that delivers a high dose of radiation that is specific to the area in the brain that we define as the target, which is much safer and has far fewer side effects.
Typically, the process of creating the radiation plan involves one and a half to three hours of manual labour to ensure that our plan matches the three-dimensional shape of the tumour that we want to treat. Each radiation plan is unique and constructed according to the precise shape and size of the tumour or malformation, a process which relies heavily on the skills of each planner. This is the key issue that we wanted to address with Fujitsu using the Digital Annealer.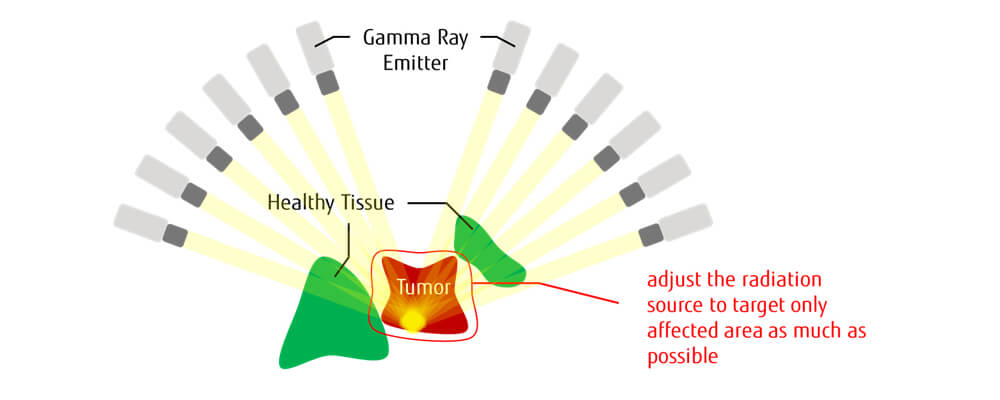 Overview of Gamma Knife Therapy
- How is Fujitsu's technology changing the future of Gamma Knife radiosurgery? What does that mean for patients moving forward?
Hidetoshi: When creating a safe and precise plan for gamma ray doses, there are an incredible number of options brought by a combination of available values of parameters, such as positioning and intensity of radiation. The Digital Annealer is a computer architecture that is designed specifically to solve these types of problems. It allows us to create a radiation plan that meets the doctor's prescription in a very short time.
Mojgan: We were very excited about the possibility of using the Digital Annealer as a tool for optimizing Gamma Knife radiosurgery treatment. Typically, the process of creating the radiation plan is quite time-consuming and involves multiple trips to the hospital for patients. But with the Digital Annealer, we have now been able to optimize this key step in the process, to be done in less than 60 seconds. Applying this technique will mean that we are able to speed up treatment and generate a plan that is even more accurate than what we're able to do manually.
Beyond the technology: Reimagining the patient experience
- What does this technological innovation mean for patients going forward?
Mojgan: Together with my collaborators, we have been able to advance in many areas that I would consider to be ground-breaking with respect to improving patient experience. As a clinician, I can say that when patients are coming in for treatment of a brain tumour, they're incredibly nervous. To know that we can improve their experience with a state-of-the-art treatment and a faster process where they don't have to spend hours and hours at the hospital is really rewarding and lowers everyone's level of anxiety. It's really rewarding for me to know that we're able to deliver that to our patients to improve their care.
Hidetoshi: Typically, with research activities, we tend to spend much of our time focusing on the technology itself. However, from the experiences of being involved in applied research projects of this collaboration with U of T, we understood that the value and the outcome of the technology are also important. So, with this project, we've been focused on the concrete benefits for the patients. Since we didn't know how Gamma Knife treatment was actually administered, we needed to ask Professor Mojgan many questions and have discussions to make sure that the project was moving to the right direction.
- What does the future hold for your research together and the application of this technology in the medical community?
Mojgan: In the immediate and near-term future, our goal is to deploy this tool in Toronto, and then further nationally and internationally so that other clinicians can create rapid plans such as these and improve the experiences of their patients.
And then ultimately, the fundamentals of this technology are not restricted to the brain. In fact, there are many other structures in the body where treatment requires this type of planning. In this way we can potentially broaden the way in which the Digital Annealer is applied. I think it's just one step in the very broad applications that Fujitsu's technology can have for the healthcare sector, and as such, I think it can bring enormous degree of improvement in the way we treat our patients.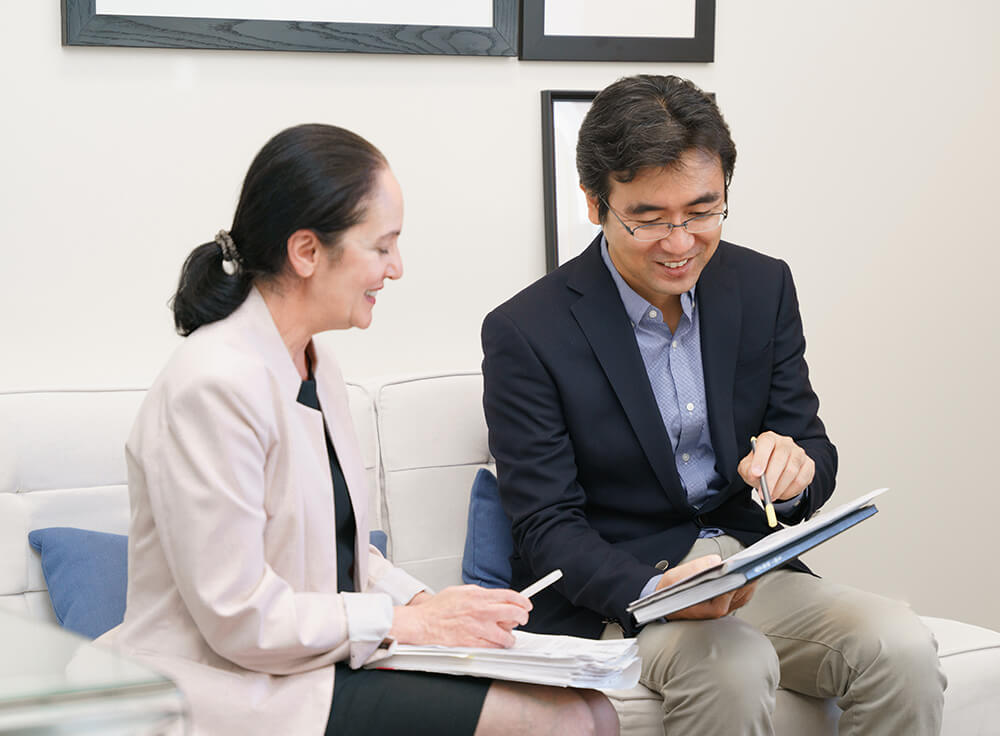 Bringing together our collective expertise to create something ground-breaking
- Can you tell us a bit more about how you came to be involved in this project? What has made this a rewarding experience for you?
Hidetoshi: From a young age I was interested in working with computers. My father gave me electrical circuits and books on related topics that I would learn with, and that led me to study computers and IT technology in university. I then joined Fujitsu and had the opportunities to work on very specialized hardware technologies. The Digital Annealer is the one I am involved in now.
Since this was launched as one of U of T's applied research projects using Digital Annealer, I have been involved in the project as a researcher.
Joining this collaboration between the University of Toronto and Fujitsu has given me an opportunity to learn a lot more about the area of healthcare. It has been incredibly rewarding to see this research move forward, as there are usually many steps involved and obstacles to overcome before getting into the research itself. Within these steps, many research projects fail and do not get past a planning stage, so it is incredibly exciting to see this research achieve tangible results from very early on.
Mojgan: It has been incredibly motivating and inspiring to work with so many dedicated and brilliant minds that have tackled the problem at hand. So many people have touched this project to help come to this solution. We are very fortunate, because there are very few places in the world can such a thing happen with this level of expertise.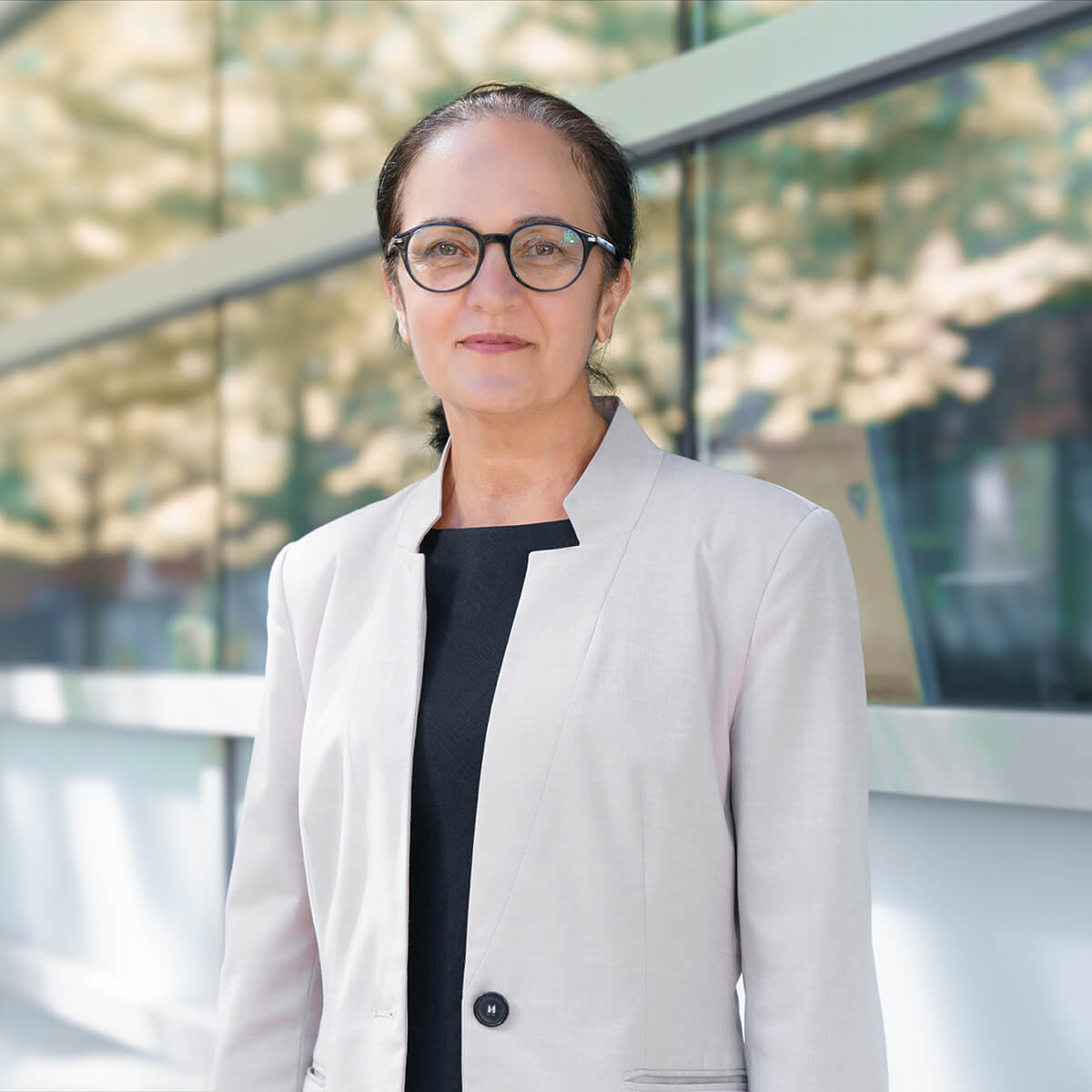 Dr. Mojgan Hodaie
Neurosurgeon and professor at the University of Toronto Department of Surgery
After completing medical school, Dr. Hodaie was attracted to the field of surgery and specialized as a neurosurgeon at the University of Toronto, where she stayed as a faculty member after completing her residency. Dr. Hodaie finds fulfillment in breaking down complex problems into simple parts, which is what initially attracted her to the brain. As a specialist in functional neurosurgery, Dr. Hodaie focuses on the treatment of unusual neurological issues with precision tools such as the Gamma Knife. Her passion for treating conditions through the advancement of innovation, research, and knowledge is what attracted her to collaborating on this project.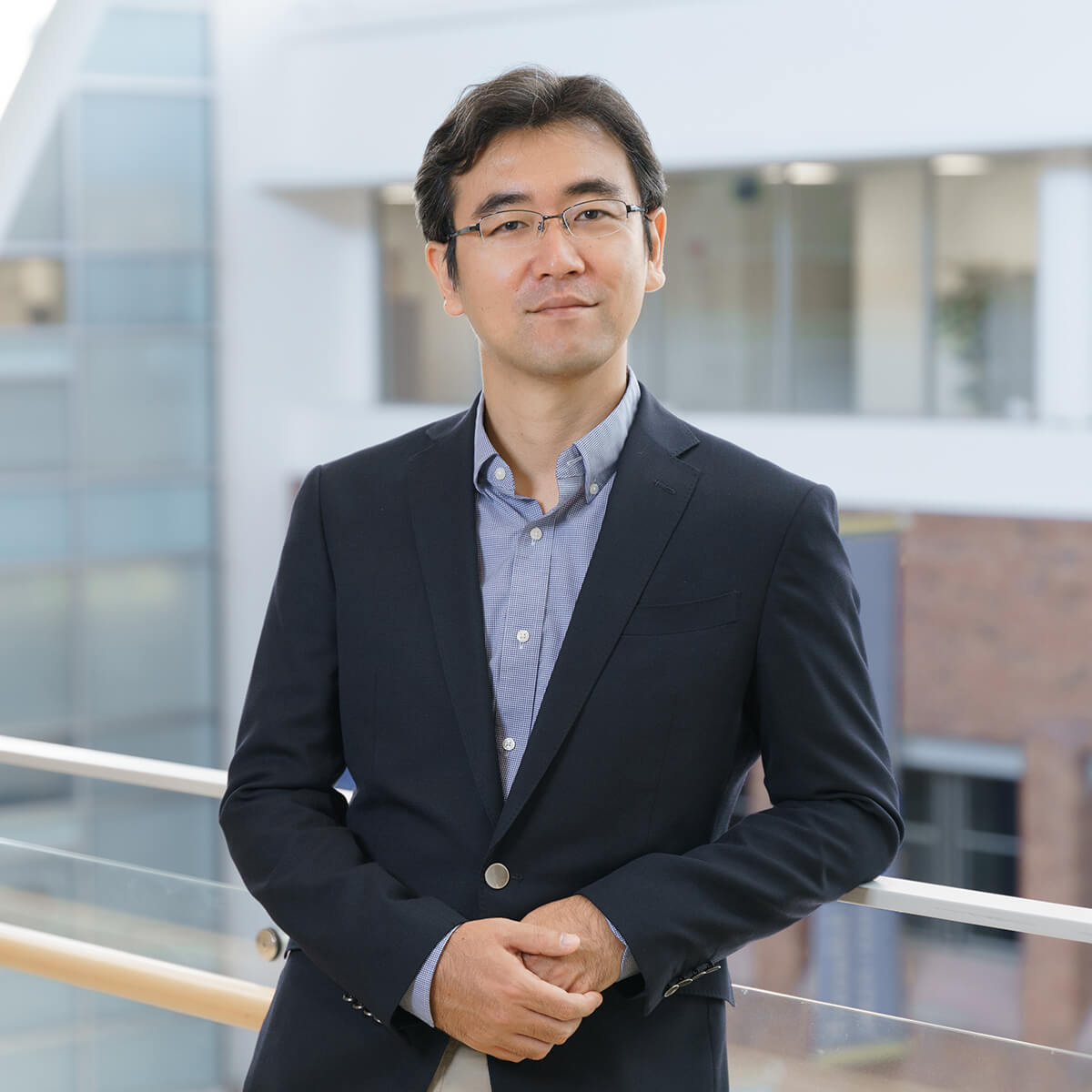 Hidetoshi Matsumura
Senior Researcher, Advanced Computing R&D Centre at Fujitsu Consulting (Canada)
From a young age, Hidetoshi was exposed to computers, which inspired him to pursue a career in information technology. This passion is what brought him to Fujitsu, where he started working on technology to create software and computer architecture for dedicated purposes. It was his work on this computer architecture technology that brought him to this project.