Fujitsu ActivateNow 2021 recap: a path to a sustainable future
Fujitsu / November 5, 2021
The theme of the opening keynote for Fujitsu ActivateNow 2021, our recent flagship online event, was "Empowering People for a Sustainable Future." As the world faces a growing number of large-scale, complex challenges, creating a sustainable future where nobody is left behind is more important than ever.

Getting there will require an unprecedented collaboration between people, companies, nations, and academia sharing objectives and empowering each other to make significant contributions.

In this article, we introduce the topics Fujitsu CEO Takahito Tokita covered in his keynote speech at the event and explain how the launch of Fujitsu Uvance, our new business brand, represents a renewed commitment to connecting and empowering people with diverse skills to face today's challenges head-on.
Technology creates happier lives
Based on the belief that "technology creates happier lives," Fujitsu has long been contributing to the growth of society and our customers by pioneering many groundbreaking technologies. We have also reconsidered what role Fujitsu should play in this changing world. Last year, we announced our Purpose: "To make the world more sustainable by building trust in society through innovation." At the beginning of his keynote, CEO Tokita explained that Fujitsu is now making every effort, in all of our activities, to achieve this Purpose.
A world where people live dynamic lives on their own terms in a rich, natural environment: We will continue pushing technological boundaries to make that world a reality.
Takahito Tokita
CEO and Chief Digital Transformation Officer, Fujitsu
Introducing Fujitsu Uvance, a better way to do business
Firstly, it's important to acknowledge the unfortunate reality that the Covid-19 pandemic has divided the world and drastically changed our values and lifestyles. Meanwhile, many other problems we are facing have become more severe, such as climate change caused by environmental destruction.
In order to solve these global issues, it is essential for people, companies, nations, and academia to share objectives, empower each other and stimulate innovation. The United Nations established SDGs (sustainable development goals) as a roadmap to a better future.
We asked ourselves, are we moving towards the future set out by the SDGs?
CEO Tokita gave an honest assessment: "We can do better."
To address the needs of a radically transforming world, we at Fujitsu realized that we couldn't continue on the same path. We started asking ourselves what our business should look like—and what major changes we needed to make—in order to ensure we were part of the solution.
So, we identified all of our capabilities and defined where we should focus in the future in terms of both cross-industry functions and technology.
The result was the inception of our new business brand, Fujitsu Uvance.
Fujitsu Uvance and you: The journey to an interconnected world
Fujitsu Uvance is defined by its support for many aspects of daily life and its cross-industry approach:
"Sustainable Manufacturing," supporting the making of things,
"Consumer Experience," supporting how we use and experience,
"Healthy Living," supporting our daily lives,
"Trusted Society," which creates a platform to implement the other areas.
Supporting these are three areas of technology: "Digital Shifts," "Business Applications," and "Hybrid IT."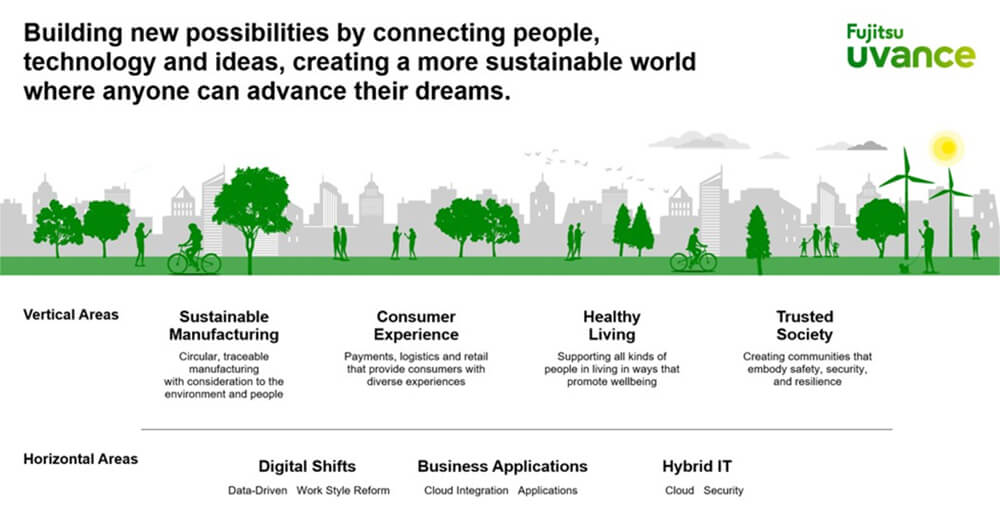 Delivering a Sustainable World Through Seven Key Focus Areas
One example of "Sustainable Manufacturing" comes from Anheuser-Busch InBev, a major beer manufacturer that applied our blockchain technology to drive transparency across their supply chain.
In terms of "Healthy Living," we are collaborating with industry and academia to help maintain health later into life. At the same time, through "Trusted Society," we are undertaking initiatives such as supporting the transportation of older people with autonomous vehicles.
At Fujitsu ActivateNow 2021, we committed to further developing this approach to our business. In concrete terms, that means we will continue pursuing advances in cutting-edge technologies such as AI, 5G, and supercomputers, with the conviction that technology only produces value when put to practical use and the belief that "technology creates happier lives."
It will take emerging technologies to solve emerging problems. One example of this is using our quantum-inspired Digital Annealer, which can rapidly solve combinatorial optimization problems, to assist in the recovery of space debris by enabling large reductions in spacecraft operating time, fuel consumption, and the time required to plan the missions.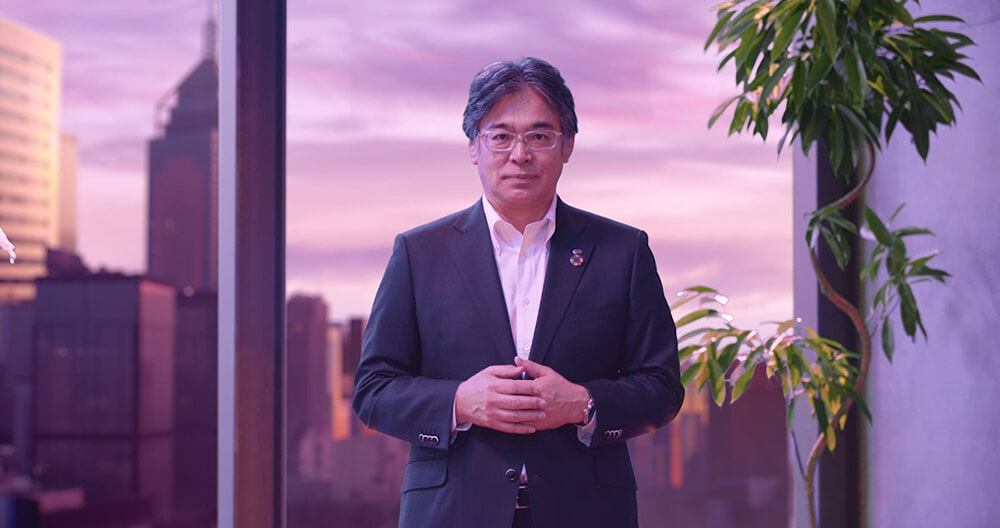 We invite you to visit the Fujitsu ActivateNow 2021 microsite where you can view on-demand content that will assist with your organization's sustainable transformation. Highlights include:
CEO Tokita's conversation with Kathy Matsui, Former Vice Chair of Goldman Sachs Japan and Chief Japan Equity Strategist, about the fundamentals of ESG management
President Toomas Ilves, President of Estonia from 2006-2016, discussing how he spearheaded the digitization of his country's public services in each country, thereby saving 2% of GDP per year
Fujitsu leaders and outside experts speaking about the hows and whys of a sustainable future
Breakout sessions highlighting the seven key focus areas of Fujitsu Uvance and other important topics of interest for industry leaders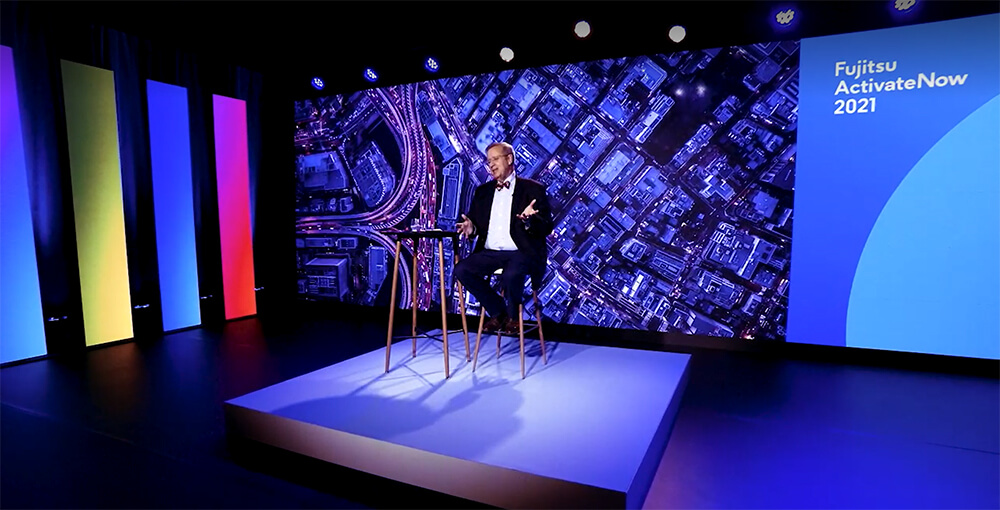 President Toomas Ilves
President of Estonia from 2006-2016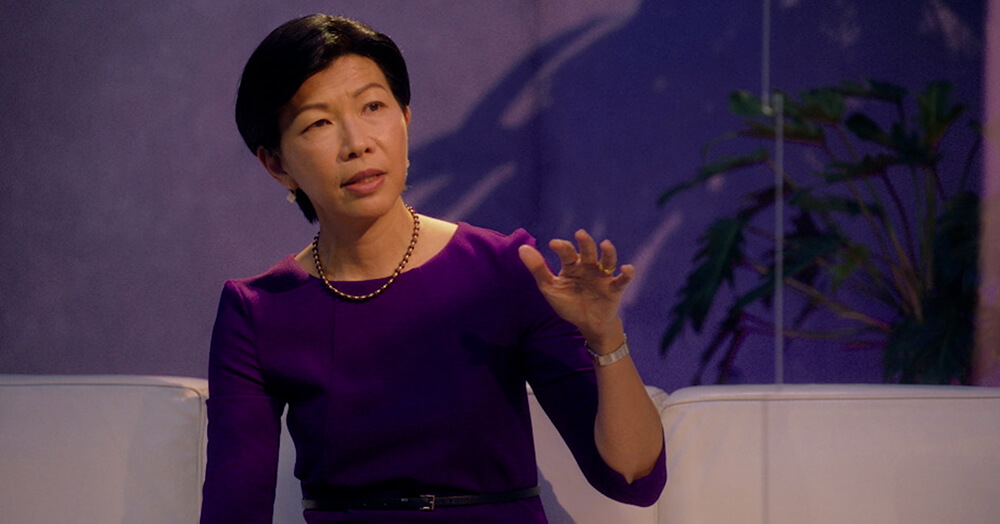 Kathy Matsui
Former Vice Chair of Goldman Sachs Japan and Chief Japan Equity Strategist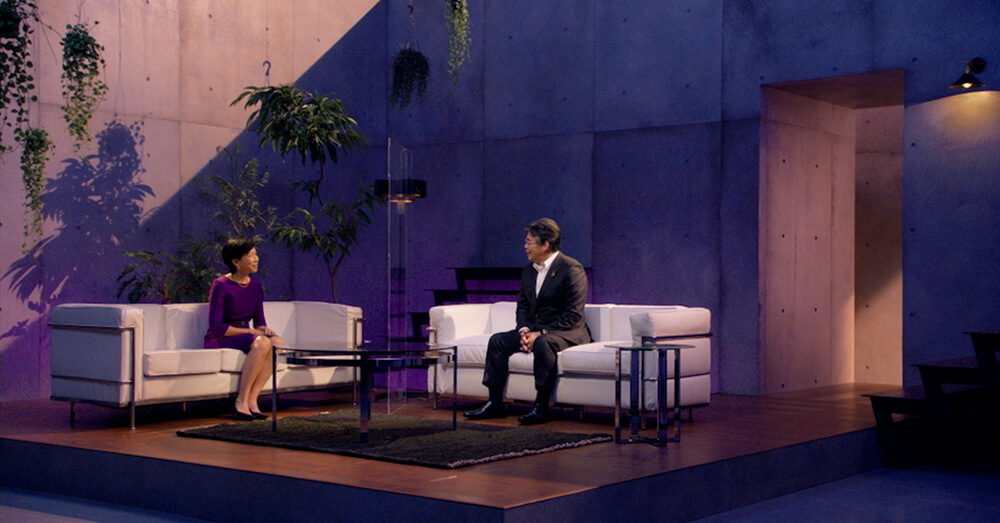 Our journey to a sustainable world has begun. We hope you'll join us as we strive to transform the world into a place where people can live their lives, enjoying prosperity and peace of mind on a greener planet.
We look forward to building a sustainable future with you.
Discover how to move your business ahead toward a sustainable world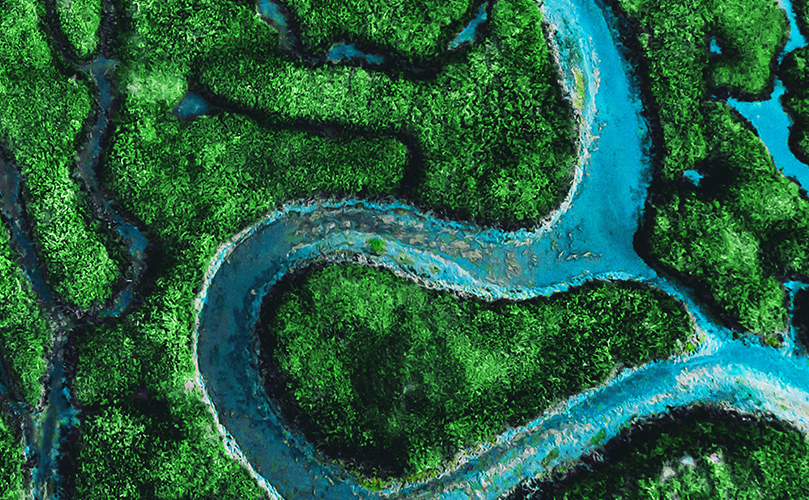 Fujitsu Uvance
Fujitsu established its new purpose in 2020, taking a new path to transform into a business based on the ideal vision of society to realize a more sustainable world. As it envisions the problems that it anticipates will arise in 2030, Fujitsu has identified seven key focus areas to form the basis of Fujitsu Uvance.
Read more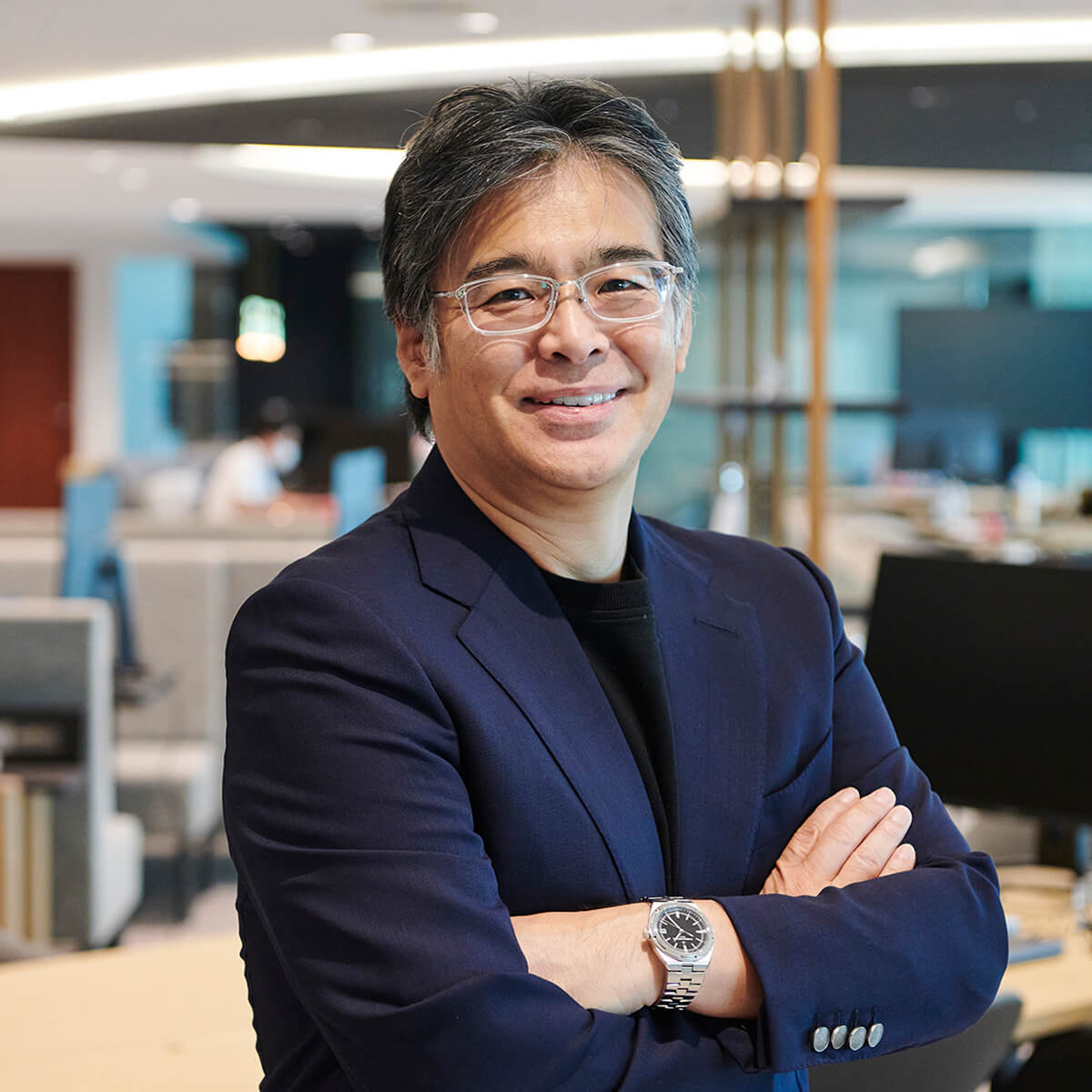 Takahito Tokita
CEO and Chief Digital Transformation Officer, Fujitsu
Takahito Tokita joined Fujitsu in 1988, gaining valuable experience as a systems engineer specializing in the financial services sector. He has since held several senior leadership positions in Fujitsu's systems integration group, leading its application development business and the delivery of large-scale, mission critical systems.
Prior to becoming Fujitsu CEO in 2019, Mr Tokita was based in London for two years, responsible for Fujitsu's Global Delivery Group. In this role, he led a team of over 8,000 people delivering service desk and offshore development capabilities across eight countries.
Mr. Tokita earned a Bachelor of Metallurgical Engineering degree from the Tokyo Institute of Technology.