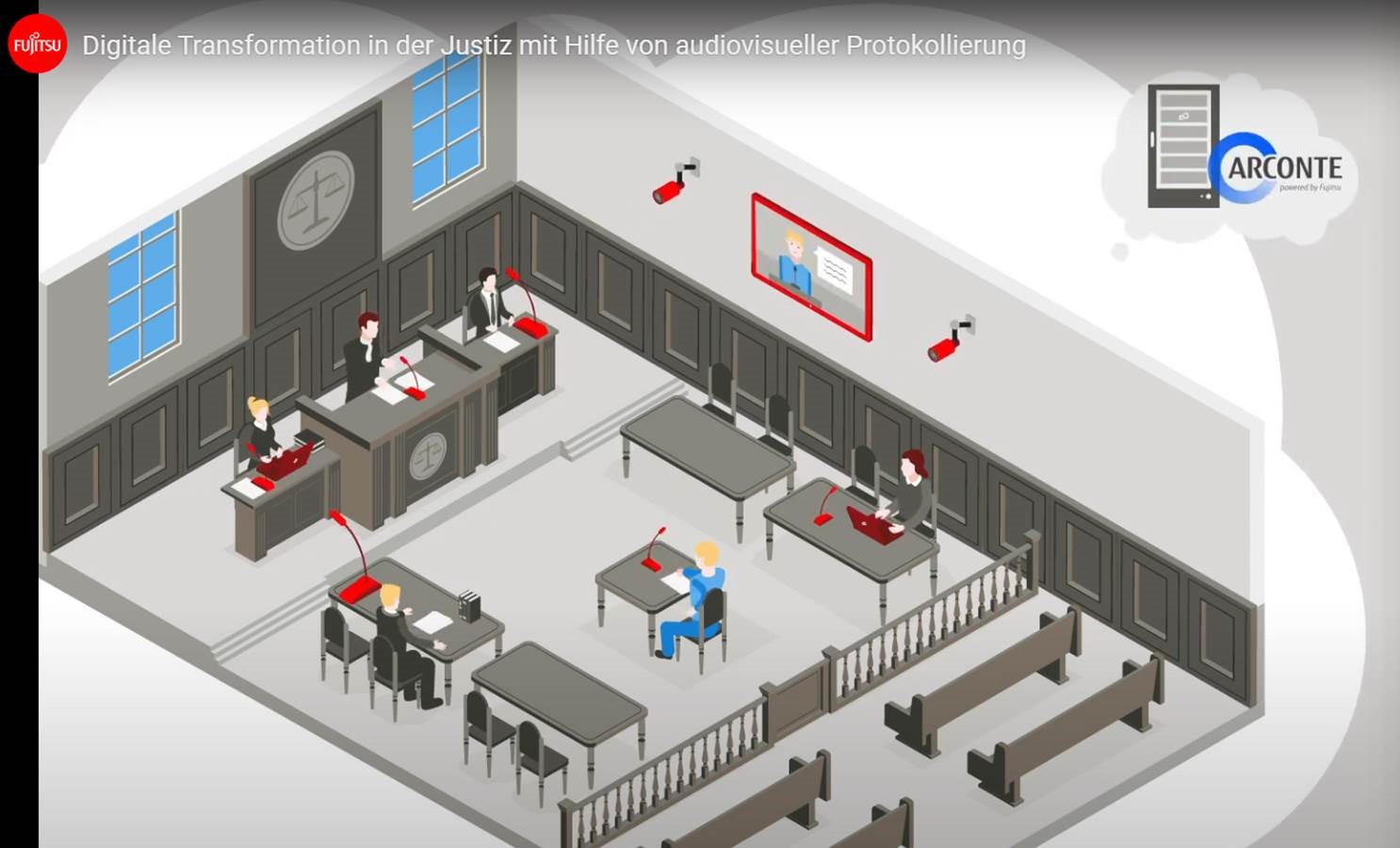 In one of the biggest changes for more than 100 years, digitalization is arriving in courtrooms worldwide – with computers and video cameras taking their place alongside clerks and stenographers.
Although video is permitted for civil court hearings in Germany, the technology has – so far not been approved for use in criminal cases. In Cologne, Fujitsu is collaborating with the city's University and Higher Regional Court to work to change this, with a proof of concept dubbed as the "Electronic courtroom of the future".
How the pandemic encouraged change
A change in German law in 2012 to allow the use of video for hearings made it possible for different parties to participate in civil hearings via video from multiple locations. This significant change looked like it would kickstart the widespread digitalization of the judiciary. However, its widespread adoption has been slowed by the limited number of courtrooms with the appropriate equipment and a lack of training for judges. More recently, the growing backlog of cases due to Covid prompted some justices to switch to video trials.
Now, Fujitsu, the University of Cologne, and the Cologne Higher Regional Court are collaborating to drive that change by transforming local courtrooms into e-courtrooms, leveraging their collective expertise in technology, law and business. Instead of conventional document-based recording of proceedings captured by stenographers, video/audio capture will automatically catalog hearings and link them to relevant electronic case files and law enforcement information. Back-up is immediate and automatic and made available for distribution to authorized individuals with a transcription. The result is massively streamlined and accelerated processes and an opportunity to resolve an issue of profound public importance.
At the moment the video system is tested at the University's student courtroom. The proof of concept will also identify and address any legal challenges relating to using recording technology in criminal cases.
Best-practice pioneered in Spain
This form of video capture for the legal system has been pioneered in Spain, where video and sound recordings have been used since 2000 for civil trials and all cases since 2009. Spanish courts are leveraging Fujitsu's ARCONTE integrated video and multimedia management solution, which also has AI capabilities that generate written case logs for each file. This approach has resulted in greater transparency, faster case resolution and enhanced cost efficiencies. The benefits have been so significant that video was made mandatory in Spain for all types of court cases in 2009 and today, Fujitsu's ARCONTE system are used in three-quarters of the courtrooms in the country.
As the Spanish judiciary has found, capturing video is a powerful tool for criminal trials. Unlike the content captured manually by court stenographers, videos also capture witnesses' and defendants' facial expressions and body language. Witnesses or vulnerable defendants are more easily protected and it is far easier to preserve anonymity - where appropriate - when they are not physically present in court. Additionally, the cost of rescheduling trials is significantly reduced if witnesses can participate via a video link from any location.
There are also significant benefits for the lawyers and judges involved. For example, during cases, it is invaluable for a judge or lawyer to re-watch a witness' testimony and compare it to evidence from the most convenient device, time and location, with no need for time-consuming document requests.
How the technology works
The implementation of this technology will be a first in German legal history. The Fujitsu ARCONTE system captures video and audio streams from recorders located in court- or interview rooms or from external locations. The recorders are housed in a "VideoBox", which includes a small server to process the input immediately, store it locally, and simultaneously replicate it to a nearby data center. Once each recording is complete, it can be digitally signed to prevent future tampering using biometric technology, such as Fujitsu's PalmSecure, and then automatically integrated with the electronic file relating to that case. The ARCONTE software in the data center is then responsible for managing access to the content for individuals with appropriate permissions.
The future of work in courtrooms
After the productivity gains that modern, digital ways of working have unlocked in companies of all sizes – now it's the judiciary's turn. It is not simply a case of replacing a stenographer with a video recorder. It is about Fujitsu's approach to empowering workers from all walks of life with easy access to the tools and information they need to be effective. Spain's courts have found that this leads to enhanced efficiency, better productivity, and lower costs. And there is never a shadow of doubt over precisely what was said at any time during proceedings.
It has taken a global pandemic to sow the seeds for digital transformation in the German judiciary, but finally, the time is right. To find out how the Fujitsu ARCONTE solution can enhance your processes and help you meet your challenges.
by Marvin Sauels
Fujitsu
October 7, 2021