Having launched Fujitra – a company-wide DX (digital transformation) project* – in 2020, Fujitsu is well on its way towards transforming from an IT company into a DX company. We spoke with Kai Tamura (left) and Miki Kobari (right) from the Fujitsu Design Center about exPractice, the practical method they have created that's the driving force behind the promotion of Fujitsu's DX. Here are their thoughts on how it's shaping the company.
*: https://www.fujitsu.com/global/about/resources/news/press-releases/2020/1005-01.html
--- How is DX being promoted within Fujitsu, and how are you involved in the company-wide DX transformation project?
Tamura: Fujitra – which stands for Fujitsu Transformation – was fully launched in October 2020, which means Fujitsu is now moving towards being a DX company. While there are many ways to describe the term DX, Fujitsu has adopted the Japanese Ministry of Economy, Trade and Industry's definition:
A company's ability to respond to rapid changes in the business environment and use data and digital technology to transform products, services, and business models based on the needs of customers and society; also, to establish competitive advantage by transforming business processes, organizations, and corporate culture.**
Under the leadership of Takahito Tokita (CEO, Representative Director and CDXO) and Yuzuru Fukuda (Corporate Executive Officer, CIO, and Assistant CDXO), who joined the company in April 2020 from SAP Japan, we are working towards transforming the entire Fujitsu Group – across divisions, groups, and regions.
**: https://www.meti.go.jp/english/press/2019/0731_001.html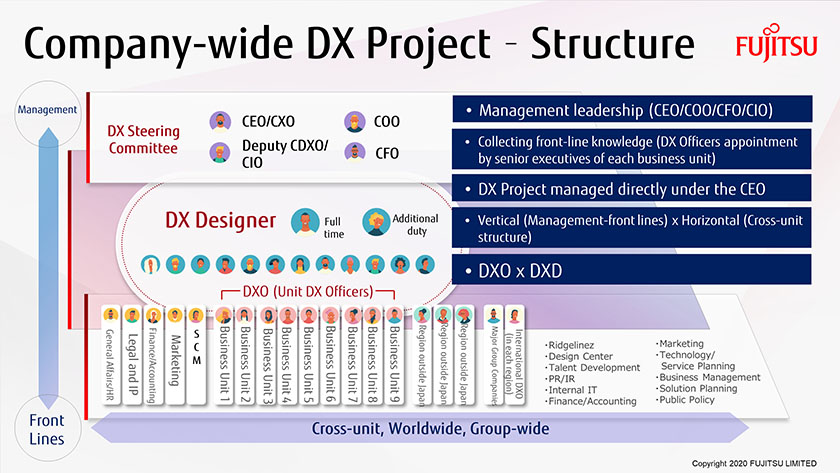 Kobari: Each division's DX efforts are led by a dedicated DX Officer (DXO), and they all work together to solve problems while cooperating with the top-level DX Steering Committee. In addition, DX Designers serve as the glue that connects the DX Officer and the DX Steering Committee. DX Designers come from a variety of departments and form a team called Fujitra Office. Tamura and I have joined the Fujitra Office as DX Designers and our role is to design the structures and mechanisms for transformation.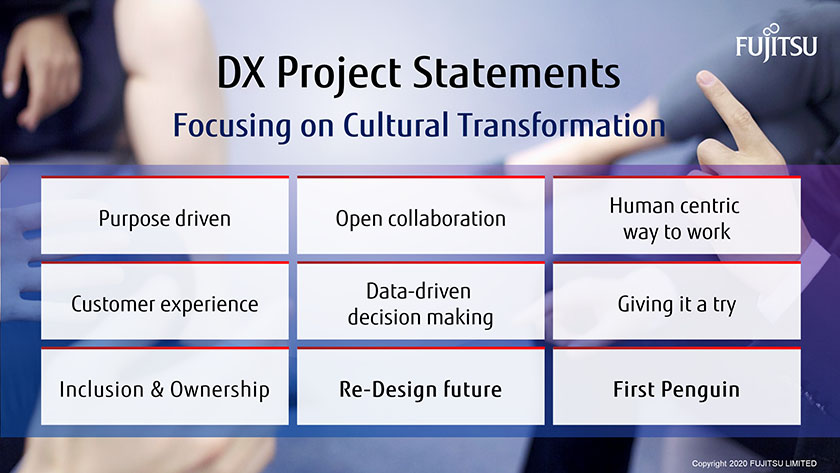 While working on transformation initiatives, we occasionally encounter issues and challenges. When that happens, I always come back to our DX mission statement that was created at the start of the project. It's hoped that the behaviors and sentiments described in the mission statement will spread throughout the company and become part of Fujitsu's culture.
Make it a daily routine to keep changing oneself with exPractice
--- What does your work as a DX Designer involve?
Tamura: The first thing I did was to establish a forum where DXOs could exchange ideas. We decided that it would be held every other week online, and that's where we worked out the concept and content.
Since this was a great opportunity for representatives from each division to get together and talk, we felt it shouldn't just be a place for presentations, but rather a 'jam session' where we could bounce ideas off each other – and so we decided to call it DXO Jam.
Gradually, we began to receive requests from DXOs wanting to onboard frontline employees into the transformation initiatives. Therefore, we redesigned the content of DXO Jam and created exPractice.
Combining the words 'experience' and 'practice', the exPractice program goes beyond thinking to taking action, and encourages a practical approach to nurturing and utilizing every individual's distinctive strengths. In this way, it supports the process of self-transformation, which starts with finding someone's purpose.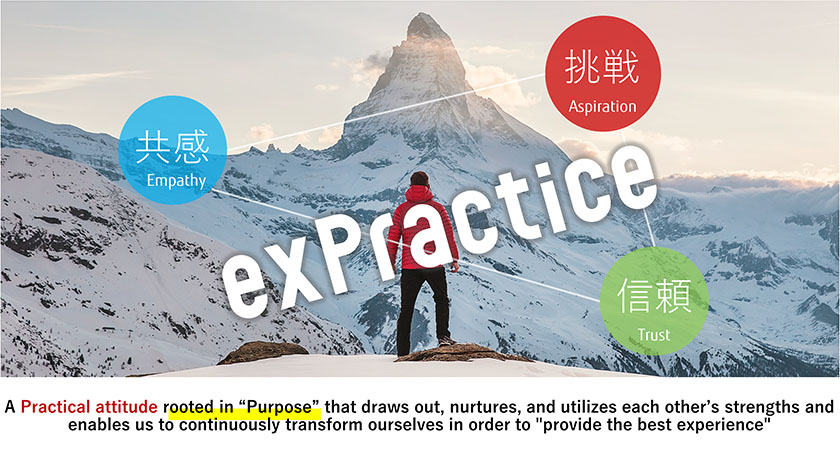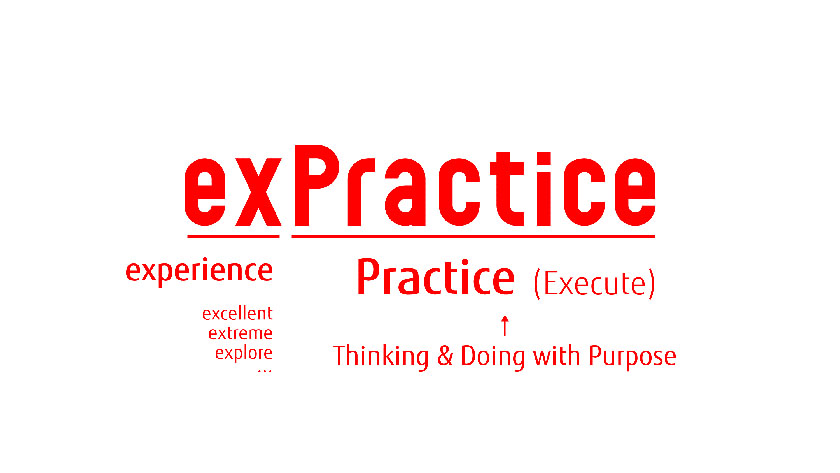 Kobari: Tamura and I have been designing various internal and external human resource development programs and organizational transformation projects. Based on this experience, we wanted the exPractice program to encourage people to think of themselves as vehicles for transformation, and then allow them to choose how to drive that vehicle.
For example, if your vehicle is not fully formed it won't get you very far, no matter how you steer it. In the exPractice program, we start with Purpose Carving that's aimed at shaping each individual's vehicle in their own image. The steps taken after that vary depending on the situation, and as part of Fujitra these might include Dexign Practice, Scrum Practice, and Data Science.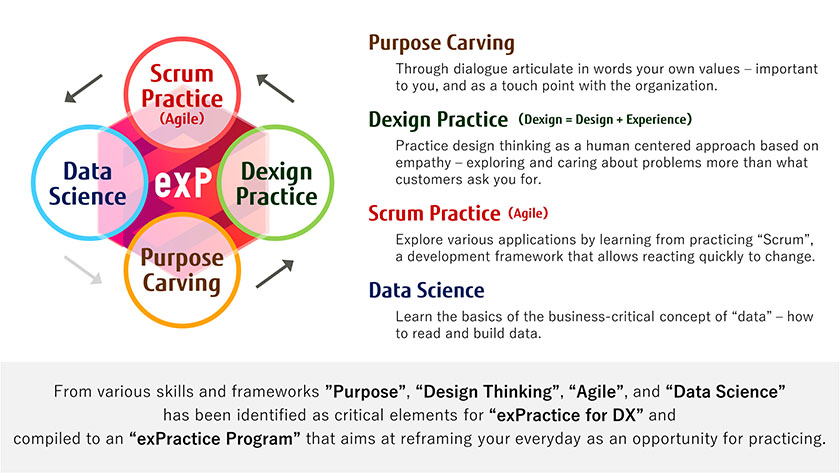 --- What is the intention behind the use the phrase Dexign Practice instead of Design Practice?
Tamura: It's a combination of the words 'design' and 'experience'. Normally, when you hear the word 'design', you might think of something sleek or beautiful in appearance. However, in the context of exPractice, design is intended to provide the best possible experience, so we created a new term to fit this meaning.
Also, people tend to think design comes from the sensibility of a few talented people, but that's not how I see it. Dexign is about conceiving, implementing and providing the very best experience. It requires intelligence and understanding – you must have knowledge and experience of a certain subject, industry, or topic. On top of that, your practice needs to be informed by your own purpose and your own sensibilities. This is what I call sensitivity. We also need to come up with ideas that exist outside of our current biases and create discontinuous leaps. This is what I call deviation. In addition, these ideas need to be applied to business without creating any problems or issues, so we should always seek to harmonize them. This is what I call integration.
This process of deviation and integration, based on intelligence and sensitivity, is a fundamental part of design, but it's difficult to convey this perspective with the existing word 'design'. That's why I came up with a word to describe this perspective: 'dexign'.
Liberation of will and mutual acceptance brought about by Purpose Carving
--- The exPractice program starts with Purpose Carving. What exactly does this phrase mean?
Kobari: Purpose Carving is a dialogue program in which you identify and express your personal purpose. I believe everyone has the ability and the desire to do this. However, in our busy lives, we don't always have time to think and sometimes we are swayed by various things. Purpose Carving is based on the idea that everyone has a personal purpose, and through dialogue, we can find out the direction of the flame that's burning in our hearts. For these reasons, DXO Jam also started with Purpose Carving.
Fujitsu employees have carved out their personal purposes as below.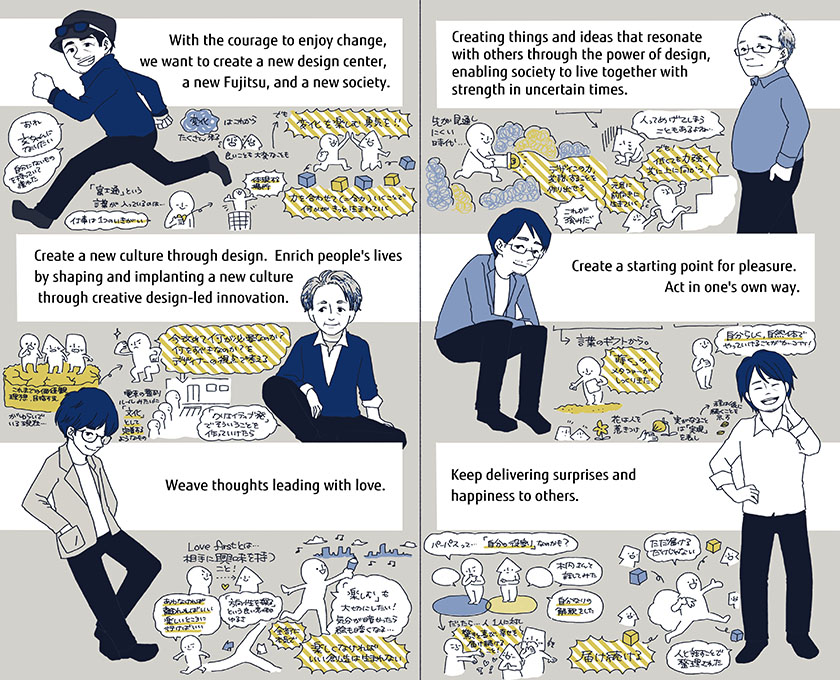 Tamura: I believe Purpose Carving brings a liberation of will and mutual acceptance. I think that many people, especially in large corporations, feel there's an emphasis on organizational decisions rather than the thoughts of each individual and, as a result, employees gradually stop speaking up. This results in an atmosphere of thinking 'it is what it is' becoming widespread.
In order to promote change while sincerely confronting such situations, rather than covering them up, we need to shine a light on each employee's personal purposes, sense of mission, and what they want to accomplish, and use this energy to ignite their hearts and unleash their will. We may not be able to fully understand each other, but we can accept each other. And then we can work together with those who have become friends to push things forward and change them. I think this is the key for transformation.
Fujitsu's purpose is to make the world more sustainable by building trust in society through innovation, and while some people might worry if their personal purpose is different, I believe there is value in these differences. That being said, if they're the exact opposite, we should consider some kind of action for adjustment. This is because the combined power of the two vectors will create new diversity and strength, allowing us to quickly respond to changes in the environment and lead to the next innovation.
In fact, exPractice Alumni, who have experienced exPractice's program and understand the approaches and concepts required for Fujitra, are now applying their learnings while reflecting on each other's purposes in order to drive company-wide DX transformation. And while the exPractice program is conducted entirely online, I can feel the enthusiasm of their practice over the network.
--- Finally, tell us about your future plans
Tamura: Currently, we are starting a program called Top First, which is a version of the exPractice program that's designed to help top management level drive transformation. It's for members of the management team that rank between President Tokita and the executive director level, as well as several frontline employees, and it feeds into the goal expressed in our DX mission statement – to transform our corporate culture.
Kobari: I think there are probably many people in every company who have a purpose hidden in their hearts. With Purpose Carving, we can unleash those hidden purposes and put them into practice in an agile way where they overlap. Through the use of technology and the accumulation of practices, we can transform ourselves.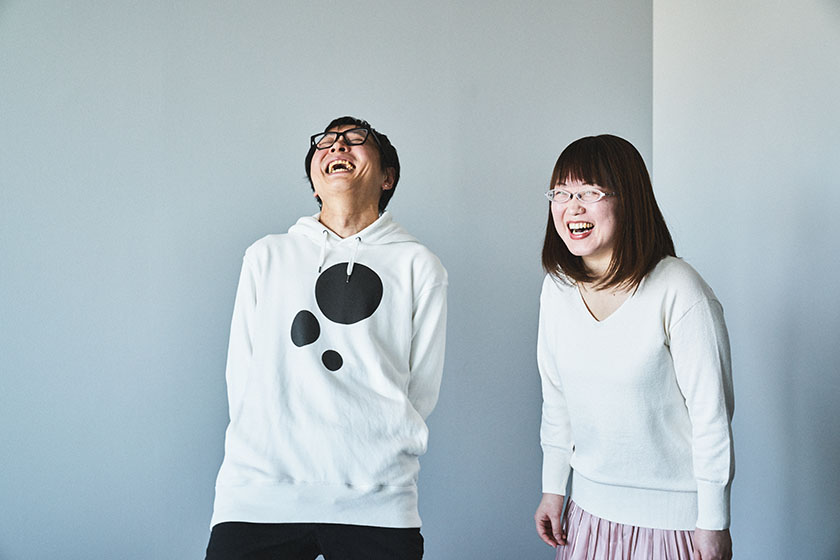 Profile
Kai Tamura(Left)
CURRENTLY IN
Fujitra(Company-wide DX Project) DX Designer
FURTHER INFORMATION
Kai joined Fujitsu in 2003 and has been engaged in the development of web systems and cell phones as a UI/UX designer. At the same time, he has been involved in personal activities outside the company, such as writing books, developing organizations, and organizing workshops to enhance creativity. Currently, he is using his experience in design in a broad sense to design mechanisms and systems for change, and in the course of these activities, he proposed the exPractice program.
Miki Kobari(Right)
CURRENTLY IN
Fujitra(Company-wide DX Project) DX Designer
FURTHER INFORMATION
Miki joined Fujitsu in 2004 and has worked as a systems engineer designing and developing systems for government agencies. Later, she switched to a human resource development position and was in charge of newcomer training and leadership training. Currently, she is using her skills in graphic facilitation and workshop design to design a system that fosters relationships where people can communicate their thoughts and wishes online, while creating new value.