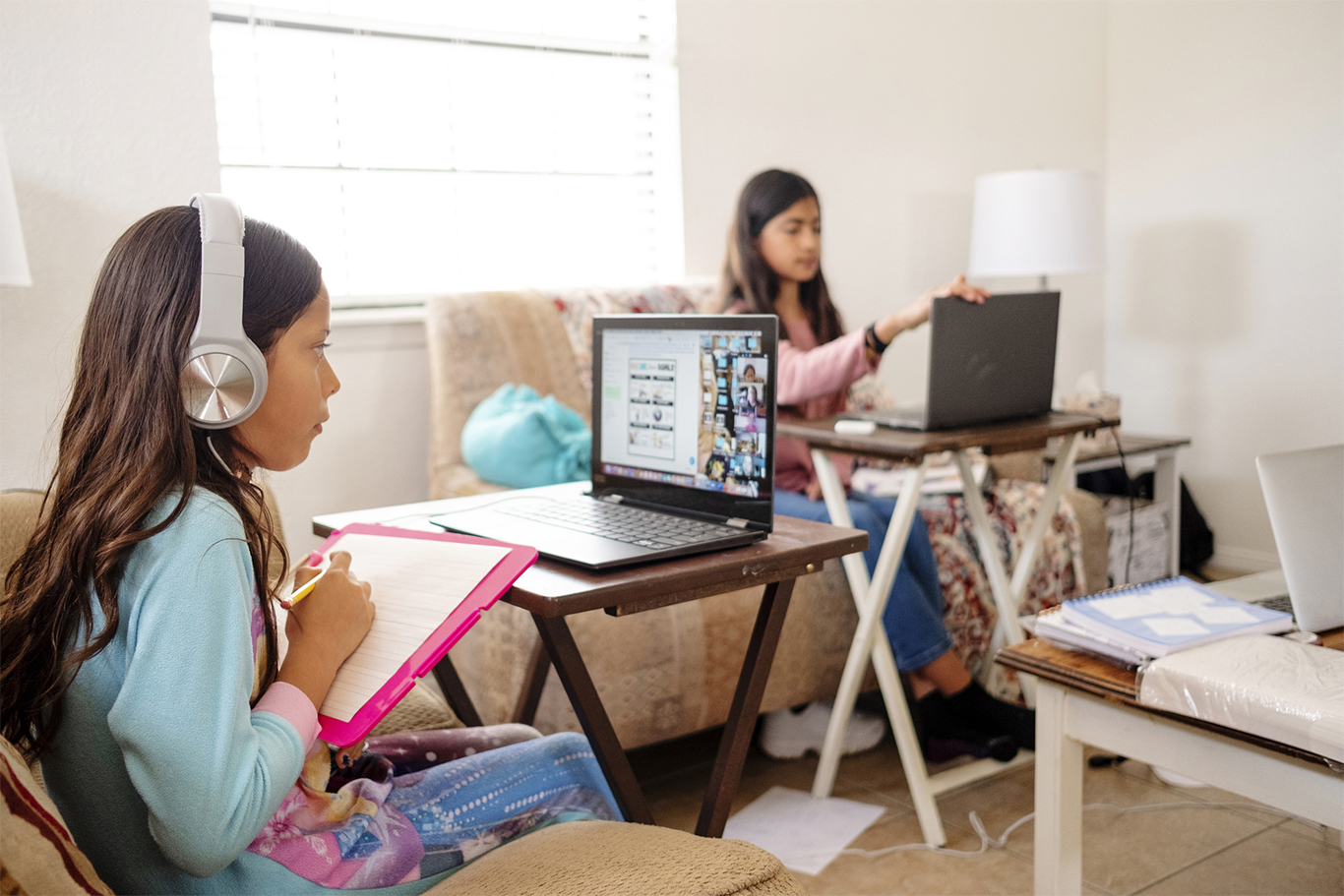 Fujitsu's vision of a human-centric intelligent society is underpinned by solid actions taken to help customers with digital technologies that support sustainable operations, especially in challenging times. In 2020, this meant Fujitsu worked with customers around the world to find solutions to the disruption caused by COVID-19.
Together, the Fujitsu business and its employees wholeheartedly embrace opportunities to have a positive impact through their own engagement in co-creation activities, volunteer work, and commitment to offering greater value to society.
These were the key values that underpinned Fujitsu's activities to support the education community when COVID-19 hit.
The educational impact of COVID-19
Work and study environments have been dramatically affected by COVID-19. Whether transitioning to study from home, or trying to implement social distancing in schools and universities, the education sector has needed to pivot quickly to continue providing quality educational outcomes in a vastly different environment.
The educational impact of COVID-19 remains to be seen. However, any detrimental impacts can potentially be lessened through the use of appropriate technology solutions.
Fujitsu has many years of experience delivering high-value digital solutions for education providers, and is offering guidance and support through this challenging time. Fujitsu takes a human-centric approach to co-creation, working closely with teachers and educational administrators to deliver the solutions that let teachers teach and students learn without barriers.
The immediate challenge: technical literacy
Managing online learning is very different to communicating with a room full of students.
Adding to this complexity was a confusion of multiple, overlapping platforms available to deliver digital learning. From video conferencing tools to dedicated e-learning platforms, teachers had a plethora of choice at their fingertips for connecting with students.
Or so they thought.
In reality, most teachers found that their platform of choice wasn't allowed by their school district, or students couldn't access it, or there was a cost associated with using it. In many cases, the solution simply didn't work within the existing infrastructure of the school.
Fujitsu stepped up to help education providers with free expertise as part of its commitment to responsible business. Fujitsu experts in Belgium, for example, participated in a project called TeamWorks.
Staff members volunteered their time to help improve the connectivity of schools that were not accustomed to teaching digitally and working remotely. The Fujitsu Microsoft Practice Team helped schools leverage free Office 365 licences and deployed Microsoft Teams for additional capabilities.
The Fujitsu team working on the TeamWorks project also helped schools install their digital classrooms and guarantee online contact with students. This support is invaluable as it overcomes one of the key barriers to learning, which is meeting on a shared platform.
Overcoming these barriers has made the challenging situation a little easier to navigate by removing the need for deep technical literacy.
Securing the learning environment
Enabling access to effective online learning solutions is one part of the challenge. But this access must also be secure, to ensure that students and teachers are kept safe from harm.
Educational institutions must understand their responsibility to have a strong online security focus. Protecting students from inappropriate content and malicious actors online is getting more difficult. Strict control over the network is essential.
Fujitsu Securon is a cloud-based educational platform that lets education providers quickly transition to online learning. It guarantees secure data exchange for schools and tertiary education providers.
Importantly, the Securon platform requires minimal existing knowledge or skills, as it's intuitive and fast to implement. The platform enables an optimal combination of face-to-face teaching and virtual learning and is therefore perfectly suited for teaching and learning when the framework conditions have to be adapted to the current situation.
Fujitsu helped schools install and use Securon to support their transition to online learning. At the Passau secondary school in Germany, Fujitsu offered the Securon solution to provide a uniform user interface, regardless of whether access was via the classroom or from home. Fujitsu delivered a technical solution that was cloud-based and, at the same time, guaranteed secure data exchange that complied with the school's strict security requirements.
How Fujitsu is supporting education customers through COVID-19
Fujitsu's commitment to being a responsible business includes adding value to the communities in which it does business. Therefore, the COVID-19 disruption was an opportunity to help education providers pivot to online learning in the most cost-effective and efficient way possible. This meant listening to Fujitsu's customers, understanding their challenges, and working with them to overcome these challenges.
Fujitsu has customers in the education sector around the world. None were immune from the disruption caused by the pandemic. Fujitsu's overarching view as a partner meant the company could provide strong pathways to success for digital learning initiatives.
As part of the TeamWorks program, Fujitsu offered its expertise at no charge to help educational institutions leverage Microsoft Teams for Education. This included procuring free licences, as well as helping schools set up their Teams environment for maximum success. Fujitsu team members volunteered to take part in these activities as part of their own personal commitment to contributing to society.
TeamWorks was created based on the personal experience of a Fujitsu employee in Belgium, who was approached for help by a teacher struggling with connecting with their students in the early days of the coronavirus lockdown. After helping this teacher, the Fujitsu employee realised that the collective know-how and expertise of the company could help more teachers.
DigitalForYouth is another program whereby Fujitsu helps schoolchildren who have no computer at home. It's a laptop recycling program where companies can donate used laptops to be refurbished and provided to needy students. The program has, so far, provided laptops to more than 10,000 students in Belgium.
Turning the COVID-19 disruption into positive future benefits for schools and students
For many schools, the need to transition to digital options was overshadowed by concerns regarding the need for expensive IT resources and professionals. The COVID-19 disruption forced schools to look at their education model differently and find ways to deliver learning online. In most cases, this has been successful. However, like any evolution, there are still improvements that can be made.
Schools with a well-developed digital learning approach will prepare their students more successfully for jobs in the real world, where remote work is likely to continue. They'll potentially be able to cut some of the costs associated with delivering quality education, and redirect resources to provide greater value.
Schools will also realise that it's not essential to have expensive IT professionals on hand to deliver a strong digital experience. Instead, by partnering with the right provider, schools can minimise their expenditure on IT resources while maximising the return on that investment.
Where to from here
COVID-19 presented an unusual challenge for education providers around the world. Fujitsu thrives on developing unconventional ways to solve difficult challenges. Human-centric innovation is about bringing people together with technology to create ways to work effectively. Collaboration is the key; only by working together can education providers overcome the potentially negative educational impact of COVID-19.
If your school or university is struggling with online learning engagement from students and/or teachers, or if you would like to know more about how you can improve your digital learning approach, contact Fujitsu today. We can help you maximise the value of your existing investments, understand what free resources are available to you, and help you deliver exceptional educational outcomes to your valued students. Click here to learn more: https://www.fujitsu.com/global/solutions/industry/public-sector/local-government/index.html
by Fujitsu Blog Editor
Fujitsu
December 24, 2020