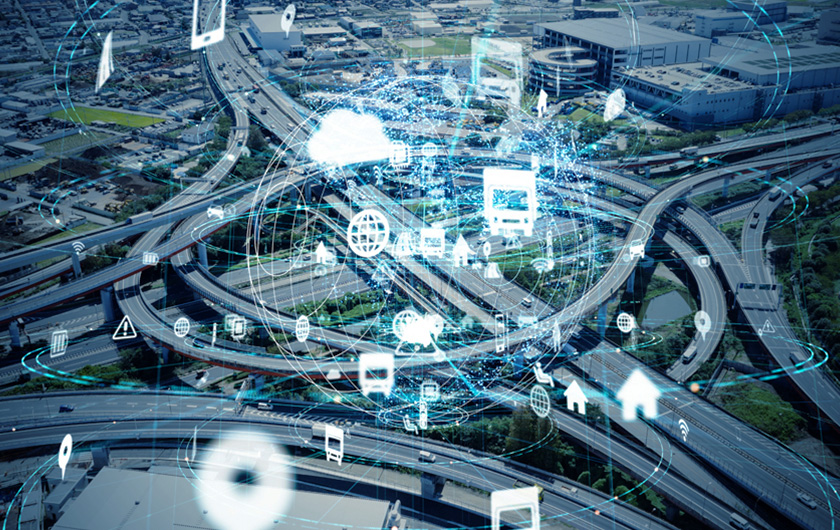 The automotive industry is entering a period of dramatic change that happens only once every 100 years. This change is transforming the very structure of the industry and is causing automakers to completely rethink the way people use the vehicles they produce.
For the auto industry, it's a matter of survival and major automakers, such as Toyota Motor Corp., have been preparing for the disruption ahead. Speaking in May 2019, Toyota President Akio Toyoda noted that the giant automaker made substantial changes to its business structure over the previous four years. "It is my mission to transform Toyota into a mobility company," he explained on an earnings call.
In this article, we explain current trends in mobility and discuss their implications for the automotive industry. We also describe how global ICT provider Fujitsu envisions the evolution of mobility and how its Mobility DX (Digital Transformation) initiative fuels this transition.
What Does "Mobility" Mean?
Mobility is defined as the ability to move freely or to be easily moved. The mobility industry refers not only to automotive but also to all the other industries that provide the vehicles and infrastructure for transportation. Also, when talk turns to the mobility revolution, it refers to digital transformation of many modes of transportation.
In response to these rapid changes, a number of mobility companies and other organizations came together to form the Mobility Innovation Consortium in Japan in September 2017 to help push for mobility reform through open innovation. Currently, more than 160 organizations from various industries participate in the consortium, led by passenger railway company JR East.
Toyota's decision to become a mobility company shows the automaker's strategy to transform itself from a manufacturer of automobiles to a service provider to comprehensively meet every user's needs for transportation. As the pervasiveness of such ridesharing services as Uber shows, disruption is on in the industry and in order for automakers to survive this harsh business climate it is necessary to precisely understand the direction of the trends and how big the impact is.
Daimler Makes the "CASE" for the Future of Cars
Among companies most affected by the mobility revolution are automakers. If we look at the evolution of automobiles, we can see that since the popularity of Ford's Model T, introduced in the early 1900s, automakers have basically focused on producing vehicles that provide the same basic functions of "running, turning and stopping," while adding ever greater levels of comfort and safety. Going forward, change is accelerating. And while fully self-driving or autonomous vehicles are still years away from becoming commonplace on the roadways, manufacturers are seeking the same goals of ensuring that people can move safely, comfortably and freely.
Self-driving vehicles form a key pillar in the coming mobility revolution and is one of the major developments for automakers, as captured by the acronym CASE, short for connected, autonomous, shared and electric.
German carmaker Daimler first floated the acronym in September 2016 at the Paris Motor Show, where the company unveiled the first concept car for its Mercedes-Benz EQ brand of electric mobility vehicles. In discussing its medium-term management strategy at the time, Daimler declared that it would be driven by the four guideposts signified by CASE. The CASE concept has since found much support in the automotive industry.
MaaS: Mobility Becomes a Service
While CASE provides a framework for the future for Daimler, Toyota and other automakers, MaaS (Mobility as a Service) takes in not only automobiles but all modes and means of transport. And it moves the focus away from any single product, such as the automobile, to mobility provided as a service.
Automobiles will be further developed according to the CASE concept and then integrated with services of other mobility providers. MaaS includes both personal and public means of transportation, such as bicycles, cars, trains and buses. As part of this trend, automakers seek to go beyond the traditional business of automobile manufacturing to become part of MaaS platforms.
While MaaS rollouts are only in their early stages, there are a growing number of examples. Among them is the Whim app in Helsinki, Finland. With Whim, users specify the destination where they want to go, and the app offers multiple mobility options with a variety of transportation means. After they plan the trip, they can book and pay for tickets. Uber and Grab are examples of largely single MaaS transportation options, although they are starting to expand with additional options. But the Whim app and a growing number of others cover various means of transport, including public mass transit, city bikes, taxis and car rentals.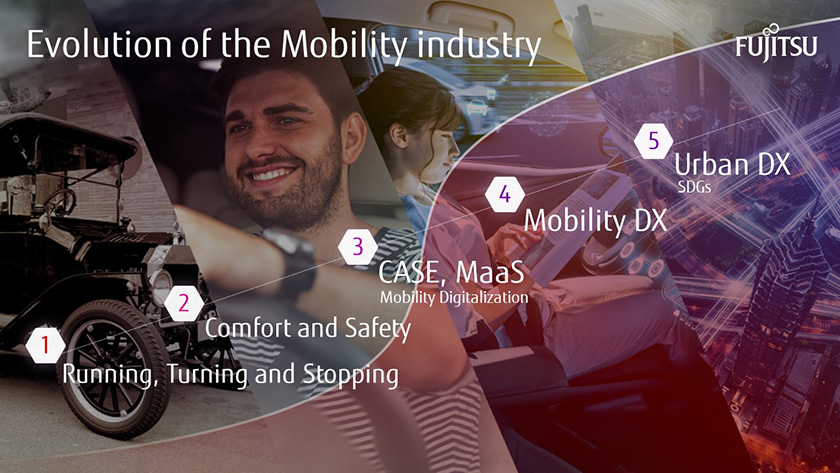 Digital Transformation in the Mobility Industry Evolving Rapidly
As we have seen, CASE seeks to help automakers build better cars while MaaS can aid users in fulfilling their overall transportation needs. Underpinning both of these trends is digital transformation, or DX.
DX brings significant changes to the products, services and business models of the industry using digital technologies. DX has already brought great changes to a range of industries. For example, in financial services, online banking has been available for years and in the retail industry, e-commerce sites, such as Amazon.com., have represented a sea change for consumer behavior.
DX initiatives are accelerating in the world of mobility, too. and it's mainly for two reasons. First, automobiles are increasingly connected to the network and are generating large volumes of valuable user data. Data is the fuel that supercharges DX, and helps mobility providers to improve their services.
The other reason is that competition has intensified as technology giants, such as GAFA*, have entered the mobility arena, disrupting the mobility industry. Legacy automotive companies are very sensitive to this trend, which, in turn, is prompting them and other long-established transportation companies to move forward with DX.
*: GAFA is an acronym for four giant US technology companies, Google, Apple, Facebook, and Amazon.
Fujitsu Develops Mobility Technology in Three Major Areas
Technologies in three key areas form the foundation of digital transformation in the mobility industry: collecting, connecting and utilizing data. Fujitsu provides technologies in all three areas to help bring about Mobility DX. The technologies derive from Fujitsu's long experience and expertise in development of systems for mainframe computers, PCs, smartphones and others.
When it comes to Mobility DX, Fujitsu aims to deliver new value beyond the framework of the automobile industry and public transportation by combining technologies. Specifically, the company seeks to implement "digital twin" technology for the mobility industry.
Reproducing the Real World with Data
Digital twins enable organizations to verify various types of services in a virtual space by creating a digital replica of real world products, services, devices or a range of other entities.
In the future, connected cars will become the norm, and these cars will come brimming with sensors that will generate lots of big data. Using this data, a digital twin can create a virtual world reflecting the physical world that the connected car is inhabiting.
The use of digital twins can lead to much greater efficiencies in existing business processes and create new processes. For example, service providers using digital twin technology will be able to help auto insurance companies streamline their business by offering instant analysis of auto accidents. Or the technology can enable individuals to personalize navigation information in a dynamic way.
Dracena, a stream data processing architecture that Fujitsu Laboratories developed, is a key technology for building mobility digital twins. It enables businesses to simultaneously process big data from users in more than 1 million cars and to replicate real-world events across a wide area.
With Dracena, huge volumes of data are reflected in real-time onto the digital world
Fujitsu's implementation of simultaneous localization and mapping technology, Visual-SLAM, also plays an important role. Using this technology, an entire city can be created as a 3D virtual map and can locate a vehicle–with or without a driver¬–within the map.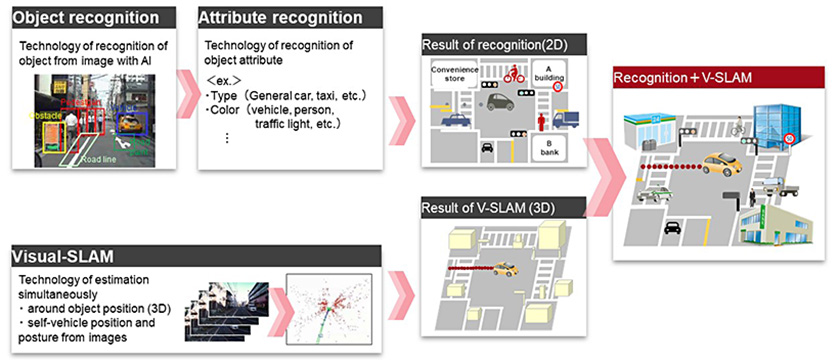 V-SLAM enables providers to create high-precision 3D location maps out of 2D images.
Co-creating Mobility DX by Combing Expertise
Fujitsu actively encourages co-creation as it helps to bring about Mobility DX. Co-creation combines the expertise and innovation of multiple technology companies to drive agile development.
For example, Fujitsu and Autonomic, a subsidiary of the Ford Motor Co., have been working together to help drive change in the mobility industry. Autonomic develops a cloud-based platform that enables data from connected cars to be used for any service. By integrating it with Fujitsu's Dracena, the companies can together offer the platform to realize mobility digital twin technology.
With proven technology and expertise, Fujitsu continuously strives to help realize the future of mobility.
by Fujitsu Blog Editor
Fujitsu
June 9, 2020